TESTIMONIAL: Finishing college for my son's future
The CSU estimates that 1 in 10 students have been homeless at some point within the past 12 months. On the State Hornet staff, that number is closer to 15 percent. These are some of our stories.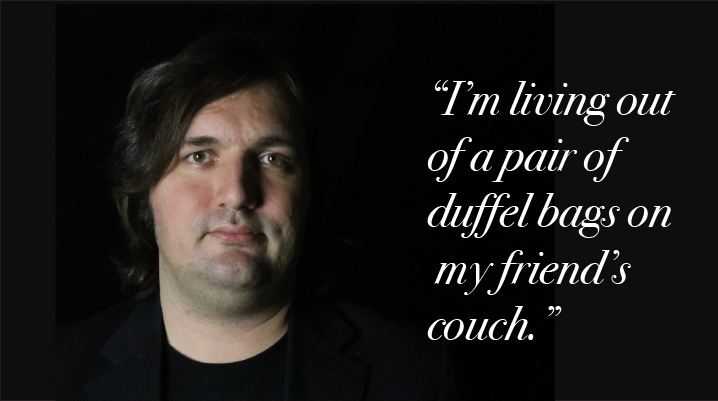 I always figured homelessness would be something sort of, you know, obvious? Instead, it snuck up on me. When you don't make a lot of money — and last semester I was working part time and interning — it quickly becomes harder and harder to replace the things you're missing.
I was power-commuting from Rescue, the last stop of the Pony Express before Sacramento, down to Sacramento daily.
   RELATED: Sac State student goes into debt with long commute to campus
Eventually I was constantly alternating between staying with friends on nights before I worked in town, and staying with my parents. Once my car died, I was staying down the hill constantly, floating from couch to couch with increasingly larger and more awkward amounts of luggage.
I'm blessed, though. I was hanging out with a pair of friends after they spent the day hunting for apartments, when they turned to me and said, "You know we've got this place covered; you can just stay with us if you need to."
To be honest, things have only gotten worse since they've taken me in. I had to quit the job after losing my car, and jumping into my first full-time semester at Sacramento State has really put a hamper on finding paying jobs.
   RELATED: 'It's Sacramento, not you': Students caught in the crosshairs of statewide housing crisis
Thankfully, I've got the commuter pass getting me on transit to and from school, which saves a lot of money and helps with the job hunts.
Every day is a weird balancing act of picking your priorities: handling work with services, financial aid, reading for school, searching for jobs. Balancing what needs to be done right now suddenly takes precedence over what is good in the long term.
Hunting for a job is a gamble, but more like roulette than poker. Weekends are a blessing because I have time to catch up on school work, state and city offices aren't open and no hiring managers are on shift anywhere.
The hardest part of adapting to not having my own place has been not being able to see my son. We're a pretty spread out and shattered family; Stockton isn't exactly close (and even farther from Rescue), and farther still when you don't have a car.
Maybe I'm just ashamed to let my son see me like this, or let his mom know things have gotten so much worse since we went our separate ways. I'm living out of a pair of duffel bags on my friend's couch, thankfully shoved out of the way into a fireplace.
   RELATED: Spending my first week at Sac State homeless
Maybe this idea of school is just me rationalizing not working full-time (or at all right now, to be honest). I've got a lot of knowhow, and I learn things pretty quickly on my own.
On the other hand, I've got a pile of associate degrees and a resume full of bars, which honestly doesn't bode well for someone's job prospects — especially if you're trying to avoid drinking.
But what is my son's mom doing, clawing her way up to managing retail? One of us is going to need to "make it" if he's going to have a future.
So, school is what I do now. I stay hungry, and stay sharp, because my future isn't just my own at this point. And neither is the couch I'm sleeping on, but hey, I'm working on it.