TESTIMONIAL: Spending my first week at Sac State homeless
The CSU estimates that 1 in 10 students have been homeless at some point within the past 12 months. On the State Hornet staff, that number is closer to 15 percent. These are some of our stories.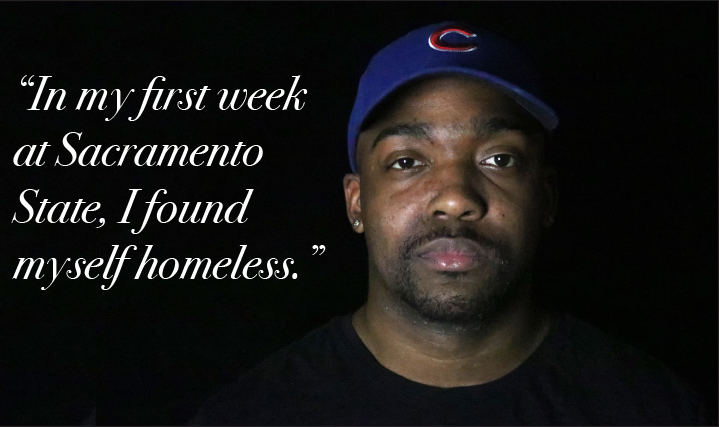 In my first week at Sacramento State, I found myself homeless; however, a helpful stranger made me feel like I was family.
On my flight to Sacramento from LAX, the only thing I had with me was my luggage, some Cheetos and $90 to my name.
When I was on my way to start a new chapter in my life I was feeling nervous, but nonetheless excited to begin this journey in this city.
I didn't know a single soul here, but that was the least of my concerns at the time.
While I was home I thought I had arranged my living situation. So when I got off the flight I headed right over to the apartment I thought I would call home for the next semester.
  RELATED: 'It's Sacramento, not you': Students caught in the crosshairs of statewide housing crisis
Unfortunately, management said we never reached an agreement on me living there; in addition, they gave the room I was interested in to someone else.
At this point, I was more than a little nervous. Now I didn't have a place to stay for the semester or to sleep that night.
While it poured rain, I prayed that I could find a cheap hotel to stay at for the night.
I called an Uber to leave the apartment complex and stayed at the Motel 6, which left me with about $15.
I called all over the city that night, trying to find a place to call home for the rest of the semester. Most rooms seemed to already be taken; other times I couldn't be considered because I had no credit.
I cried all night feeling hopeless and helpless. My dinner that night was the rest of my Cheetos.
Orientation was the following morning; however, I couldn't afford to stay another night at Motel 6, so I hid all my belongings in my room and came back for them later.
I didn't have the money for orientation, which meant I couldn't register for classes that day, but I got an idea of what I needed.
Luckily, a friend of mine traveled a lot so she was able to give me a free hotel room for the night.
My parents didn't have the money to help me until their next paycheck, but some of my closest friends helped me financially.
   RELATED: Couch surfing my way through winter break
By the next morning, it was time to check out and I again had no place to go.
But my prayers had been answered. Danielle Munoz, the case manager for emergency housing at Sac State, called me with some options of places I could stay.
The list of places to stay included the homeless shelter and three phone numbers of people that were willing to help a homeless Sac State student.
I decided to call all three phone numbers. One number wasn't in service and the other two didn't answer, but I decided to leave messages.
One of the alums, a woman named Mimi, reached out to me and told me she could come pick me up from the hotel I was at.
I accepted her invite into her household because I didn't have any other options. I was scared at first; why would a stranger let me into their household?
Mimi and her husband Kieran treated me like I was family. They gave me my own bedroom, something I didn't even have back home. They cooked for me and showed me around the city.
   RELATED: I slept in my car for over a year. No one knew.
I offered to pay rent but Mimi told me no, saying I could stay as long as I needed to.
I stayed with Mimi and Kieran for almost a month, long enough to meet their wonderful daughter Sara.
One day while we were eating dinner I broke some bad news to them: I had found a place to stay on campus.
This was tough because they had become my family. I still think of them that way.
While heading back to my new home on campus, as we were saying goodbye for now, Mimi told me, "Don't be a stranger, and tell your mom I said she has a great son."
I thanked her for the last time and told her I'd see her soon as I walked away with a huge smile.
I'm so relieved that there are people genuinely looking to help others. I will always be thankful for Mimi and Kieran.