Hornets defeat Portland State 80-75 in Big Sky basketball opener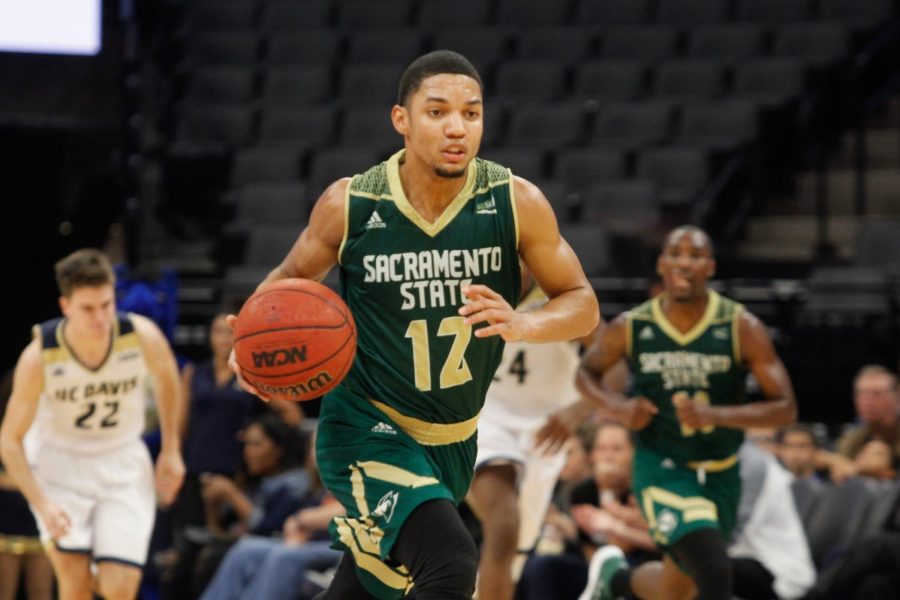 The Sacramento State men's basketball team roared back from a 16-point deficit in the first half to defeat Portland State 80-75 in the Big Sky Conference opener Saturday at the Nest.
It took time for the Hornets (4-10, 1-0 Big Sky) to get used to the Vikings (10-4, 0-1 Big Sky) run-and-gun offense and full court press defense as they trailed 29-13 early. Portland State knocked down most of their shots and were also pulling down offensive rebounds when the shots weren't falling.
But then senior forward Justin Strings, junior guard Jordan Tolbert and sophomore forward Joshua Patton took over to go on a 15-0 run. Strings scored six straight points, Tolbert made contested jump shots and Patton blocked three Vikings' shots while adding an emphatic slam dunk and then suddenly the Hornets only trailed 29-28.
Strings wouldn't miss another field goal the rest of the night. He made 16 of his 18 shot attempts and finished with a career-high 34 points.
"I love playing with him," Tolbert said. "He picks and chooses his spots on the court very well. He is a veteran guy and we expect him to do that. He did that tonight and we came out with the victory."
After a first half where Tolbert was hitting acrobatic shots, he settled in from long range and buried two 3-pointers, one that tied the game up with 7:43 to go in the second half, and one that would give Sac State a 66-65 lead with 5:24 to play.
The Vikings came into the Big Sky opener with the third highest scoring average per game in the country and once the Hornets started to slow them down, they lost their edge.
"We worked all week long against the (full court) press," Sac State coach Brian Katz said. "Practices were way different."
Portland State's full court press beat Cal and Stanford, and it nearly took down Duke who was ranked No. 1 in the nation at the time. It appeared that it would take down the Hornets too, but after making a few adjustments, Tolbert was able to navigate through the Vikings' press.
"Jordan did a great job," Strings said. "Being a JC guy coming in, is very tough. He (has) really come into a good role for us."
"It was (Tolbert's) best game of the year, for sure," Katz added.
Patton's impact on the game went much deeper than the five points and four rebounds that appear on the box score. Early in the second half, Patton recorded one of his four blocks where he jumped into the air to block a shot at the rim that quickly was pushed down the court for a basket by Strings.
Sac State will continue Big Sky play against Idaho at 7:05 p.m. Thursday in Moscow, Idaho.