Second annual Farm-to-Fork Festival to celebrate local farmers
The Farm-to-Fork Festival is back for its second run at Sacramento State, with this year to focus on the lives of farm laborers and their work that brings fresh produce to their communities.
Farm-to-Fork originally started off as city event in Sacramento that celebrates the region's agriculture and the local farmers and chefs who bring food to the table. A festival is held annually at Capitol Mall and ends with a dinner on Tower Bridge.
(Check out this video from last year's Farm-to-Fork Festival)
At Sac State, the event is set to kick off on Sept. 13 at 10 a.m. with a festival in the Library Quad, where local organizations will provide information and resources at different booths. Campus organizations like the ASI Pop-Up Pantry will hand out bags of fruits and vegetables.
The theme for this year is "the hands that feed us," and is meant to highlight the lives of farmworkers and how their hands are the ones that bring in fresh produce to feed people.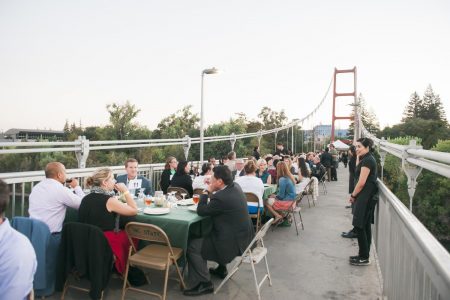 Family and consumer sciences professor Lynn Hanna has coordinated the Farm-to-Fork festival every year with a new theme that showcases a different aspect of the world's food systems.
"The overall Farm-to-Fork Festival in general is to provide a platform for all the different sectors of our food systems, to be visible and tangible and put in a perspective that is meaningful to all individuals," Hanna said. "This year's theme will revolve around farm labor and highlighting what that looks like and helping to bring awareness about the experience of farm labor."
Dinner on the Guy West Bridge will commence later in the evening after a keynote speech by photojournalist David Bacon. Students from a food production and sustainability class who planned the menu will prepare the food with assistance from the Epicure Restaurant on campus.
Guests will dine on herb roasted chicken glazed in a lemon cream sauce, watermelon feta arugula salads and salted caramel apple tarts. Students from the College Assistance Migrant Program will act as dinner hosts and will be seated at each table to moderate conversations about the lives of farmworkers.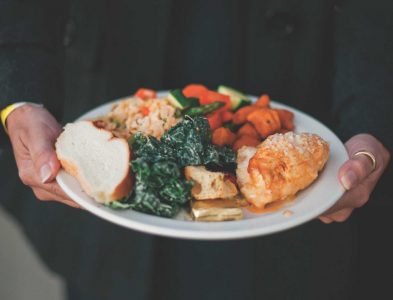 CAMP is an educational program on campus that supports students from farmworker backgrounds in their transition from high school to college.
Jacqueline Avina Espinoza, a CAMP group leader and student host, plans to talk about her personal experience growing up in a farm working family. The phrase "Farm-to-Fork" means more to Espinoza than just food that comes fresh off a farm, it's about all the hard work that goes into the harvest.
"'Farm-to-Fork' to me means all the different efforts it takes to get the food from the farm to the fork and into our mouths," Espinoza said. "It highlights that the food does come from somewhere."
Viridiana Diaz, director of CAMP, said that the festival gives CAMP an opportunity to educate others on the lifestyles of farmworkers and concern that their families have about their work environment.
"The message is that we really wanted the community to understand the reality and the lives of those individuals that are picking our crops and bringing them to our table," Diaz said. "A lot of times I think that we enjoy having access to fresh produce but not necessarily think about the lives of farmworkers and what they have to go through for us to have access to fresh food."
Other CAMP organized events meant to carry out the theme for Farm-to-Fork include a film screening of "The Harvest (La Cosecha)" followed by a panel discussion in the Hinde Auditorium. David Bacon's topic for his keynote will be about the Pacific Coast Farm Worker Rebellion and proceeds from the sold out dinner will fund scholarships for students enrolled in CAMP.
For more information, go to csus.edu/FarmtoFork.
RELATED: