Sac State alum integrates family and community into new poke restaurant
The koi fish has a deep meaning to Sacramento State alumnus Jimmy Khov, who is preparing to open a new poke restaurant called PokeNoke in June.
The restaurant's symbol is a koi fish, which Khov said symbolizes his family who fled the Cambodian genocide in the 1970s. Khov was conceived in a refugee camp and eventually born in Watsonville, California.
"It's a tribute to my family (and) how hard they worked when they got here," Khov said. "They shared $2 amongst eight people, and that's all they had. The saying of the koi fish is 'prosperity through perseverance.' "
Khov graduated from Sac State in 2004 with a bachelor's degree in communication studies with a concentration in public relations. While attending school, Khov was a busser at Miyagi Bar and Sushi, eventually moving up the ladder to become the owner. (Story continues below)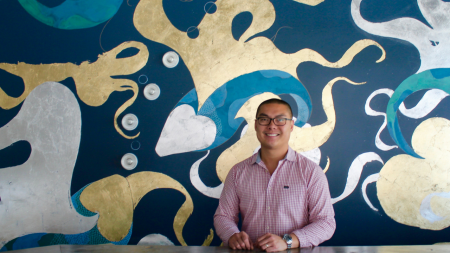 After working in the food industry for over 15 years, Khov wants to introduce his cuisine to Sacramento's restaurant community. Khov believes sushi should be served in a casual setting, creating a welcoming atmosphere for every type of customer.
Poke, which is a raw fish salad, will be served in a customizable way at PokeNoke. Unlike other poke restaurants in town, customers will have the opportunity to build their poke bowls and receive their food at the end of the line.
"It's challenging because (having) everything customizable means that it also takes a little bit more time," Khov said. "So we will feature some signature bowls to expedite those things."
One of the signature bowls will be called the "Miyagi bowl," which will have diced tuna, maui onion, sesame seeds, a mix of soy sauce and sesame oil and garlic chilli, all over a bed of brown or white rice.
Khov plans on integrating the same ingredients he uses at Miyagi into the new restaurant. Local cold brew and Kombucha will also be on the menu.
With the restaurant being less than two miles from campus on Fair Oaks Boulevard, Khov plans to target Sac State students with his poke.
"(In college) I know that my budget wasn't very high when it came to food," Khov said. "We're hoping to create some sort of discount for Sac State students as well."
Along one wall of the restaurant is a mural of eight koi fish, which represents Khov's eight family members. The piece was done by local artist Maren Conrad, who met Khov when they both attended Sac State. (Story continues below)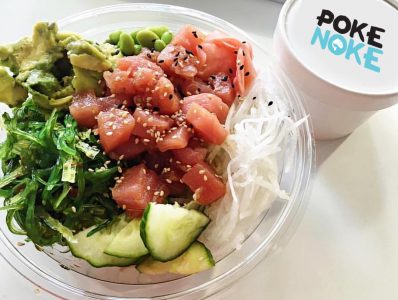 Conrad also painted a mural inside Miyagi in 2013, which was the first time the two friends had reconnected since college. The new painting is her largest mural to date.
"For him, that sense of community sticking together and persevering is instilled to him as values," Conrad said. "He's created a great atmosphere."
Andy Doung, a local graphic designer and Khov's former Tau Kappa Epsilon brother, created the name "PokeNoke" and designed the koi fish logo.
"(Before) I came up with the name 'PokeNoke,' I thought, 'What does Noke mean?' " Doung said. "So I looked it up and and the term Noke means 'spirit of.' Spirit of the fish — I got goosebumps because it works way too well."
The opening date was set for May 15, but with setbacks such as trouble installing internet, Khov is aiming to open the restaurant in June.
Following the opening of PokeNoke, Khov hopes to open multiple restaurants over time, and intends to always keep the value of family and community close.
"It's just amazing the network and community that's been been built," Khov said. "Not only personal friendships but also within the community."