Student designers showcase eco-friendly designs at Golden 1 Center
The Golden 1 Center rolled out a red carpet Wednesday evening for seven student designers from Sacramento State and their models for the annual Student Fashion Association fashion show.
The event, previously held on campus, was sponsored this year by Renew Merchandise. In addition to a donation of more than 40 yards of sustainable fabric made from recycled water bottles, the company granted SFA the opportunity to hold their show as part of the Green Sports Alliance Summit.
The theme for the show was sustainability and was titled "ECOLUTION: The Sustainable Fashion Show." Designers were required to use materials from renewable resources, which they accomplished by shopping at thrift stores and utilizing natural dyes and repurposed fabrics
A piece from designer Desiree Vasquez's "Sucker Punch" collection consisted of thrifted black curtains fashioned into a skirt and a crop top that was dyed purple by blueberries. Designer Alicia Tuatagaloa's line, "Touchback," was inspired by football gear and included garments with recycled shoulder pads dyed with turmeric.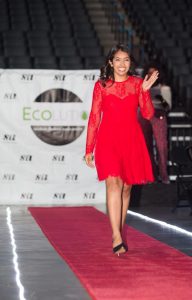 Jose Avila's basketball-inspired collection, "Perseveranc3," was made to be worn both on and off the court. Avila repurposed a green sleeping bag to create a jacket for one of his looks. Designer Phua Lee dyed fabrics using turmeric and plants from her own backyard.
The show at Golden 1 marks the fifth time alum Theresa Truong has participated in an SFA fashion show as a designer. Her experience includes showcasing three collections at Sacramento Fashion Week in the last three years.
Kristine Untalan made her fashion debut with her very first collection, "Darling." The designer utilized pinstripe fabric that she previously owned to create four baseball-inspired looks.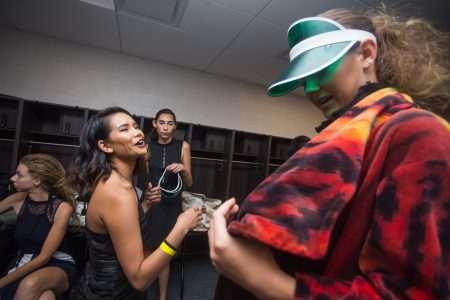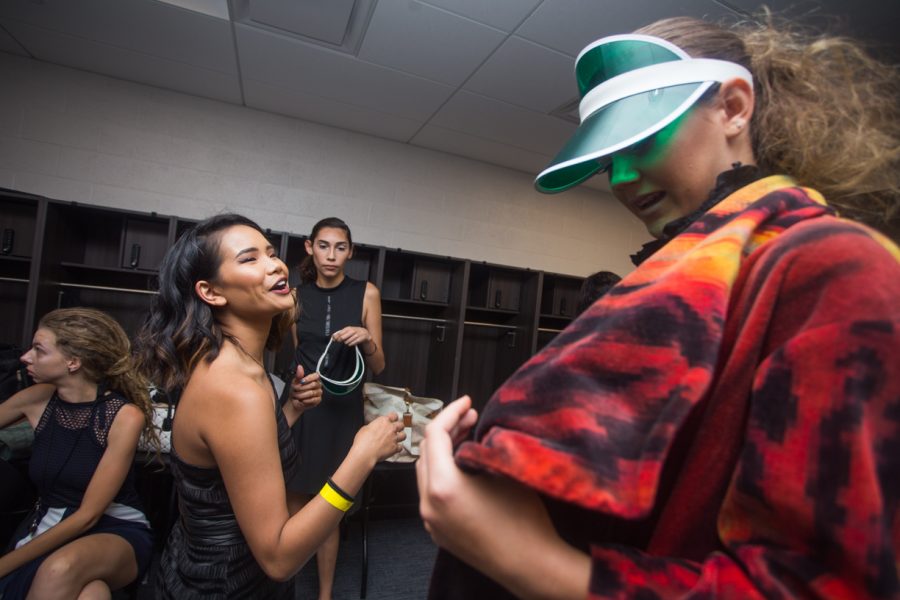 "It's been nerve racking, but also exciting," Untalan said. "This is my first collection, so I just want to showcase my models and design. I'm throwing myself out there and saying, 'This is Kristine, and my collection Darling.' "
Reconstructing thrifted clothing was popular with designer Gabrielle Pyle, who used a vintage prom dress to create a two-piece black tank and gold skirt ensemble for her "SPORT LUXXXE" collection.
The designers developed their sustainable collections last fall and have been making preparations with rehearsals and check-ins with a design committee. Many wish to continue using upcycled clothing with their designs going forward.
"(This show has) been a big learning experience and it's really tested my abilities as a designer and as a creator." Pyle said. "It's been stressful, it's been really educational and really rewarding."