Sacramento Fashion Week held its Spring and Summer Showcase on Feb. 24 at the Sacramento Railyards, featuring seven local designers — one of which is a Sacramento State alumna.
Each collection from designers like Sac State's own Theresa Truong, AMOIRAI by Mary Moehring, Studio FIG, Lisa Lo, Angela De Forsage, SALOEUT by Saphaktra Touch and miss velvet cream by Scatha G. Allison brought at least 12 different looks to the runway.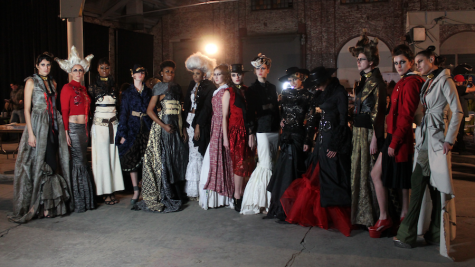 One by one, models from each designer collection strutted from backstage onto the runway inside the well-lit railyard. Throughout the night, host Lisa Gonzalez — a KCRA-TV news anchor — changed outfits designed by several designers she was introducing.
Other guests included Willie Cauley-Stein and Ben McLemore of the Sacramento Kings — who arrived in bold red and gold blazers made by designer Prince Singh, whose collection was presented on Saturday night.
Each designer brought their own trademark style to their spring and summer collection for the night. Designer Lisa Lo — who emigrated from Taiwan in 2009 and is a current senior design major at UC Davis — combined Eastern and Western influences in her designs.
Lo, who is of Hakka ancestry, paired traditional floral Hakka textiles alongside "Western" fabrics to create a modernized twist on a traditional Eastern design.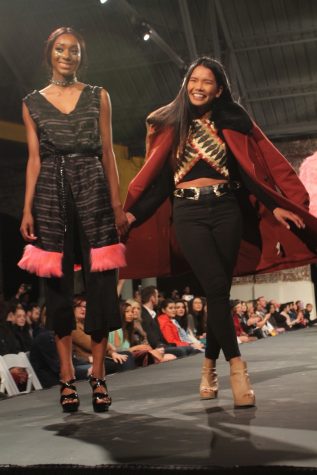 One of her looks at SACFW was a sky blue, floral crop top made of Hakka textile. She paired it with a long, sky blue skirt layered with a sheer fabric with gold embroidery — something Lo described as a Western design.
Caitlyn Easley, a junior psychology major at Sac State and one of Lo's 12 models, said that she appreciates the thought that Lo puts into her designs and how fashion was used to collide different cultures.
"(Fashion is) kind of something that (all cultures) have, so it's cool that it can all come together as one and be enjoyed by everybody," Easley said.
Behind the scenes, a team of makeup artists, hair stylists, designers and assistants were busy preparing models to look their best when they take the stage.
Designer Theresa Truong described fashion shows as chaotic — people working backstage running around, trying to find other people and helping out however they could. That night, the Spring and Summer Showcase started after a 30-minute delay.
"Fashion shows, even if they try to be, never end up being 100 percent organized," Truong said. "Nothing ends up going completely according to plan, but they always end up — no matter how crazy — totally worth it and so much fun."
The Friday night showcase marked the third consecutive year for Truong at SACFW. Truong described her previous collections as leaning more toward formal evening wear — most of which were made out of vegan leather.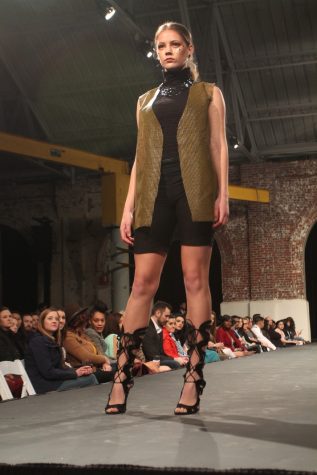 Her new street-inspired collection features pops of colors and different textures. One of her models, Ericah Howard, wore a navy blue fishnet dress, paired with a statement silver necklace. Like the other models in Truong's collection, tiny silver stars adorned the tops of Howard's cheeks.
"I think (her collection) is really unique and edgy," Howard said. "She uses a lot of textures and fabrics that I wouldn't normally expect to see—its super cutting edge."
Label AMOIRAI's swimwear models lined up to get bronzed in a mobile spray tanning booth. Other models chose to practice their walk while some were perfecting those end-of-runway poses in front of a mirror.
Yennie Zhou, a designer and production team member, was helping a model backstage balance a four-layer cake headpiece made from foam and covered with real icing.
Zhou worked in collaboration with Ettore's European Bakery & Restaurant, a sponsor of Sac Fashion Week. The result was a pearl-white balloon gown decorated with the Ettore's logo at the hem.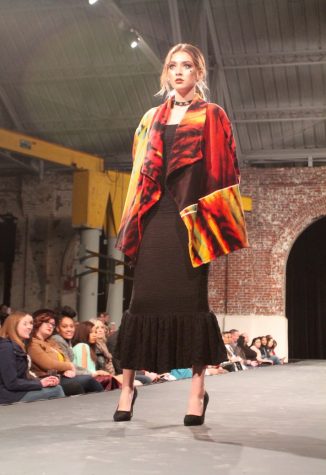 In the audience were two Sac State students, Ariana Tran and Micah Saludares, who came dressed for the occasion in fashionable evening wear.
Tran, a junior business marketing major, mingled with designers and other fashion aficionados at the reception. She documents her fashion endeavors on Instagram and WordPress and became inspired to start progressing her blog after the show.
"Every second I was in that room I was always learning or experiencing something," Tran said. "It really inspired me to work harder to get into the fashion industry with my blog."
Tran said she was amazed by the designers who put their work on display and added that Fashion Week introduced her to the rich Sacramento culture.
"People think, 'Oh, Sacramento, that's just the capital of California,' but little do they know that there is so much culture in Sacramento," Tran said. "I've never really experienced that until I went to this fashion show. People are embracing what they love to do here, and it's just amazing to see."
CORRECTION: In a previous version of this article, Scatha G. Allison's "But Beautiful 2" collection was mistakenly called "miss velvet cream." Each designer was required to bring "at least 12 looks" to the runway, not just "12 looks" as previously mentioned.