During her junior year of high school, Sacramento State alumna Theresa Truong stitched together a prom dress from scratch — a green satin and chiffon garment that the aspiring fashion designer was proud to call her own.
Truong, 22, is now preparing to take the runway at Sacramento Fashion Week for her third consecutive year, where she will show a 12-look spring-summer ready-to-wear collection on Feb. 24 at the Sacramento Railyards.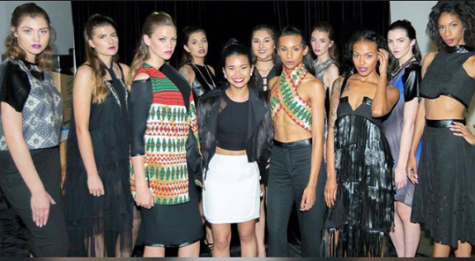 Her new collection will be inspired by street style and street art, something Truong described as funky, cool, out of the norm and eye-catching.
One of the 12 looks that will be unveiled is a striped, neon pink faux fur jacket that she dubbed "The Cait Jacket," after a friend who is obsessed with fur.
Truong currently works at Nordstrom, where she is surrounded by high-end fashion  from major labels. She picks up on the latest trends by observing the colors, patterns and materials of the clothes that come into the store.
When she has a design idea in mind, Truong said that she does not start out with a sketch. She also skips the pattern making process — a template used to trace out different pieces of the garment. Oftentimes, her creations are born out of spontaneity.
"I did not plan on making a fur jacket, but two days ago, I was just like, 'I want to make something pink and furry,' " Truong said. "So, I went to the fabric store and found this neon, Cheshire cat-colored thing and went from there."
Dong Shen, the faculty advisor of the Student Fashion Association at Sac State, said that her former student Truong is very detail-oriented and that her final looks are always well put together despite foregoing sketches and patterns.
"Some designers follow the right process, but she is the opposite," Shen said. "She is a like a very free spirit. She doesn't want to be boxed in."
Truong showed an interest in fashion design when she was in high school and takes pride in having her own unique style.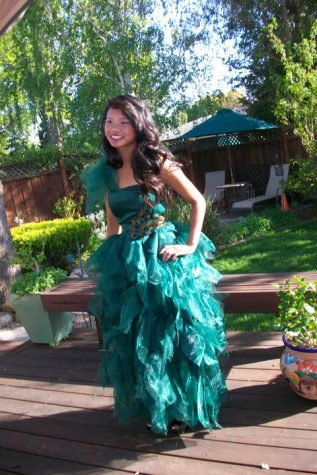 "I've never liked wearing the same stuff that everyone else wears," Truong said. "I find that so boring."
After making her first prom dress, Truong went on to make another dress for her senior prom and later had the idea to string together first place swimming ribbons that she earned over the years into a dress.
"I just know that (fashion design was) what I wanted to do," Truong said. "It's like a very fun way to get your creative energy out."
After high school, Truong attended Sac State as a fashion merchandising and design major. She joined the Student Fashion Association, where she participated in every SFA fashion show during her four-year enrollment.
Truong was first introduced to Sacramento Fashion Week when representatives from the organization approached SFA to find designers to participate in its Emerging Next Designer student showcase.
"Being in that club is what really involved me in the Sacramento fashion industry," Truong said. "That's where they offered opportunities to volunteer backstage, intern backstage and plan their fashion shows."
Although she graduated in December, Truong still makes visits to SFA to help out whenever she's available.
Phuong Mai, the event coordinator of SFA, said that she appreciates the alumna's efforts.
"I would like to thank her, on behalf of SFA, for always participating in club events, being in our fashion shows, just coming back to the club," Mai said. "There's not a lot of alumni that do that."
When she is not designing clothes for shows, Truong said that she does alterations and custom designs for her friends.
While her ultimate goal is to have her own collections sold at department stores nationwide, Truong would first like to gain more experience by working for other fashion houses before building her own empire.
"I think Theresa is very driven (and) I see a very clear path for her," Shen said. "She had all of this figured out already. She knew every single step that she needed to take to get to her ultimate goal, so I see persistency there."