Student Fashion Association prepares for upcoming show at Golden 1 Center
The Student Fashion Association is preparing to make its mark at the Golden 1 Center by holding its annual fashion show as part of the annual Green Sports Alliance Summit.
Seven student fashion designers from Sacramento State will showcase their sports-themed collections in ECOLUTION: The Sustainable Fashion Show. The admission-free show will be held on June 28 at 7:30 p.m.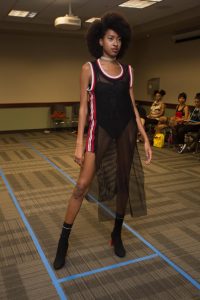 The designers had their sketched designs approved the previous fall semester and have since undergone multiple check-ins with the SFA faculty committee to follow the progress of their work.
Sustainable materials like natural dyes made from blueberries and repurposed clothes from thrift stores were used to make full outfits. Renew Merchandise, a GSA company partner, donated more than 40 yards of fabric made from recycled trash for the designers to use.
Alicia Tuatagaloa, a senior family and consumer sciences major, tossed out her original designs just weeks ahead of the show. Her collection now features tops that emphasize the shoulders with padding and colorful prints.
"I decided I didn't like anything that I did," Tuatagaloa said. "It wasn't stuff I'd actually want to wear myself."
SFA has faced a few setbacks, including a subtraction of time for the show. SFA is currently set to have 20 minutes to showcase all seven designers, eliminating the competition segment it had originally planned.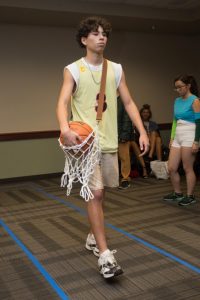 Dong Shen, the faculty adviser of SFA, has been working with event coordinators to finalize lighting, music and the runway — which has now been changed to a red carpet.
"Things are changing daily, but (having a show at Golden 1) is such a great opportunity for us." Shen said. "We will do everything we can to accommodate with what they can offer."
Sac State was selected out of several Bay Area colleges to put on the fashion show. Michelle Rockwell, a local representative for Renew Merchandise, said that Sac State's sustainability practices, such as turning food waste into fuel for Hornet Shuttles, made the school stand out above the rest.
"Sac State has done so many wonderful things to advance their sustainability and their carbon footprint to be reduced on the planet," Rockwell said. "Everyone knows Berkeley and the big colleges, but (Sac State) really deserves their spot in the global platform for sustainability for all of the hard work they've put in."
Slide through the photo gallery below: