'Ebony Lust' dominates Sac State intramurals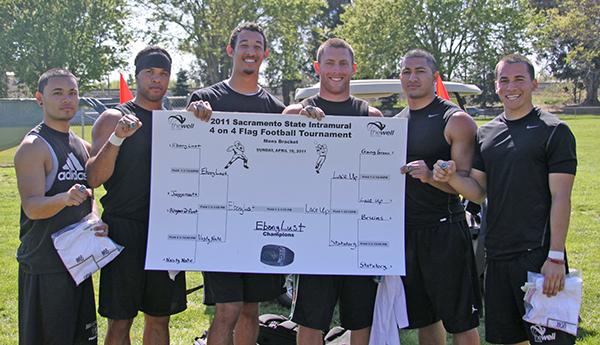 One team has dominated the Sacramento State intramural scene the last three years. This "traditional team" as the term is known within intramural sports programs keeps the same core of students over many semesters and seasons.
Over the past three years, one fraternity of athletes, bound to the name Ebony Lust, has won six intramural championships and countless Greek life and club tournaments.
The teams are made up of campus student-athletes, fraternity members and friends, and boasts championships in flag football, dodgeball and soccer, including three straight Sac State Throw Down titles – the fall semester's annual dodgeball tournament.
Not all of these intramural superstars are involved with Sac State's Greek life, but all of the Ebony Lust teams are made up mostly of Tau Kappa Epsilon brothers. This particular fraternity has been suspended from campus twice – once in May 2006 and most recently in the spring of 2010.
TKE is now serving a suspension through spring 2015 semester due to rules that keep TKE from competing as TKE on campus. The fraternity adopted the pseudonym "Ebony Lust."
It was in 2006 when the brothers of TKE played under the pseudonym Ebony Lust. In 2009, the year the team began its run of three straight Throw Down titles. The team was able to compete under the name TKE when they won the Throw Down title and the fall intramural flag-football championship.
In 2010, before the brothers were suspended again, the men took the Throw Down title a second consecutive year as well as the Crescent Classic Soccer Tournament – the annual charity event hosted by the Gamma Phi Beta sorority.
And in fall 2011 Ebony Lust took the Throw Down title again in "dramatic fashion" as Sean Basso, intramurals coordinator, said.
"Fred Carino, one of (Ebony Lust's) star players takes on the Sigma Chi Dream Team one-on-four and ends up eliminating all four guys – finishing the tournament," Basso said.
Each year Ebony Lust or TKE has won the Throw Down Tournament, the Sigma Chi Dream Team has won the spring's annual dodgeball tournament, the Get Rec'd Tournament. These two teams have played each other in the finals of every Sac State dodgeball tournament since fall 2009.
Ebony Lust also took the spring 2011 four-on-four flag football championship and the indoor soccer championship. They remain undefeated in flag football and sent four players to this season's all-star game.
Ebony Lust's success reaches beyond the Sac State campus as well. These intramural all stars traveled Arizona State University to compete on flag football's highest stage. The men of Ebony Lust finished in third place in last year's National Campus Championship Series Flag Football Western Regional after an undefeated intramural season at Sac State in which they were disqualified from the playoffs due to an isolated sportsmanship issue.
Next month, Ebony Lust is set to compete in the NCCS Flag Football Championships once again at UCLA.
The many Ebony Lust teams are now made up of more than 25 men. Some playing in multiple sports, each comes from different walks of life. Some held leadership positions within TKE, others play competitive club sports on campus and some are just looking for a way to play.
The men of Ebony Lust are not all TKE brothers. Some of the members were once in line to become brothers of TKE, but after the most recent suspension were never able to complete the process.
"They were hanging out with us, they never got initiated, we're not just going to kick them off the team because they're studs so we still let them be Ebony Lust," said Ebony Lust defensive lineman Juan Gonzalez, former TKE president.
"These are just all my closest group of friends," said senior business major Jeff Gillingham. "I just try to train and stay in shape, so it's a great way to come out and have fun and just ball out."
One reason why Gillingham plays is to stay in shape for the rugby season.
"I play rugby for Sac State and I excel at that," Gillingham said. "These are just all the guys I kick it with, so we just come out here."
Those who are brothers of TKE take much of their motivation from knowing they are doing something in the name of their fraternity and are helping to keep their brotherhood alive.
"It makes me feel good because people still come up to us asking when we are coming back and if they can play with us," Gonzalez said. "I don't want TKE to die out and have to restart all over again. It did so much for me and I want others to get the same out of it."
But all of these champions share one common source of motivation.
"Win or lose, we still booze and we did it for the party. We're playing every single tournament – anything – to do the party after it," Gonzalez said. "We like to compare ourselves to the 1990s (Dallas) Cowboys."
Basso said he believes Ebony Lust's tradition of competition is invaluable to Sac State intramurals.
On whether or not Ebony Lust would leave a hole in the intramural landscape, Basso said "anybody who would win it, would feel that they hadn't beat the best team out there – that their championship would have, if you will, an asterisk by it because they weren't able to compete against the highest-quality team in flag football or dodgeball. They definitely possess a traditional integrity."
AJ Taylor can be reached at [email protected].