State Hornet Staff

May 16, 2014
Sacramento State communication studies student died following an epileptic seizure on May 6.Russell Nowotenski, 24, worked as a lab assistant for Communication Studies Chair Steven Buss and was enrolled in his advanced lighting class while working in Sutter Memorial's emergency room. Friends and facu...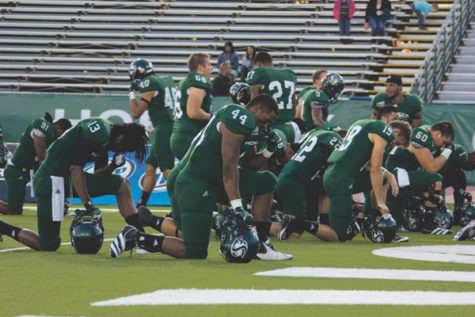 State Hornet Staff

October 31, 2012
Some believe that when a person dies it is not necessarily the end.John Bloomfield has not been on the football field with his teammates since week one of the season, but his presence was felt when the Hornets knocked off No. 11 Cal Poly.The death of their teammate has been extremely emotional to Sacramen...
Ryan Kuhn and Joe Davis

October 21, 2012
Sacramento State senior defensive end John Bloomfield died this morning at Mercy General Hospital after being in a coma for a number of weeks, according to hospital officials.Bloomfield was re-admitted on Sept. 19 to treat a deteriorating lung, but after multiple surgeries complications such as inter...
State Hornet Staff

September 7, 2011
The government really wants you to know that smoking cigarettes will harm you and give you lung cancer. Because of course, smokers do not know that and think cigarettes are filled with vitamins and minerals. This time next year, the Food and Drug Administration will require tobacco companies to put n...