Sacramento State Native students have raised concerns about the progression of the 'Esak'tima Center after it was delayed for a third time due to the ongoing construction issues that have prevented a grand opening since fall 2022.
The 'Esak'tima Center was approved in 2018 by former Vice President of Student Affairs Ed Mills after years of Native students campaigning for a larger presence on campus. This center would provide them with faculty support, a space for community events and an opportunity for non-Native students to learn more about the Indigenous culture.
Additionally, Sac State has been an Asian American & Native American Pacific Islander Serving Institution since 2011, according to the university's fact book.
"What we have done is put our expectations on the floor," Ensuring Native Indian Traditions club President Lillian Weese said. "Every time they say here's our opening date, we always joke to each other like, 'How long do you think till it gets delayed?'"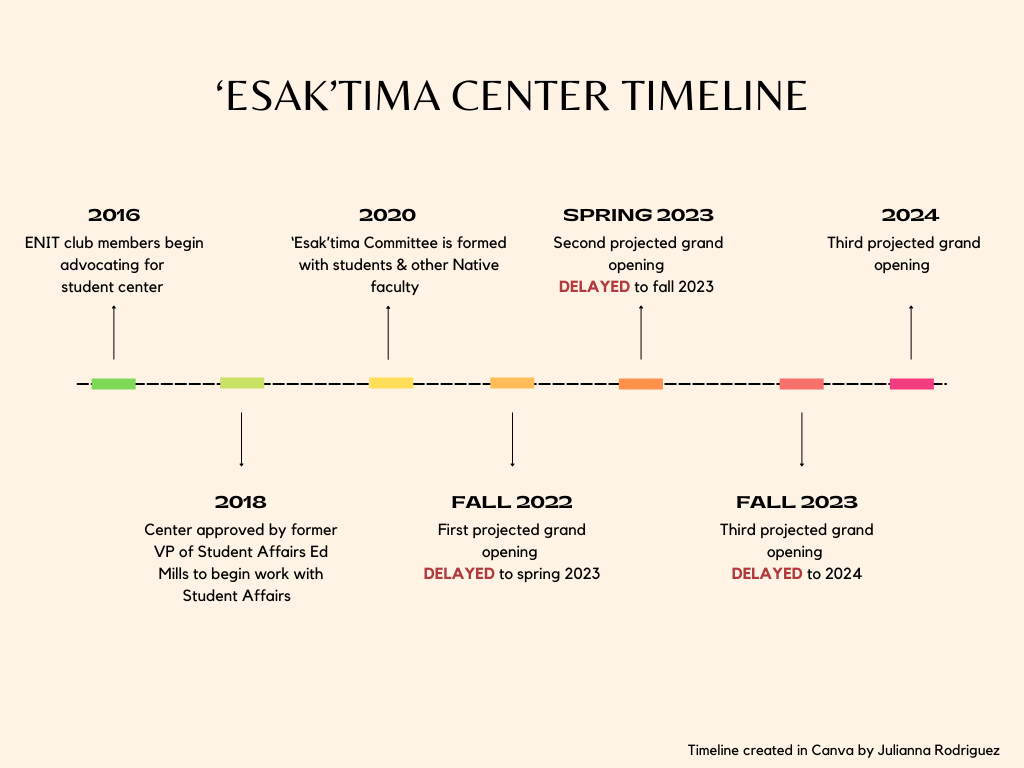 According to ENIT club members, communication with the center's coordinator Rena Horse has been at a standstill with minimal communication on the updated official opening date of the center.
"The fall semester for sure," Horse said. "I mean that it should be open. That's what I'm hoping for, but like I said, I don't have a date right now."
Spencer Pearson, a member of the Cherokee Nation tribe and student assistant to Horse, said when he was tabling for the center during freshman orientation in July, he was handing out flyers to students that said the center would be opened Oct. 2.
"We are planning a soft opening and we are also planning a grand opening celebration," Horse said.
RELATED: Renovations further delay launch of Sac State Native student center
The center's construction has been stalled due to issues with flooring that were only recently discovered after the building's carpeting was ripped out, Horse said.
She said the construction is now on a new timeline, tentatively to be completed by Oct. 31.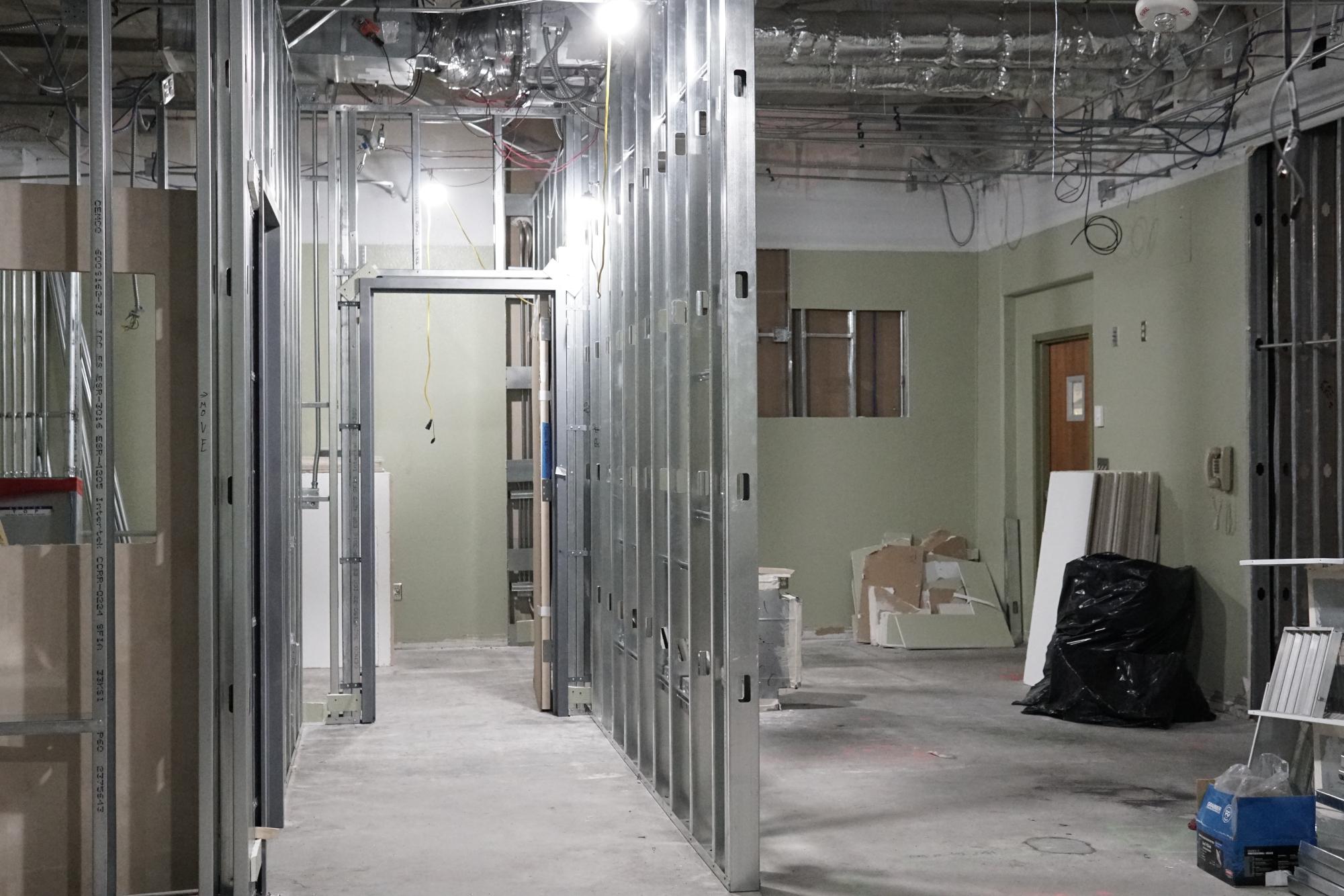 "Once the construction is completed and we move the furniture inside the space, we will have a date when we can open our doors to service our students," Horse said.
Marcellene Watson-Derbigny, associate vice president of Student Retention and Academic Success said campus leadership is making this project a priority but needs to ensure the safety of students before the center is open.
"I think that the delay is not even an obstacle," Watson-Derbigny said. "It's following the protocols of what we are supposed to follow."
Native students' response to the delay
Amanda Croteau, a second-year master's in biological sciences student at Sac State and a Cherokee Nation tribal citizen, was a member of the 'Esak'tima Center committee when it was originally formed in 2020. She raised concern over the promises made to incoming students.
"It's frustrating that Sac State is recruiting Native students with this promise that a Native center is opening soon," Croteau said. "Either stop advertising Sac State as a school supportive of Native students or open the center because you can't have both."
Weese, of the Wukchumni tribe, said the specifics of the delays had not been expressed in any formal statements from the 'Esak'tima Center's coordinator, Horse.
"What we have done is put our expectations on the floor. Every time they say here's our opening date, we always joke to each other like, 'How long do you think till it gets delayed?'"
— Lillian Weese
The committee has not met since July. Maria Elena Pulido-Sepulveda, a recent sociology graduate who was also an original 'Esak'tima Center Committee member, said an email regarding a new December date was given with no further context.
"She never followed up with the dates that would work best after that follow-up email came out," Pulido-Sepulveda said.
Horse said that the delay was communicated via email and meetings to the Native students. "I don't really feel like there's been a lack of communication," she said.
Mejia said their projected December grand opening was too close to finals week and it would be challenging for faculty and students to be a part of it.
"This is why initially, the committee considered doing it in the spring semester," he said. "Then everyone that's attending from the community has a chance to actually be present and be involved."
While the center was originally a student-led project, Weese and Croteau believe the communication issues might be attributed to a complete shift in leadership. Once a faculty coordinator was hired and more staff was brought on, student input began to decrease.
"At its formation, the committee was a really supportive environment, but over time through postponements and lack of support for students, we've become increasingly discouraged," Croteau said.
Pulido-Sepulveda said that plans for the center moved at a hyperspeed pace in the beginning before faculty took over and made it harder for the students to aid in moving things along.
"We thought it was gonna happen before some of our officers graduated, " Pulido-Sepulveda said. "That hasn't really been the case."
Pearson said much of what he knows about the center has been relayed through conversations with other students rather than the faculty members he works directly under.
"We want the center for the students and our goal is the students," Pearson said. "But are the people who are running this committee's goal still the students?"
Native students represent less than 1% of the campus demographics, according to Sac State's website. Without a center to connect with others, these students face feelings of isolation.
"At the end of the day, all I care about is that the kids get the experience and see themselves on the campus of Sac State," Pulido-Sepulveda said. "We want this to be a community space where people outside of Sac State can come in and access it as well."
While students await the grand opening, they hope to reconnect with faculty and become truly instrumental in the decision-making process for the betterment of the center.
"We understand that there's a lot of things that are out of your control, but we deserve to be in the loop and we deserve to know what's going on," Weese said.