Ethnic studies professor faces allegations of unethical practice, offered monetary extra credit
Students claim to have bought grades from softball fundraiser
Ethnic studies professor Rashad Baadqir is facing allegations of structuring his Intro to Ethnic Studies course as intentionally difficult in order to influence students to donate money to the Sacramento State Softball Club. 
Baadqir, who is the head coach for the Sacramento State Softball Club, offered extra credit to students who donated money to the club's pizza fundraiser as long as they provided a receipt for the donation, said Summer Lomendehe, a junior double-majoring in journalism and Asian-American studies. 
Lomendehe said the limit to the extra credit was 200 points total, so a student could pay $200 to receive 200 points of extra credit towards the class. 
Freshman criminal justice major Eric Lor said it was very early in the course when Baadqir began sharing the extra credit opportunity to students.
He said he believed Baadqir intentionally structured the course to be difficult so students would feel compelled to pay for the extra credit. Lor said that, while he did not participate in the extra credit, he felt compelled to sometimes. 
"What's actually the point of doing the assignments if I know I don't really need to do it?" Lor said. I could just pay my way to a good grade."
Both Lomendehe and Lor said they believed more than half the students in the class participated in the extra credit opportunity. 
Lomendehe said the Division of Academic Affairs later became involved and sent an email to students on Dec. 8, 2022. The email stated whoever donated money to the fundraiser would receive it back. 
Story continues below screenshot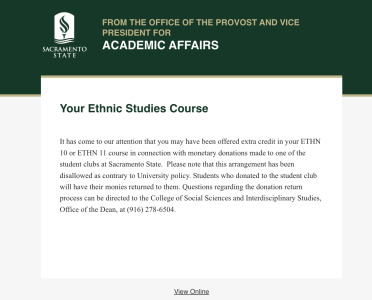 Lomendehe said she did not expect to pass the class because she had missed several assignments including the midterm and the final, resulting in her missing 500 points in total for the class. She decided to retake the course during the winter intersession. 
On Dec. 15, Baadqir sent out an email to students stating he would be re-grading their work, giving bonus points to everyone and apologizing for any inconvenience or confusion with his communication.
It wasn't until Lomendehe was in the midst of retaking the course and fall grades were posted that she found out she had passed Baadqir's class with an A. Lor and Lomendehe both said they unexpectedly received an A in the course.
Baadqir is still employed at Sac State and continues to teach the class alongside ETHN-173, The Black Family in the United States, according to the student center course catalog.
The fall semester was both Lor and Lomendehe's first semester at Sac State. They both felt confused about what this could mean for the rest of their time as students here. 
"This is my first experience with a professor like this," Lor said. "I'm like, 'Okay, is this a representation of Sac State or is this how other professors are?'"
Senior Writer and Editor of University Communications Jonathan Morales said due to "employee privacy considerations," Sac State cannot comment on the matter.
"Sacramento State is committed to upholding academic standards and ensuring fairness for all of its students," Morales said. 
Baadqir did not respond after multiple attempts of contact by The State Hornet. 
The State Hornet's Dylan McNeill contributed to this story. 
Editor's Note: Carlos Nevarez, the interim Provost and Vice President of Academic Affairs, sent the following statement regarding the university's response on the issue:
"We are taking this matter very seriously, as our students' academic success is the core of our mission. We took action as soon as we were made aware of the situation. Keeping in mind that we need to follow due process to protect the rights of all involved, this is an ongoing investigation, and we will see it through to completion."