Student representatives say conservative organization attempting to influence Sac State ASI elections
Activism project searching for student candidates to endorse, sources say
Conservative organization Campus Victory Project is attempting to vitalize young conservatives among college campuses and has allegedly made attempts to influence the upcoming Associated Students, Inc. elections, according to multiple sources connected with ASI.
A representative of CVP, once a subsidiary of Turning Point USA, attempted to contact ASI members at Sacramento State in fall 2022 according to Michael Lee-Chang, a former ASI member. ASI Executive Director Sandra Gallardo said she recently encountered someone from CVP on March 2, claiming to be a student.  
"A gentleman walked in and identified himself as a student and requested to watch the mandatory elections presentation," Gallardo said. "He then told me he was not a student and worked for the Campus Victory Project. I informed him that I had never heard of the Campus Victory Project, but informed him that I only conduct elections workshops for students planning to run for ASI office."
The Campus Victory Project describes itself as an "elite leadership development organization," on its website. CVP circulated a brochure in 2017 that details its "victories" at campuses around the nation.
"Most (Student Government Associations) have been controlled by the left for decades," reads the CVP information pamphlet. "Turning Point USA has embarked on making the largest strategic impact for taking back and fighting the entrenched institution that has hijacked billions of public dollars."  
The brochure boasts "54 student body president wins."
Story continues below photo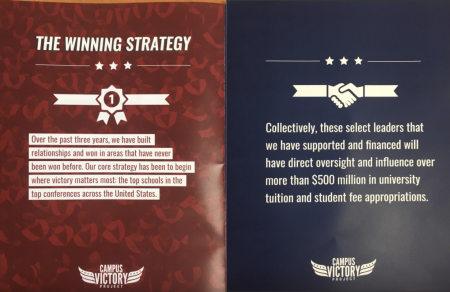 The University Star at Texas State reported that a former member of the student government publicly alleged that the president-elect took "an undocumented $2,800 and 25 iPads from Turning Point USA," in 2018.
TPUSA attempted to involve itself in college elections as far back as 2015, according to an article from UC Berkeley, and as recently as February, according to the UVU Review. 
"On Sept. 29, 2022, Thomas Ingram III sent, via his Instagram, a message to me regarding the Campus Victory Project,'" Lee-Chang said. "I had never heard about it before, but he claimed it was a 'non-profit that works to provide students with leadership and networking opportunities. He told me he's currently reaching out to Sac State students who he thinks might make a 'good fit.'"
Ingram first contacted Lee-Chang then and sent a follow-up message on March 12 claiming that his organization could be a real help to Lee-Chang's potential candidacy, according to Lee-Chang. Ingram did not reply to multiple contact attempts from State Hornet reporters.
"I certainly don't want any outside organization acting on behalf of the university when they're not part of the university," Lisa Dalton, executive and board associate of ASI, said.
Dalton cited parts of the ASI elections code that prohibits third-party interference unless explicitly detailed in a public report. If a candidate does not complete an expenditure report, they are automatically disqualified, Dalton said.
"If [CVP] are trying to financially support any given candidate, that would need to be declared in an ethical way by the candidate through donations," Dalton said. "There is a limit and it has to be declared as part of the expenditure report."