Three continents and 9,000 miles: Hoops prospect finds new home
The NBA Global Academy is known to be the NBA's hub for 16 elite male and female high school basketball athletes each year, among these players was 6'9 freshman Sacramento State forward Kiir Kiir Chol Deng. 
Cultivated with the hope of becoming future collegiate and professional basketball players, NBA Global Academy-prospects pursue their basketball dreams all while under the observation of pro-level coaches as well as former NBA players.
While a major accolade for the South Sudan native, Deng is no stranger to setbacks. In fact, he said he embraces them.
"It's crazy to say that this is his third continent, and he's only been playing basketball since he was 15 years old," Batiste said. "It's genuinely impressive seeing how he handles himself and the maturity that he moves around with while being so far from his home and his family."
Before being selected into the academy, Deng was spotted by one of the coaches at a basketball camp in Uganda. After both of Deng's parents were convinced about the opportunity, Deng found himself in the academy hub for Africa.
According to Deng, the connection between his Australian Global Academy coach, Marty Clarke and Sacramento State head coach David Patrick is what led to him becoming a Hornet.
"Off the floor, when he first got here he was kind of in his shell and he didn't speak a ton," Sacramento State assistant coach Tyson Batiste said. "I don't know why he didn't speak a ton because now we can't get him to shut up. He's a funny funny kid."
Story continues below photo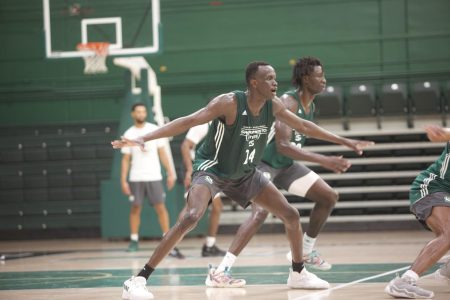 Deng's quick success in basketball matches the success he has had in both high school and college academics.
"Usually, you have to remind freshmen to go to class and not be late during the season, but he goes above and beyond that," Patrick said. "He's one of the most prepared freshmen that I have ever coached in my career."
While Deng has traveled to places like Senegal and Mexico for basketball, his family was not with him physically in the process. One of his three brothers came to Atlanta in November 2022, but Deng still texts with all of his family. 
However, this does not change how supportive his family, friends and coaches have been throughout his journey.
"The first year was all butterflies and there was a lot going on with me personally," Deng said. "I'm feeling a lot more comfortable and I believe that next year is going to be the year for me."
During his travels throughout the world as a young and aspiring prospect, Deng became accustomed to quite a few different cultures, but he said none of them were as challenging as living in Senegal.
"I had to speak French," Deng said. "I had a French class, but only learned and remembered the basics of it, like how to start a conversation."
What looked to be a promising opportunity with the NBA Global Academy facility in Australia turned into frustration as Deng said his plans were rerouted due to the COVID-19 lockdown. 
"I waited for about six months and it was bad," Deng said. "I had to stay in Mexico for a couple of those months, but eventually I moved [to Australia] last year in February. I was excited to play with talented players from different countries all around the world."
Deng said outside of the United States, there are differences in how basketball is played — which included different styles and pace.
"Here in the States, the game is played much faster and there are people on the team that have more experience than me," Deng said. "That's the big one for me because the college experience is so different from my high school experience overseas."
When it comes to his teammates, he looks up to all of the Sac State seniors due to their experience and leadership skills. Deng said he's paid special attention to how other players instruct their teammates.
"I'm like a sponge," Deng said.  "I have an idea on what leading looks like now."
Through his first season with the Hornets, Deng started in nine out of 19 games, totaling eight offensive and nine defensive rebounds. 
"I think he felt the physical strength difference in his last seven starts and he has come back in the last month or so and really spent time getting his body right," Patrick said. "He has put on 11 pounds within the last month and a half and I believe that can only help us as a team.
While Deng's favorite NBA player, Kevin Durant, has made his presence known through his mid-range scoring as a lengthy forward, Deng said he prides himself on using his own length to be a lethal defender. 
Deng believes with the experience gained last season, his sophomore year at Sac State will be his breakout season.
"With this next season, I want to see a different guy on the court — like a meaner guy," Deng said, grinning. "I'm a nice guy on the court sometimes, but I need to not care about what anyone else thinks and just have that competitive nature about me."