Understanding, preventing theft on campus
Sac State PD: Bikes among most commonly stolen items at Sac State
Investing in a strong bike lock and watching over your valuables might save you from having to replace your belongings. 
Theft occurs at Sacramento State more often than students The State Hornet spoke to imagined. Sac State's Deputy Chief of Police Christina Lofthouse said theft is a common crime taking place on campus. 
Multiple cases have been listed in the Sac State PD's crime log ranging from petty theft to burglary, happening as recently as April 16. So far there have been eight reported cases that involved theft in this month. 
"It can just happen anywhere, anytime," Lofthouse said. "People in our region know that our students have a lot of good stuff and so sometimes people come here to victimize our students, staff and faculty." 
Lofthouse could not share further details on any of these cases, including the burglary at Amador Hall, nor share what items were stolen because these are on-going investigations, she said. Lofthouse said she has not noticed any uptick of crime on campus.
One of the most common forms of theft is crimes of opportunity, Lofthouse said. These crimes occur when people take items like laptops left unattended in plain sight. The most frequently stolen items are bikes, she said.
First year health science major Daniel Muyco Romo said he was surprised to hear theft was a major crime on campus. He said when he lived in Korea for a few months, people often left their items unattended. 
"People that come from different societies than the United States have that mindset that they can leave their stuff, but here, everyone takes everything," Romo said. "Growing up in the States, I do not feel safe leaving my stuff at all." 
Bikes with cable locks are stolen often because they're very easy to cut, Lofthouse said. 
To prevent bike theft, Lofthouse encourages riders to register their bikes for free at one of the bike compounds around campus, which community service officers guard. The bikes are given a sticker and Sac State PD records a description and the serial number, which allows them to enter the bike into a stolen property system if it is ever taken.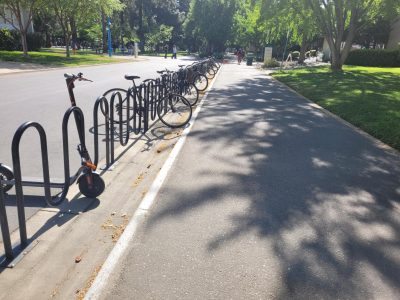 Oscar Villalobos, a third-year computer science major, said when he brings his bike to campus, he feels confident about leaving it in the bike compounds. However, he generally does not feel safe leaving his belongings on campus. 
Villalobos carries two locks for his bike – one for the body of the bike and one for the tires, he said. 
"If you don't leave your bike in one of those [bike compounds], you probably have a higher chance of getting it stolen," Villalobos said. "I feel like, to neglect the fact that your stuff can get stolen is kind of ignorant." 
Other forms of crimes of opportunity can involve a thief breaking into someone's car to steal something, Lofthouse said. She said students should hide belongings like their backpacks in the trunk of their vehicles instead of more visible places like the front seat. 
Third-year business major Jennifer Sanchez said she feels comfortable leaving her items out in places like the library.
"I should be more aware, but overall, because I haven't had an experience where someone steals from me, I think I do feel comfortable leaving my stuff," Sanchez said. "I feel comfortable knowing that there's other students around and that they'll look out for me if I leave."
Even if students do not believe their items will be taken, Lofthouse said students should not leave them out in these public areas. Instead, she advises that they take their possessions with them or have a friend watch over them.
Sandra Pantoja, a fourth-year history major, said that although she feels relatively safe on campus, she always takes her items wherever she goes. 
"My own personal rule is to never leave it if I don't see it," Pantoja said. "If I were to do that, I wouldn't feel too comfortable just because there's a lot of people. I don't want to risk it."
Pantoja said she thinks it would be helpful to have a locker system on campus where students could rent lockers for their belongings.
If a student does become a victim of theft, Lofthouse said they should report to the police department. With certain items such as laptops or phones, officers can assist in entering the serial number in a stolen property system, increasing the chance of a victim receiving their property back. 
To report theft or contact Sac State PD, they can be reached at (916) 278-6000.