Candidates for Sac State's financial aid director position present in open forum
The candidates discussed the relationship of financial aid and other departments
Sacramento State held open forums for candidates seeking the director of financial aid and scholarships position in the University Union on Wednesday, Sep. 28 and Thursday, Sep. 29.
Candidates Pawan Wallace and Tina Lent both discussed the importance of the relationship between the financial aid office and other departments, making students aware of resources and changes in federal methodology regarding financial aid eligibility.
Wallace is the current senior associate director of financial aid and scholarships at Sacramento State and brings 24 years of experience in financial aid to the table. 
Lent is the current director of financial aid, scholarships and veteran services at San Joaquin Delta College in Stockton. She began in her position in 2010 and has worked at California State University, Stanislaus, as an academic adviser.
"I knew at some point I wanted to go back to the CSU, and I was on campus about a year ago," Lent said. "I had a really good feeling about it. It was great being back on a CSU campus, it just has a totally different vibe, and I've been thinking highly of Sac State since then."
Both candidates covered similar subjects during their time on the podium, discussing the importance of the financial aid's office relationship with the other departments on campus. Wallace described this relationship as a partnership.
"Partnership involves a lot of communication and this communication is key," Wallace said. "We want to support students so they can graduate."
The main issues both candidates addressed were the financial concerns for students, especially for students new to Sac State.
Throughout her forum, Lent said students' concerns are first, how they are going to afford college and then start thinking about how they are going to live. 
Both candidates addressed the issue of how students will fund their education as a pressure felt by the student's families.
"As a parent of a college age student, that's what I want to know," Wallace said.
Wallace said during her time at Sac State, the financial aid department was working towards helping students deal with these financial concerns. She said a big part of this effort was working to educate students on what resources they have available and how to budget.
"We need to share this information with our students," Wallace said.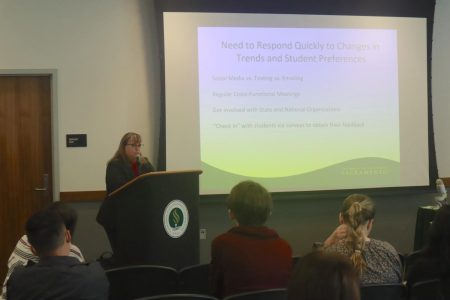 Lent said part of her plan for helping students better deal with these issues was to try and make communication clearer for them. This included being aware of what platforms students were using and acknowledging changing trends in social media so they could know where and how students were communicating with each other.
"You can't just send a mass email out and expect everyone to read them," Lent said. "Because most students don't check their emails." 
Another topic discussed by the candidates was a change in federal methodology in determining financial eligibility for the FAFSA from the Expected Family Contribution to the Student Aid Index. 
The FAFSA, or Free Application for Financial Student Aid, is an application students can fill out to determine eligibility for student aid. One way the form determined eligibility was through calculating the EFC, now changing to the SAI . This change to the SAI will take place in the 2024-2025 school year, both candidates said.
"The intent is good for these changes," Wallace said. "It shortens the process for students filling out the FAFSA By eliminating questions."
While this can make filling the application less intimidating and could help students coming from low-income households, there were some downsides according to Lent. She said it would still be tough on middle-class students and those coming from two-family households as they could still face trouble while filling out the application.
Alexis Juarez, a second-year sociology major, said she had frustrations with dealing with financial aid in the past.
"The process could definitely be easier," Juarez said. "You already have a lot of stress, especially now with school and being part-time with work."
Another student who applied for financial aid was Vanessa Ortiz, a first-year business major. Her application was denied, and she needed to take out an unsubsidized loan.
"I contacted the bursar's office and tried to appeal but it was denied," said Ortiz. "I was told I could only appeal under 'special circumstances.'"
Ortiz said neither the bursar's office or the financial aid office communicated to her what "special circumstances" meant in this situation. Both Ortiz and Juarez said they believed communication in the financial aid office could be better.
Brooklen Ross, a third-year psychology major, also had issues applying for aid. Ross said she was told she had to claim as a dependent of her parents as she was under 24 and a full-time student.
"The issue isn't so much the school but the whole system in general," Ross said.
She said she understood the financial aid process could take a while, but there still needed to be better communication. Ross, Jaurez and Ortiz all said they had not heard of the change from EFC to SAI.
"What we do in financial aid really affects others out there, it's like throwing a rock in the water," said Lent.