Q&A with a student safety ambassador: COVID-19 protocol on campus
'I've passed out one mask, and that was to a teacher'
In an effort to ensure safety, Sacramento State has created the position of student safety ambassadors, who keep the campus clean and safe by making sure students follow guidelines regarding COVID-19. 
Safety ambassadors can be spotted throughout campus wearing green vests with "safety ambassador" on the back, and a hat reading "safety ambassador."
"They are spread out through all the academic buildings that have in-person classes, in addition to… the computer labs, bookstore and dining commons," said Myra Cheah, coordinator for Sac State's housing services.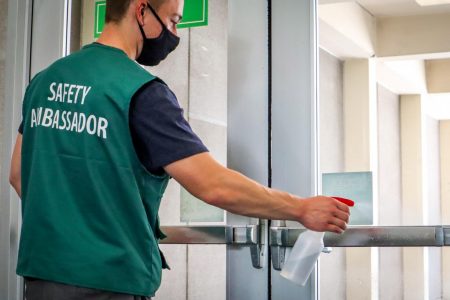 A typical day as an ambassador includes wiping down frequently touched surfaces, handing out masks and answering students' questions regarding COVID-19, safety ambassador Chio Saeyang said. 
Saeyang said that although the student safety ambassador is a new position on campus, students and professors have been pretty receptive about it. 
"Mainly it's been really chill in the areas that I've worked at, only like one or two people have asked for a mask, so it's mainly just enforcing the policies," Saeyang said.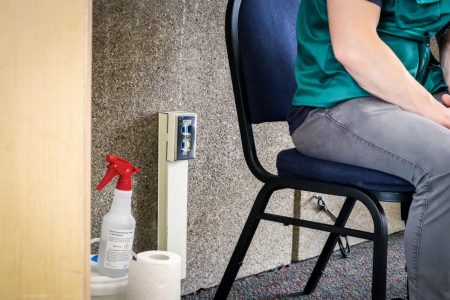 Junior Robert Roman said he thinks the safety ambassadors are a good idea because they disinfect surfaces previously touched by people. 
When asked whether the ambassadors should be kept around for future semesters, Roman said, "It wouldn't be a bad idea, especially for flu season… viruses transmit pretty easily." 
So far, the ambassadors have just been told to approach groups and politely offer them a mask if they don't have one, and remind students of social distancing protocols to keep everyone as safe as possible, Saeyang said. 
"We have instructed them [student safety ambassadors] to put their safety first. So obviously if it's a large group… and they become violent towards the safety ambassadors, we want them to get to safety and we instructed them to contact campus PD [police department]," Cheah said. 
As instructed by Sac State's housing services and affairs, student ambassadors should keep their safety first when it's necessary, Cheah said.
It's hard to give a timetable of when students will be able to walk freely on campus without limitations or guidelines, Cheah said. 
"For the moment, right now, it is until it [COVID-19] is up," Cheah said. 
The State Hornet spoke to Ryan Dolan, mechanical engineering major, about his experience working as a student safety ambassador.
Question: How long have you been a safety ambassador? And how did you find out about it? 
Answer: I've been a safety ambassador for about a month now, and I found out about it through the housing portal online. 
Q: Did you have a job before this?
A: I did, I used to work at the DC, the dining commons over there… That was last year I should say, before the whole school shut down and everything.
Q: So, going into this semester were you planning on going back to the DC? Or was it more so you went on the portal and found out about the student safety ambassador job?
A: I found the SSA job, and I kinda went through that after being recommended by someone that I knew from housing and everything. They told me I should try checking it out and everything, so I went and I applied and stuff and then later I found out that the DC was only doing full-time staff. So I got lucky anyways. 
Q: How do you like it so far?
A: It's a good job, it's very laid back I should say, when it comes to situations. If everyone is just following the rules, it's a very simple job. Which is cleaning the door handles and stuff like that, just cleaning and disinfecting stuff like that, but if there's ever people who aren't following the rules it's just a simple 'Hey, wear your mask correctly,' or 'Put it above your nose.' Something simple, so it's never too much conflict between people. 
Q: Have you ever had any pushback from anybody?
A: It's just more little reminders, I haven't really had anybody who's had a conflict with me, and actually tried to force their opinion of why they shouldn't have to wear a mask. They always kinda just comply and put their mask up.
Q: How often are you handing out masks? 
A: I passed out one mask, and that was to a teacher, and that was in a different hall altogether. Just making sure everyone has their mask on.