Sac State student government elections return with a heftier ballot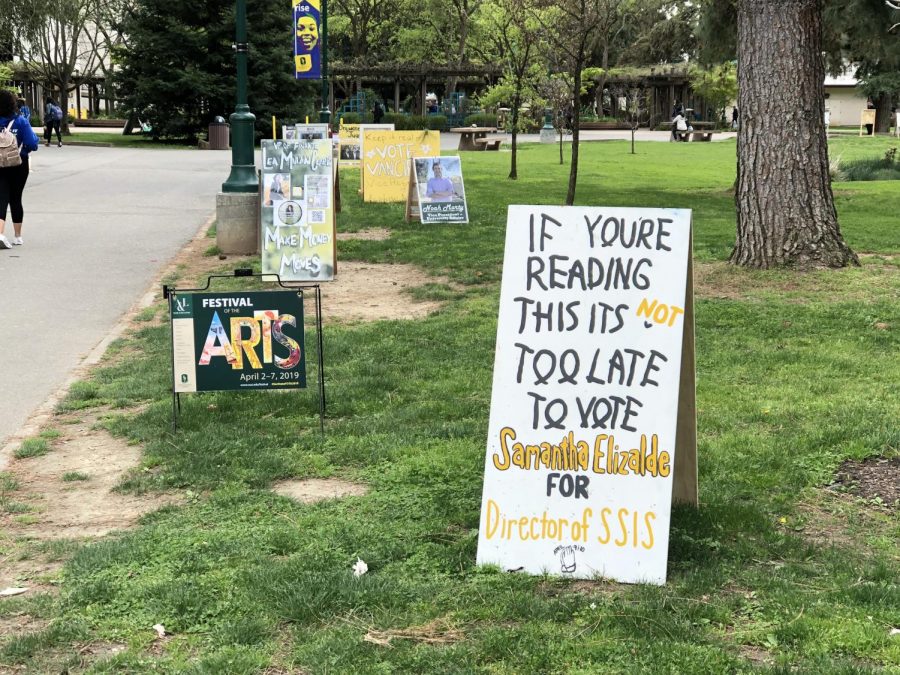 The spring 2019 Associated Students Inc. elections are here and Sacramento State students will be able to hit the voting polls Tuesday and Wednesday to vote for who they wish to lead their student government.
Students can vote online on the ASI website starting Tuesday at 8:00 a.m., until polls close on Wednesday at 7:30 p.m. Students can also go to voting polls that will be held in the western University Union walkway from 8:00 a.m. – 7:30 p.m on both days.  
This year's elections has 35 student candidates competing for 14 positions.
In last year's election, Noel Mora, current ASI president, was unanimously elected — in an election where he was the only one running for the position.
RELATED: ASI election approaches with small number of candidates, no ballot measures
There are six candidates in total on the ticket for president this year, each including a spot for president and executive vice president. There are three positions for vice president including finance, academic affairs and university affairs and nine director positions.
Voters may only choose one presidential ticket and cannot mix and match candidates.
After last year's election, the board of directors made the decision to change the election codes and put an end to using slates to make ASI more inclusive and less divisive for students who want to get involved.
Slates allowed candidates to run in multi-positioned elections on a common platform. This meant students running for ASI can campaign together.
RELATED: ASI Board of Directors changes elections code
Executive and Board Director of ASI Lisa Dalton said she is excited about the new election code changes because it will allow more students room to make a change.
"I think it's a positive thing for the student body as a whole," Dalton said. "It's always great to have multiple (sic) choice. Now we can make sure everybody can have a chance in office."  
There are six candidates running on the presidential ticket in total: Virginia Diaz Lazaro and Migdalia Sazo, Christian Miguel and Jen Gross, and Drajwanee Dickerson and Juan Rivera.
Dickerson, Lazaro and Miguel are the presidential candidates with Rivera, Sazo and Gross running for executive vice president.  
Dickerson has served as director of health and human services for ASI for the last year and a half.
"With the director position, you only serve a narrow percentage of the student body," Dickerson said. "I wanted to go beyond that and serve the student body as a whole."
Rivera is a fourth-year kinesiology major who says he will bring a fresh, new perspective to student government.  
"I want to see a change," Rivera said. "I want to see students more involved. I want Sacramento State to become a place where students can feel welcome and have fun."
The second ticket for president and executive vice president are Christian Miguel and Jen Gross.
"I'm running for student body because the student voice should really be heard," said Miguel. "The main priorities I want to address are enhancing student opportunities, student access to basic student needs like food, housing and mental health, as well as making Sacramento State a pinnacle for safety and inclusivity."
Gross said she also wants to make Sac State a more inclusive and safe campus.
"We hope to enhance student experience," Gross said. "We would like to enhance campus life for students and crush the stereotype of Sacramento State being a commuter school."
The final ticket, Lazaro and Sazo, are striving for unity and growth for students on campus.
"Migdalia and I are running off the platform of unity and growth," said Lazaro. "We want to layout the foundation or blueprint for students who want to run for ASI next year so it's much more acceptable, open and less intimidating."
Sazo said the pair's goal is to connect the campus body together. They are working to bridge communities and want to give platform for students to have their voice heard.
"We want to make sure that if you're a part of the brown or black community, you have a voice at the table," Sazo said.  
On Wednesday evening, after the polls have closed, an election party will be held to announce the soon-to-be student leaders of ASI.
Any student who wishes to get involved with ASI or who wants to know more about becoming a candidate, can find more information on ASI's website.
This article was updated April 8, 2019, to properly reflect the times students will be able to vote online.