Arden Fair Mall closed Sunday after overnight Stephon Clark protests
Community responds to DA's decision to not charge officers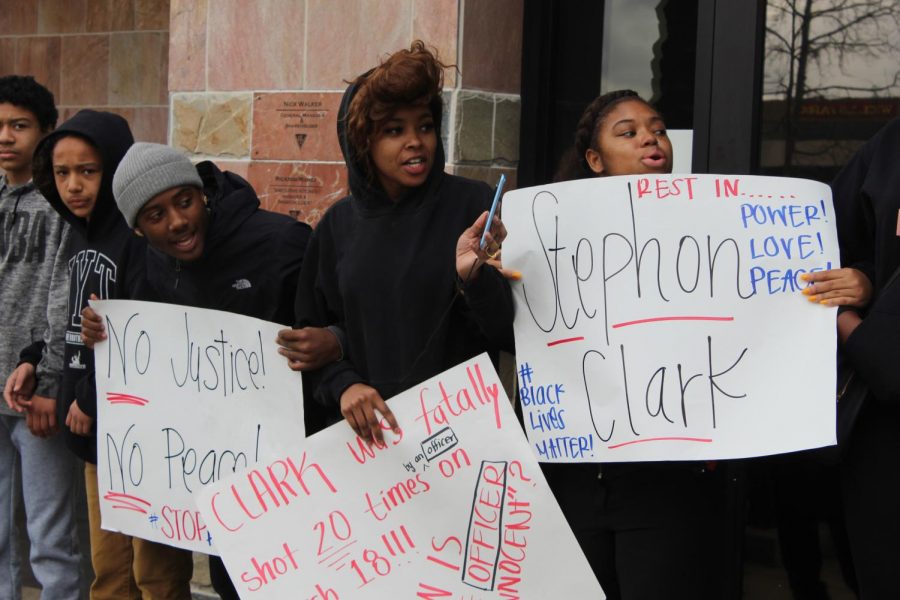 Arden Fair Mall was closed to the public Sunday as a crowd gathered in protest of the decision not to charge the two policemen who shot and killed 22-year-old, unarmed Stephon Clark.
Protests in the city immediately followed Sacramento District Attorney Anne Marie Schubert's announcement Saturday. The Sacramento Bee reported several Sacramento activist groups staged a 1960's style "teach-in," in which protesters talk to shoppers about racial injustice.
Khalil Ferguson, a Sacramento State international relations major, helped organize the event through the Black Student Union at Sac State and was at the mall Sunday morning after staying the night.
"Come morning, security guards told us we have to leave," Ferguson said, adding that a mall official said "it would be considered trespassing" if they stayed.
The protesters stayed in the mall through the night, and Arden Fair announced it would be closed before customers and employees could enter the building.
"As a part of this community, Arden Fair respected the desires of these individuals to express themselves, but due to the high potential for unsafe numbers to gather today, we have closed the center to groups of any size," Nathan Spradlin, Arden Fair senior marketing manager, told CBS on Sunday.
RELATED: No charges filed against officers who shot and killed Stephon Clark
The protest was organized in part by Voice of the Youth, a non-profit mentoring and motivational speaking program based in Sacramento. Founder and community leader Berry Accius led many of Sunday's chants at Arden Fair Mall.
Story continues below video.
"No justice, no peace" and "say his name, Stephon Clark" could be heard throughout the busy parking lot. As cars drove by, some honked their horns in seeming support while others were visibly frustrated.
Ferguson read a list of demands written by a group of activists and on behalf of the city, which included "an end to the dehumanization of black people by the offices of the district attorneys nationally, as well as the offices locally."
He also called for the two officers that shot and killed Clark — Terrence Mercadal and Jared Robinet — to be fired immediately, as well as Schubert's resignation. Ferguson advocated for the passage of Assembly Bill 392, which he said would act as an end to the "over-policing of our neighborhoods and terrorization of black lives."

Story continues below gallery.
Around 1 p.m., protestors linked arms in front of BJ's Restaurant and Brewhouse to prevent customers from entering the establishment.
Story continues below tweet.
Protest have since moved to the doors of BJ's restaurant & brewhouse and locked arms to prevent customers from entering the establishment. @TheStateHornet pic.twitter.com/gsAzI9KIRH

— Brittney Delgado (@britdelg) March 3, 2019
Around the same time, a man and his daughter arrived at the mall under the impression it would be open and encountered the protesters.
The man, who did not identify himself, told protesters that if "Clark was following the law, he would be alive."
His comment sparked a yelling match between him and protesters. Another mall attendee joined in to criticize both Clark and the protesters.
Sac State computer science major Jon Knight said he thought closing the mall over concerns about protests is "silly."
"Protesting is one of the core fundamental constitutional rights handed down by the founding fathers, so they go hand in hand with the United States and its foundings," Knight said. "Them closing down (the mall) is just ridiculous."
RELATED: Protesters clash outside statewide law enforcement expo
Marcus Basquez, a Sacramento Police Department spokesman, said the department is planning to boost security throughout the city in case protests get violent.
"We do have extra patrol going on, we're prepared and aware of potential backlash," Basquez said.
Basquez said the department will continue to evaluate whether the city needs extra security for the "next couple of days, at least."
According to a sign posted on the doors of Nordstrom, Arden Fair Mall will be reopening at 10 a.m. Monday.
Story continues below tweet.
I'm back in Sacramento at the Arden Fair mall, which has been closed due to a @BLMSacramento sit in in the mall in response to the @SacCountyDA decision not to charge the officers who shot and killed Stephon Clark. Nordstrom has these signs posted on its doors. @TheStateHornet pic.twitter.com/ykHK0OQTXX

— Claire Morgan (@jemapelleclaire) March 3, 2019
Arden Fair Mall representatives have not returned immediate requests for comment.
Francina Sanchez, Brittney Delgado, Reanna Simmons and Eric Jaramishian contributed to this report.