Stephon Clark shooting leads to weeks of protest in Sacramento
April 4, 2018
In the latest of a series of protests that have shaken Sacramento since the fatal police shooting of 22-year-old unarmed black man Stephon Clark, more than 100 Sacramento State students marched on campus Tuesday, demanding that policing strategies be reformed.
The protest was initially organized by Monica Linhthasack. Linhthasack, a sociology major, said she was tired of watching social injustices go on in the country and wants students to take action.
"We aren't going to allow that here in California as students," Linhthasack said.
Linhthasack set up shop on a bench last week with sign-making materials; at Tuesday's march, students held placards saying "Black Lives Matter" and chanted "say his name."
One of those students was Janay Ezekwe, who said she came because she was "tired."
"In less than two seconds (the police) started shooting," Ezekwe said. "I don't want to see this happen anymore."
Sac State President Robert Nelsen, who was in attendance at the protest, said that he supports the students.
RELATED: Rev. Al Sharpton delivers eulogy at funeral of Stephon Clark
"This is a tragic situation," he said. "I'm proud of our students for coming together. We're here to listen to them. We're here to try to transform this world and make it a better place."
A small counter-protest was staged by four people as demonstrators spoke in the Library Quad. Two counter-protesters held up a "thin blue line" flag, often used by the Blue Lives Matter movement, which has a contentious relationship with Black Lives Matter. Another also held a sign that read "we support law enforcement officers."
Counter-protesters said they attended to "show support for law enforcement."
"There's no support for police officers nowadays," said Sac State student Charles Serna. "It's very limited — even the people here today, they didn't want us here."
The protest briefly turned tense when one student, Corey Hopkins, began to kick at part of the counter-protester's display which featured images of police officers killed in the line of duty.
"They kill us," Hopkins said.
Other protesters urged Hopkins to stop.
"You let those people protest," Sac State student Angileena Hayes said to Hopkins. "Don't be like them."
A city in tumult
Clark, a father of two, was shot at 20 times by officers on the night of March 18 in his grandparents' backyard, where he was living. While the officers said he was shot because they thought he was armed, it turned out that Clark only had a cell phone.
Police had been called to the neighborhood after it was reported to 911 that someone was breaking car windows.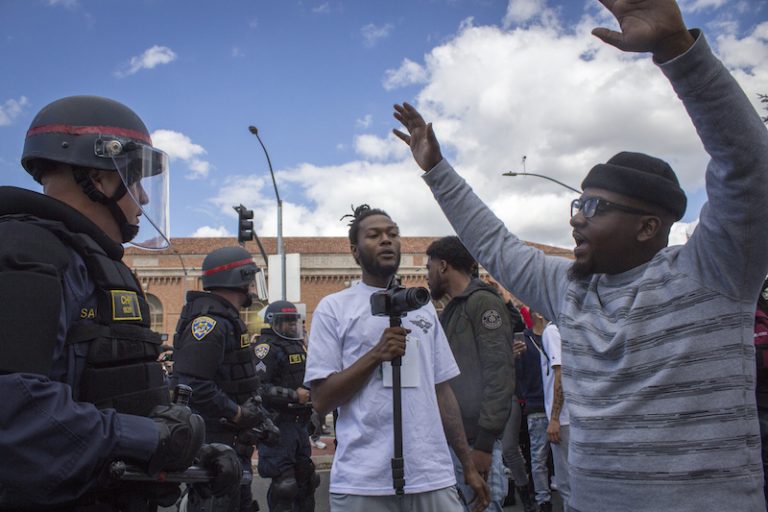 A series of downtown protests shut down the I-5 freeway on the Thursday and Friday following the shooting and prevented basketball fans from entering the Golden 1 Center for a Sacramento Kings game against the Atlanta Hawks. It was announced on March 27 that the California Attorney General's office would be taking over the investigation.
RELATED: Protest over Stephon Clark shooting closes Golden 1 Center for the second time in a week
That night a special city council meeting turned raucous after Stephon Clark's brother Stevante appeared, sat on Mayor Darrell Steinberg's dais and said of him "he's not the mayor no more."
Steinberg called a recess, but ended the meeting early after a crowd of demonstrators moved from city hall to the Golden 1 Center, again blocking entrance to a Kings game.
Following that protest, the Kings organization announced a multi-year partnership with Black Lives Matter Sacramento and the Build. Black. Coalition to fund education for black youth and economic development projects.
Clark's South Sacramento funeral on Thursday was standing-room only and featured a sermon from the Rev. Al Sharpton, in which he said that "we will never let you forget the name of Stephon Clark until we get justice."
The results of an autopsy were released the following day that showed that Clark was shot eight times — six of those in the back. It took up to 10 minutes for Clark to die after the shooting, according to Dr. Bennet Omalu, who performed the autopsy.
Ex-Kings player leads march
Leaders from Sacramento and the National Action Network, along with the families of Clark and Joseph Mann — a mentally ill and homeless black man shot by police in 2016 — marched downtown and spoke about long-term goals and policy demands on Saturday at a protest led by former Kings forward and Sacramento native Matt Barnes.
"It's something that needs to be talked about and I think people with bigger platforms such as myself should be doing this," Barnes said. "This is a worldwide situation and this is something we are not going to allow to be dismissed."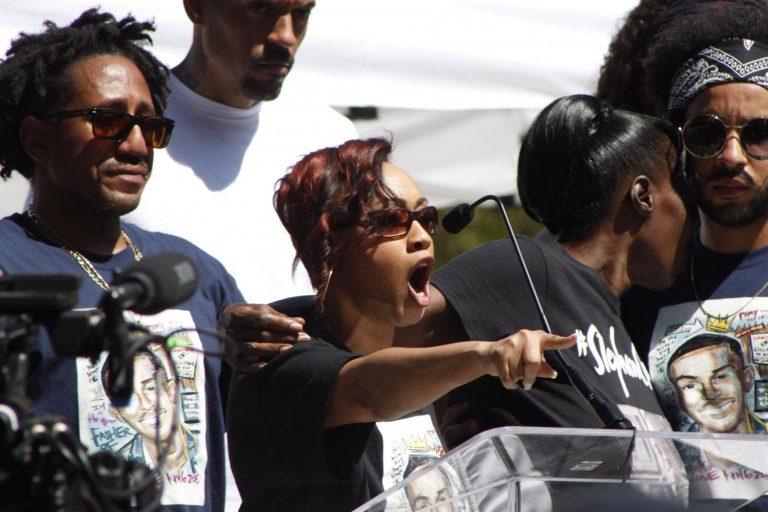 Barnes announced that with the Kings help, he was creating a scholarship for Clark's children, Aiden and Ciaro.
The initial plan is to ensure that Clark's children, who were in attendance, can get all the funding for a college education that they need.
"I'm working with the team though to take this nationally — not just for them because this is a nationwide problem," Barnes said.
Barnes said that he feels he is uniquely situated to work as a community leader, and said he can work with city and "gang leaders."
RELATED: Ex-King Matt Barnes leads protest involving families of Stephon Clark and Joseph Mann
Protester and father Chris Adams fears for his son because of police brutality.
"I had to deal with it," he said. "So of course I think they will have to deal with it and that's the worst fear ever."
"This is happening everywhere," said protester and Sac State business administration senior Arick Holts. "This isn't just happening in Sacramento. This theme of being shot illicitly for doing nothing because the color of your skin should be able to stop."
The Rev. Shane Harris from the National Action Network led events and laid out the goals of the event, which he said was to continue Clark's dream of being a good father, to convict the officers who shot Clark and to put direct pressure on police to change their foot-pursuit policies.
"Today we come unified to say that the killing of black and brown men in America is the new lynching and we come to shut it down," Harris said.
Speakers also called for better mental health care policies. Mann was shot after 911 calls about his erratic behavior in public.
Speakers also brought up Clark's brother, Stevante, whose public behavior has drawn criticism, saying he was diagnosed with post-traumatic stress disorder after his older brother was also a victim of gun violence.
"We need a resource center. Where are the mental health professionals?" said family friend Jamilia Land. "He needs help."
Stevante was at the plaza before the event began but became agitated as crowds flocked around Barnes calling the event a photo-op.
Clark marched to a bench where homeless people sat and shouted "these are the people you need to be talking to, these are the people you need to be helping, they smell like piss. I'm going to come back with my people."
Sheriff's department car hits woman at candlelit vigil
After the Barnes rally, a candlelit vigil turned violent when a Sacramento County Sheriff's Department vehicle ran into a woman.
Story continues below
A sheriff's deputy who had been repeating "back away from my vehicle" into his megaphone started driving, knocking the woman to the curb.
A friend of the victim identified her as 61-year-old Wanda Cleveland. Witnesses said Cleveland was standing close to the curb when the vehicle hit her on the right leg. Cleveland landed on her hip and shoulder and hit her head.
She couldn't move her head and she has a prior medical condition, according to Cleveland's friend Ava Nadal, who witnessed the incident. Cleveland was transported to the hospital.
In a statement released early Sunday, the Sheriff's Department said Cleveland sustained "minor injuries."
"The Sacramento County Sheriff's Department is conducting an internal review of the incident and the California Highway Patrol is investigating the collision," the department said.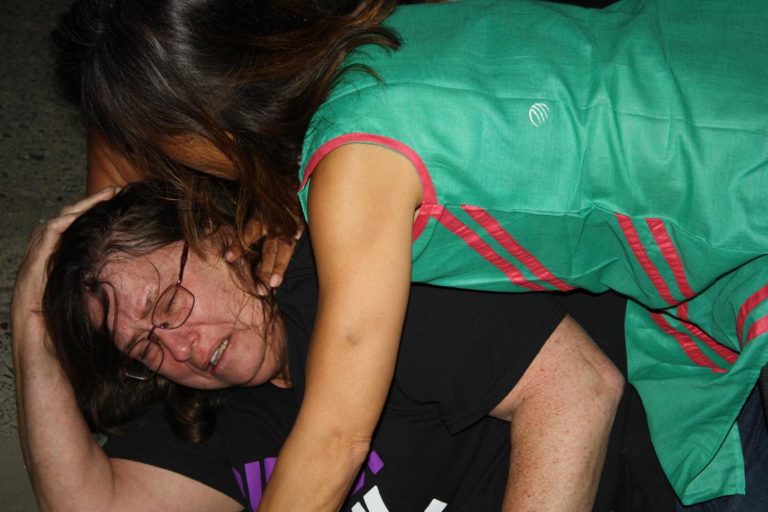 The department said protesters had been "yelling while pounding and kicking the vehicles' exterior" and that the vehicle "sustained scratches, dents, and a shattered rear window."
"The damage to the vehicle was not a result of the collision involving the pedestrian but was caused by vandals in the crowd," the department said.
RELATED: BREAKING: Woman hit by Sheriff's Department vehicle at vigil for Stephon Clark
Protesters began to chant "hit-and-run" after Cleveland was struck.
In a press conference on Monday, Sacramento County Sheriff Scott Jones suggested that "paid protesters" had "inflamed" the vigil. When asked if he had any evidence to support this claim, Jones simply said that "you'll notice the same cadre of protesters at every protest, sometimes in other states."
Dashcam video of the incident was also shown at the press conference, though the Department said they will not be releasing the video.
Protests are set to continue in Sacramento, including a Black Lives Matter demonstration scheduled to take place outside of the District Attorney's office on Wednesday, April 4.
Reporting contributed by Emily Rabasto, Will Coburn, Dominique Walker, John Nelmar and Oscar Rzodkiewicz from downtown Sacramento; Nick Minges, Jordyn Dollarhide and Yajayra Gonzalez from South Sacramento; and Thomas Frey, Robert Sanchez, Clarissa Pacheco, Dayla Cook, Barbara Harvey and John Ferrannini from Sacramento State.