Key stats from 5 years of Jody Sears as head football coach
Team was unable to win on road, against elite opponents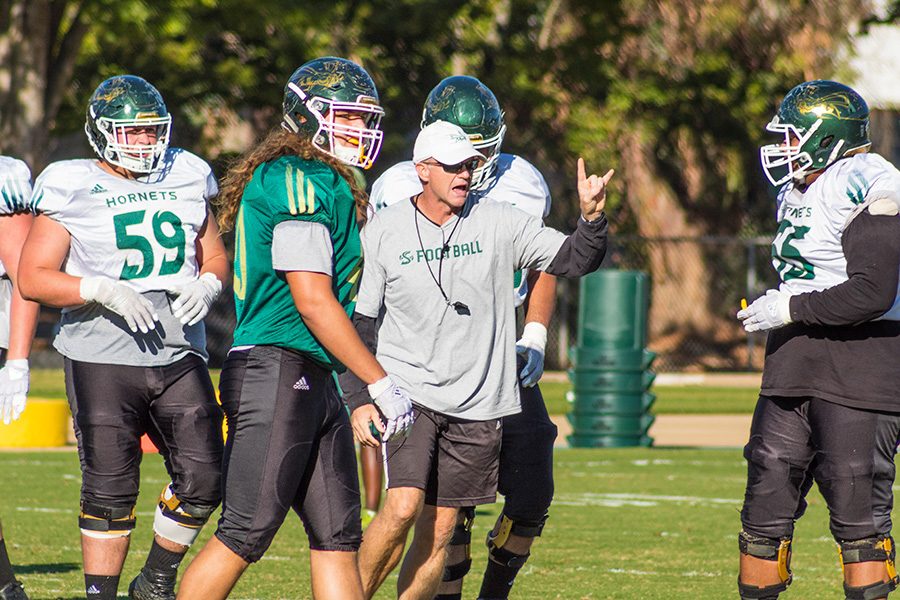 Sacramento State fired Jody Sears on Monday after he went 20-35 in five seasons with the Hornets. In three of those seasons, the Hornets won just two games.
RELATED: Sac State fires head football coach Jody Sears after 2-8 season
Sears came to Sacramento after winning two games at Weber State University in 2013. In that year, his Weber State team lost to Sac State at home 31-3 in Ogden, Utah.
Current athletic director Mark Orr — who was working at St. Mary's when Sac State hired Sears — said on Tuesday that he wants to take the team in a new direction.
"I think, in my evaluation, we needed a new voice and some new leadership in the program," Orr said. "I'd like to see a new energy and certainly we need to perform on the field. It's important to me that our student-athletes receive a championship experience, [and that] everybody affiliated with Sacramento State has a football program they can be very proud of and compete each year for Big Sky championships. I felt like a change in leadership was the best way to get us to that goal."
Story continues below photo.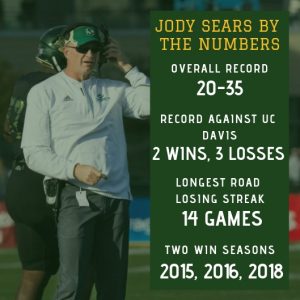 Sears came close to a Big Sky Conference championship only one time. In 2017, the Hornets finished with a 7-4 record and finished one win shy of tying for the conference crown. That success came as a surprise given the team's previous struggles.
In 2014, the year he arrived, the Hornets won seven games. But in 2015, 2016 and this season, the team never crossed the two-win threshold. Ranked just outside of the top 25 in preseason, the Hornets started 2-1, but went winless in conference and lost seven straight games to finish 2-8.
Sears was fired nine days after the Hornets lost to University of California, Davis by 43 points in the final game of the season Nov. 17.
Throughout his tenure at Sac State, Sears defeated rival UC Davis twice. The first time he beat UC Davis was on the road at Aggie Stadium Nov. 22, 2014. The Hornets didn't win another road game until Oct. 21, 2017. Sears and Sac State lost 14 straight road games in that span and won only six of 29 games played away from Sac State overall.
RELATED: Sac State football blown out in Causeway Classic 56-13
In 49 percent of Sears total losses at Sac State, the Hornets lost by at least 20 points.
However, when the Hornets won, 65 percent of their wins were by at least 10 points during his tenure.
In his 26 career home games at Hornets Stadium, Sears won 14 of them.
Sears couldn't lead his team to victory in a single game against elite opponents. During his tenure, Sac State lost all 11 games against ranked teams in the Football Championship Subdivision, and all five games against squads in the higher Football Bowl Subdivision.
This season, the Hornets nearly beat an FBS school as they held a lead with under five minutes to play against San Diego State on the road, but the Aztecs converted a key fourth down and won the game. While that was a close game, the Hornets were accustomed to getting blown out when they came into the game as an underdog.
The Hornets lost 55-14 against a Jared Goff-led University of California, Berkeley team in 2014 and the next year 49-0 against a University of Washington team that finished 7-6 for the year.  
In 2016, Sac State lost by 68-7 on the road at the University of Montana, which was the worst Hornets loss during Sears' time as head coach.
On the hot seat in 2017, Sears appeared to get things back on track by winning seven games.
The team's performance earned him a two-year contract extension, but after a 2-8 record this season, with seven of the losses being by at least 10 points, Sears was fired.