Sears agrees to multi-year contract to remain Sac State head football coach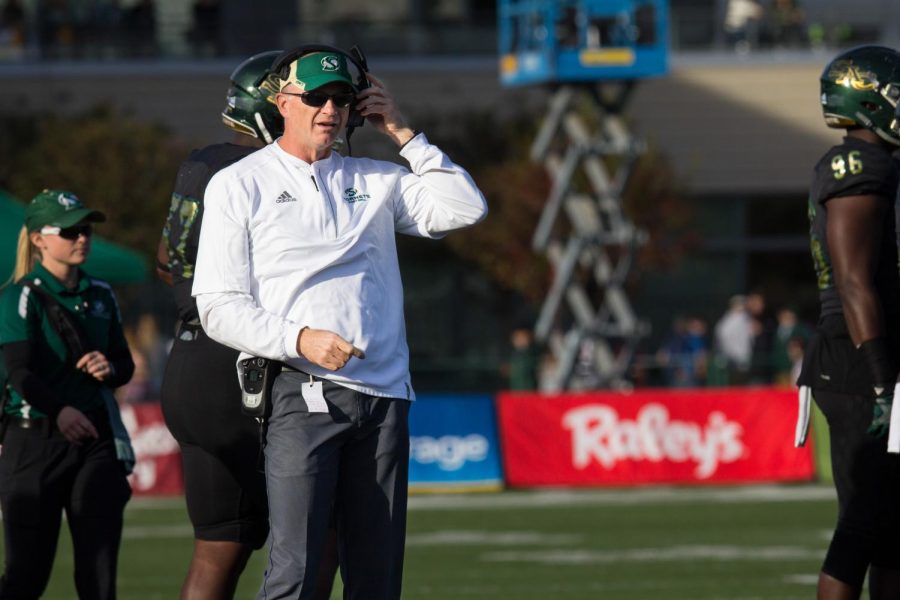 Twenty years ago, Jody Sears was selling cars — now he's successfully sold himself as the Sacramento State head football coach for the next upcoming seasons after agreeing to a multi-year contract.
This official announcement by Sac State Athletic Director Mark Orr on Thursday comes two weeks after the Hornets defeated rival UC Davis 52-47 in the 64th annual Causeway Classic and one week after Sears was named Big Sky Conference co-Coach of the Year.
"This is a testament to the leadership that coach Sears and his staff have provided to our student-athletes," Orr told Sac State Athletics. "He created a plan for the program, stuck to it, and the team was able to reap the rewards this season."
Sears will receive this contract — terms of which will not be announced until the deal is finalized — from Sac State after leading the team to a 7-4 overall record with a program-best 6-2 finish in the Big Sky this season. Despite this promising end to his initial four-year contract, Sears posted an 11-23 record in his first three seasons with the Hornets, which seemed to make 2017 a make-or-break year for the Washington native.
"Building a program is a process, building a program takes perseverance, patience and it takes a lot of help from a committed staff and a committed group of players," Sears told The State Hornet on Monday. "That's what I love about this group here is that we've been able to grow this program and start reaping similar fruits we've been sewing for the last couple of years."
Sac State — which ended the season as the No. 1 scoring offense (37.6 points per game) in the Big Sky — failed to end its 29-year playoff drought after not being selected into the Football Championship Subdivision playoffs for the first time in program history. However, the team was able to rebound from back-to-back 2-9 seasons in 2015 and 2016.
"We did great our first season when we had (Sears as head coach) at 7-5 (overall) then kind of struggled for a little bit," Sac State senior defensive end Ben Sorensen said in October. "But I feel like it just takes awhile as a college coach when you come into a team to really establish your program, it takes a little while to work out the kinks a little bit.
"I feel like we're actually getting settled in and moving in the right direction."

The Hornets also recovered from allowing the most total yards (526.7) and the second-worst rushing yards (291.4) and points (40) per game in the Big Sky last season. They lowered those averages to 408 (fourth), 154.6 (fourth) and 29.7 (sixth), respectively, this year, according to the Big Sky.
"The biggest thing that stood out to me was the speed of our team in all three phases, and we just seemed like a much more quicker, faster, more sudden football team overall," Sears said. "We (looked inconsistent, but) some of those inconsistencies are growing pains of a team that's learning how to win, but also the thing that really stuck out to me was I saw a lot of maturity."
Sears, who was elevated from defensive coordinator to head coach for the Hornets in 2014, received his first full-time college coaching job at St. Ambrose in 1998. Before this, he was a car salesman at Rogers Motors in Lewiston, Idaho.
"You had to learn how to be on honest with people, you had to learn how to build relationships (and) you had to learn how to hustle," Sears said. "It taught me how to recruit and that was in 1997 — that's the only year I sat out of college coaching — but I think it was for a purpose, and it really made me appreciate the coaching profession, and I truly believe that's where I learned how to be a good recruiter."
In fact, Sac State Assistant Athletic Director Brian Berger told The State Hornet that Sears is currently out recruiting student-athletes today for the football team.
"I'm very humbled and very privileged to be here and leading this program," Sears said. "I would like to think we've done enough to keep growing this program to heights never seen before here."