Hornets hang on to hoist Causeway Cup over UC Davis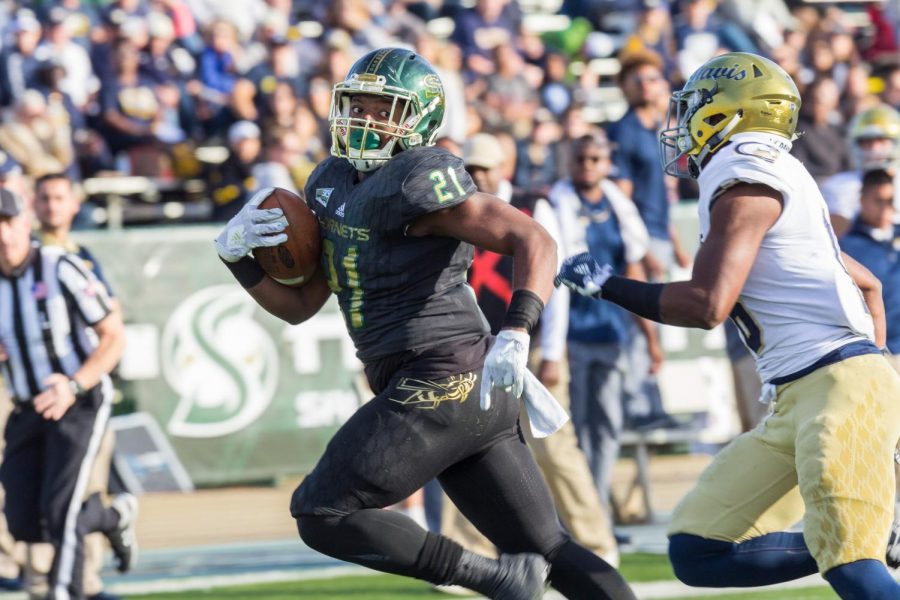 After falling to rival UC Davis for the past two years, the Sacramento State football team ended its regular season with the Causeway Cup in hand and a 52-47 victory over the Aggies Saturday at Hornet Stadium.
Sac State — which now has the most league wins in its 21-year history in the Big Sky Conference — nearly let the 64th annual Causeway Classic slip through its fingers after taking a 31-point lead early in the third quarter. Trailing 52-21, UC Davis (5-6, 3-5 Big Sky) scored four unanswered touchdowns but lost after failing to convert on a fourth-and-six play with 2:02 remaining in the contest.
"You kind of know going into the game, it being the Causeway Classic, that it's going to be a tight game," Sac State junior quarterback Kevin Thomson said. "We came out and kind of punched them in the mouth early, but their history throughout the season is (they stay) close in games (and) for the defense to come up big like that was huge."
The Hornets (7-4, 6-2 Big Sky) started the game with a 22-yard touchdown pass from Thomson to senior receiver Isiah Hennie. Thomson then threw another strike to freshman running back BJ Perkinson for a 25-yard score and a 14-0 lead with 6:39 left in the first quarter.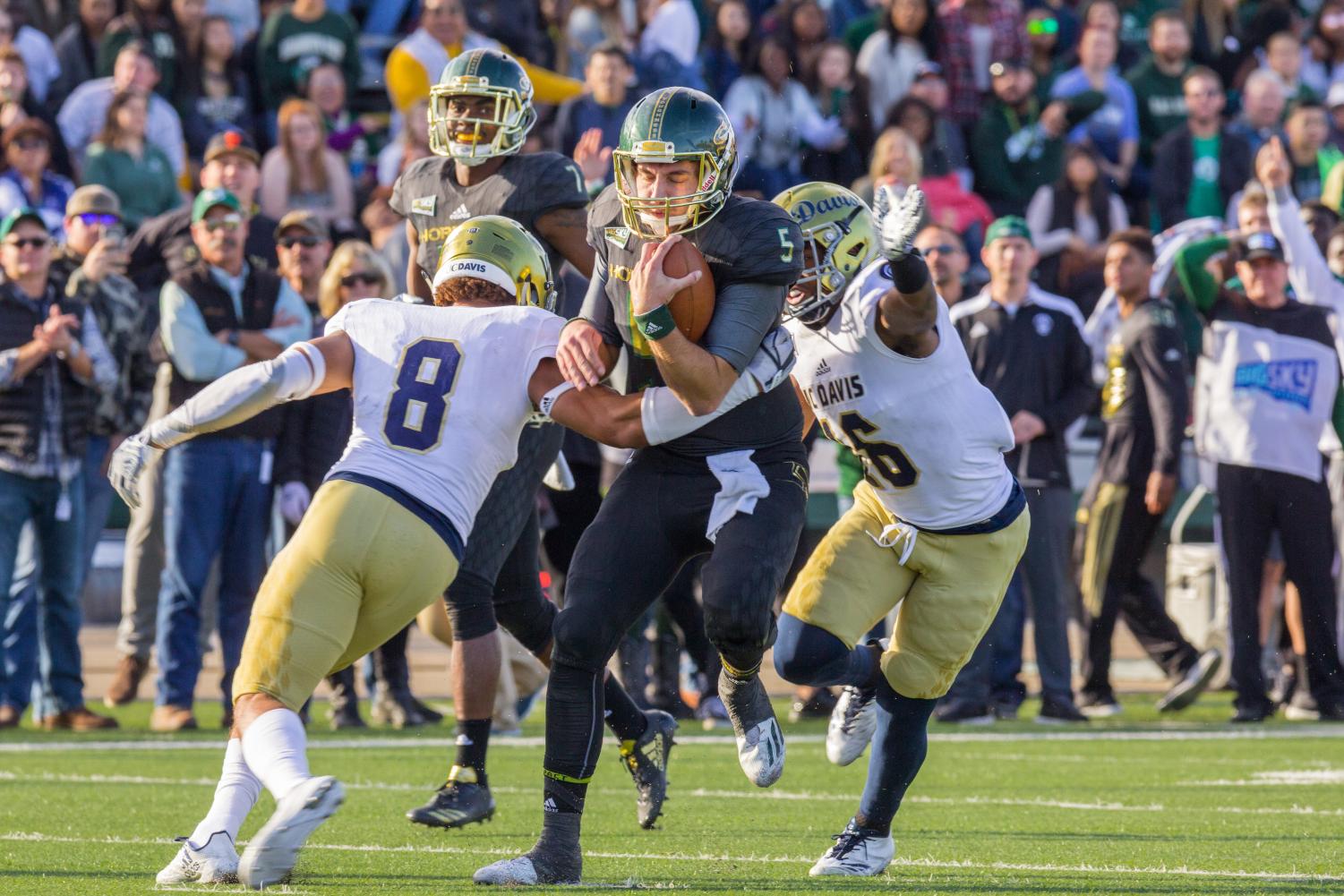 UC Davis responded with 15-yard rushing touchdown by senior running back Justin Williams to reduce its deficit to 14-7. However, Sac State junior kicker Devon Medeiros connected on a 20-yard field goal, and Perkinson scored his second touchdown on a 42-yard rush to take a 24-7 advantage with 11:09 remaining in the second quarter.
Williams, who finished with 13 carries for 86 yards and three touchdowns, then made it into the end zone on a one-yard rush up the middle to bring the Hornets' lead down to 24-14. During this time, UC Davis struggled to utilize junior receiver Keelan Doss — who entered the game with 102 receptions for 1,326 yards — as he only mustered three catches for 32 yards against junior cornerback Dre Terrell in the first half.
"It's not by accident he's the best receiver in the FCS, it's not by accident," Terrell said after Doss finished the game with 13 catches for 173 yards. "His stats speak for itself. I had my hands full with him tonight, but knowing that my teammates (had my back), it brings that type of motivation and confidence in myself that I needed."
Thomson, who ended the game 13-of-20 for 276 passing yards and four total touchdowns, answered by throwing a 53-yard scoring strike to junior receiver Andre Lindsey and then an eight-yard rushing touchdown with his legs to extend the Hornets' lead to 38-14 to enter halftime.
"When he's in there, he brings a lot of variables to the offense that really makes it hard on defenses, (and I know this) because I have to face him every day (in practice)," Sac State head coach Jody Sears said. "It really makes it hard to defend when you've got to defend the run game, the quarterback-run game and, oh by the way, he can launch on you."
After Sac State and UC Davis traded touchdowns to begin the second half, Thomson threw a 71-yard pass to junior receiver Jaelin Ratliff to set up a one-yard rushing touchdown by Joseph Ajeigbe for a 52-21 advantage with 9:01 left in the third quarter.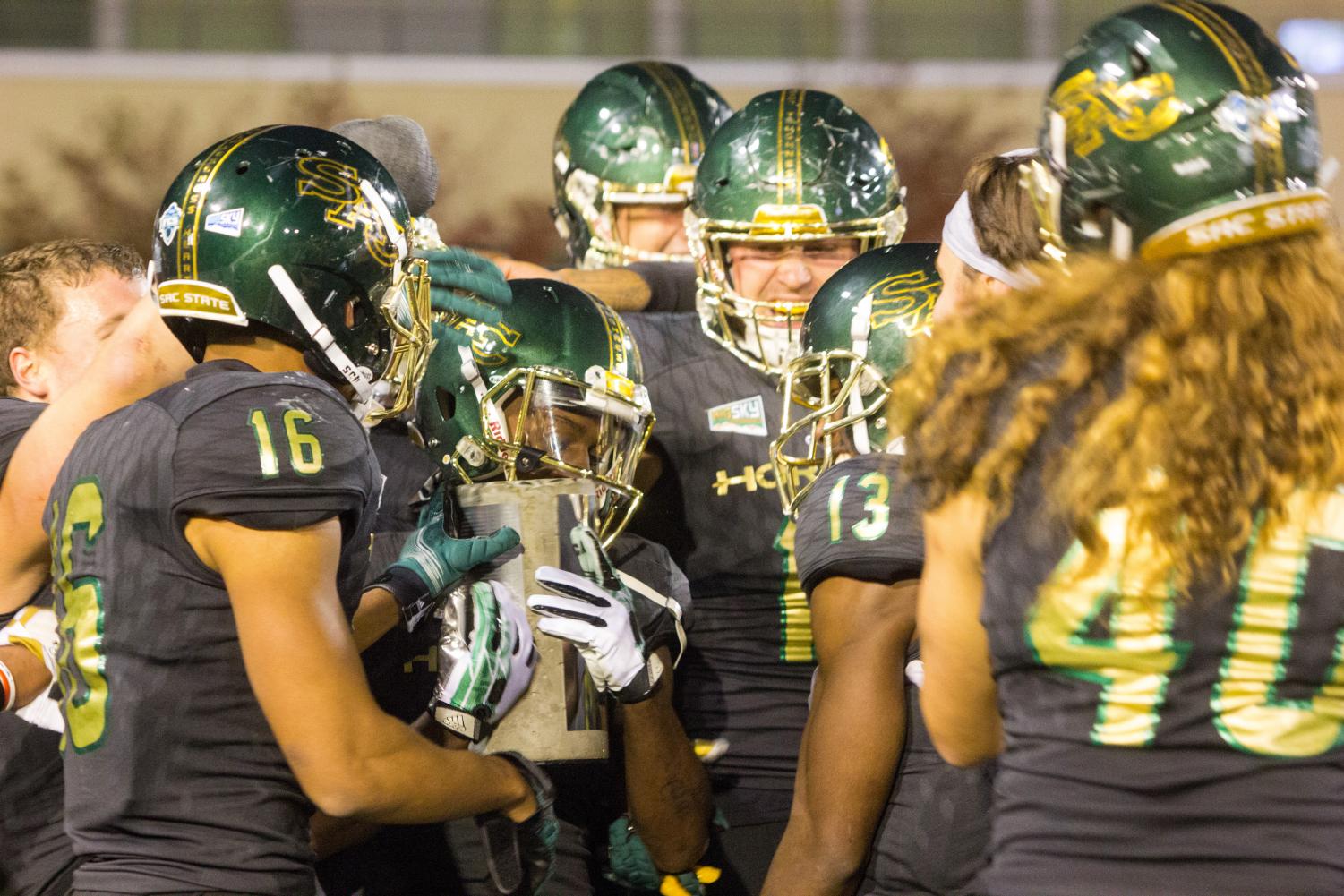 UC Davis responded with two rushing touchdowns of its own on carries of 19 yards by Williams and 42 yards by Doss to reduce the Hornets' lead to only 18 points (52-34) at the end of the third quarter. Two touchdowns later, the Aggies were in a position to win the game with one final score, but a turnover on downs allowed Sac State to milk the remaining two minutes of the clock in the victory formation.
The Hornets' win brings their all-time record against the Aggies to 20-45, but more importantly, it gives them a chance to make history. Sac State — which hasn't made the postseason since 1988 — will find out if it's made the Football Championship Subdivision playoffs for the first time as a Division I team Sunday at 8 a.m. on ESPNU.
"I'm really proud of these guys and the resiliency these guys have shown all year," Sears said. "The thing that I could say about these guys is I think they're the hottest team in the Big Sky, and they deserve to be in the (FCS) playoffs."