Softball team earns NCAA Regional bid after winning Big Sky Championship
At the beginning of the school year, the coaching staff of the Sacramento State softball team had written "2018 Big Sky Champions" on the whiteboards in the locker room.
Nearly eight months later, the Hornets (31-18, 14-7 Big Sky Conference) not only won the regular-season title, but are going to the NCAA Regionals after winning the postseason championship.
"We have had that already in our minds that was going to happen," said Sac State coach Lori Perez. "We have gotten so close the last few years, so it is huge to finally win it this year. It was a focus of ours and we knew we had the team to do it."
RELATED: Perez looks to take softball to next level after nearly 2 decades with program
Perez, who won 2018 Big Sky Coach of the Year, said she could not have won the award without her coaching staff.
"Oh my gosh, just to be recognized like that is unbelievable," Perez said. "I am so grateful for that and there's no doubt to me that it is not a singular award. I think of it as a coaching staff of the year award for all the work they have done. It's definitely not a one woman show."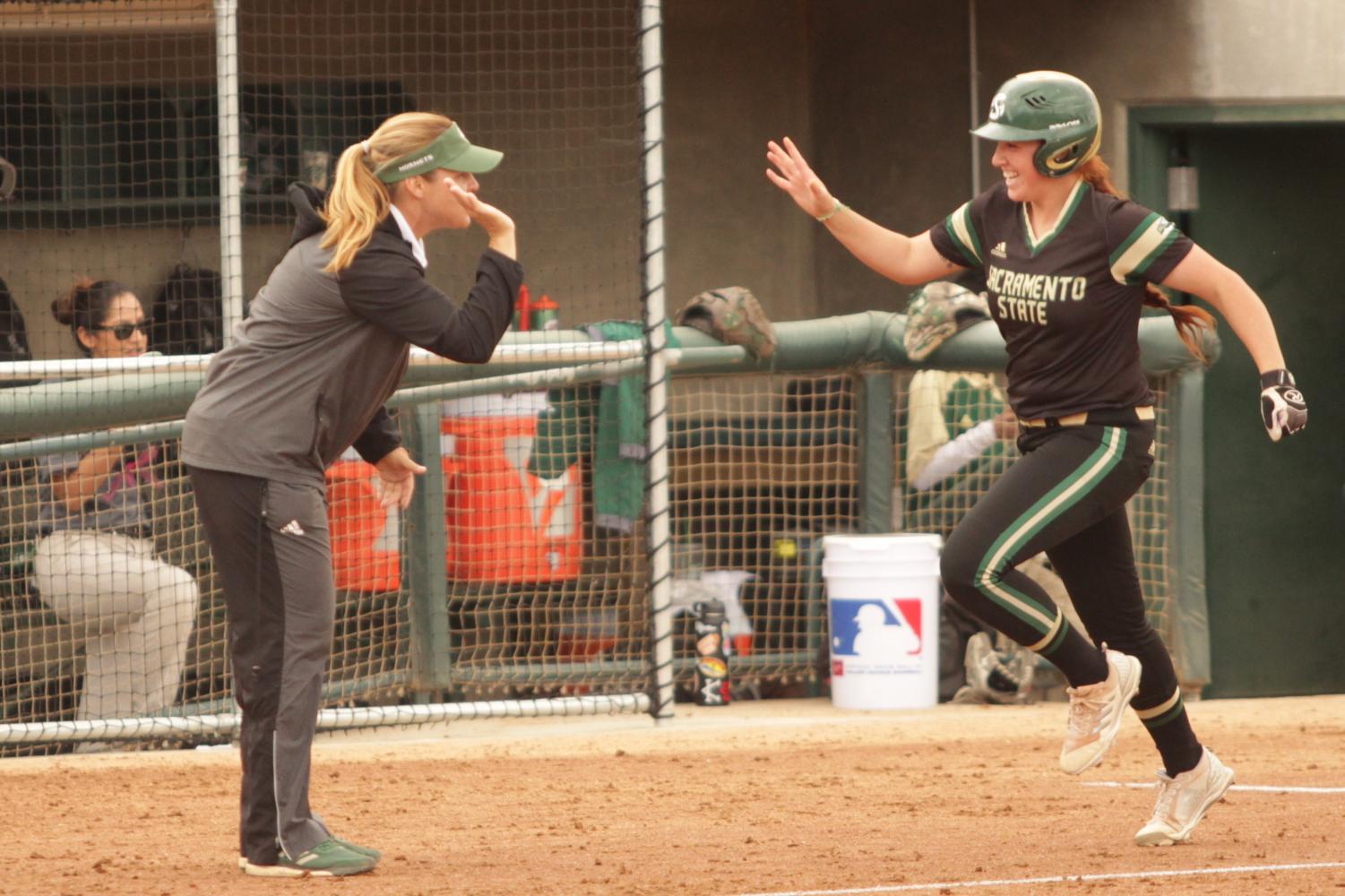 The Hornets, which will host the 2019 Big Sky Championship at Shea Stadium due to their regular-season title win this season, only played two games in this year's tournament due to rain in Ogden, Utah.
Sac State started the tournament with a 7-3 victory over the University of Montana which the Hornets defeated in two out of three games in the regular season series finale to clinch the regular season championship.
The Hornets scored five runs in the first inning including a grand slam from junior outfielder Sydnee Strong. Junior shortstop Sydney Rasmussen, who went 3-for-3, added two RBIs, while sophomore outfielder Suzy Brookshire added on an RBI with her second-inning home run.
Senior pitcher Celina Matthias threw a complete game, giving up three unearned runs on six hits and striking out two batters.
Sac State then defeated Northern Colorado University 3-0 to give the Hornets the Big Sky Championship on Saturday.
The game was postponed over 24 hours from original start time due to rain. However, the tournament needed to finish before Sunday afternoon in order for the NCAA Selection Committee to put the qualifying teams in their respective regions.
If Sac State and Northern Colorado could not play, the Hornets would have been given the championship due to them being the highest seed remaining in the winner's bracket, according to the Big Sky Conference.
Brookshire, senior second baseman Zamari Hinton and sophomore first baseman Mo Spieth each had an RBI in the championship clinching-game.
Brookshire, whose RBI came during her second home run of the tournament, is now at 17 home runs on the season which breaks the single-season Sac State program record that she herself established last year.
"(Before the game), I was really hoping that we would get a chance to play because I really wanted to win it by actually winning the game against Northern Colorado, not by default," Brookshire said. "I am really proud of us and it still hasn't really set in yet because it is so crazy that we are having this record-breaking year."
Brookshire, who was named 2018 Big Sky Most Valuable Player for the regular season, also received tournament Most Valuable Player.
"Honestly, I couldn't really care about any individual rewards," Brookshire said. "That came along with the year I have had so far. I am just excited and feel like we are going to shock a lot of people when we go to (the NCAA) Regionals and make us known."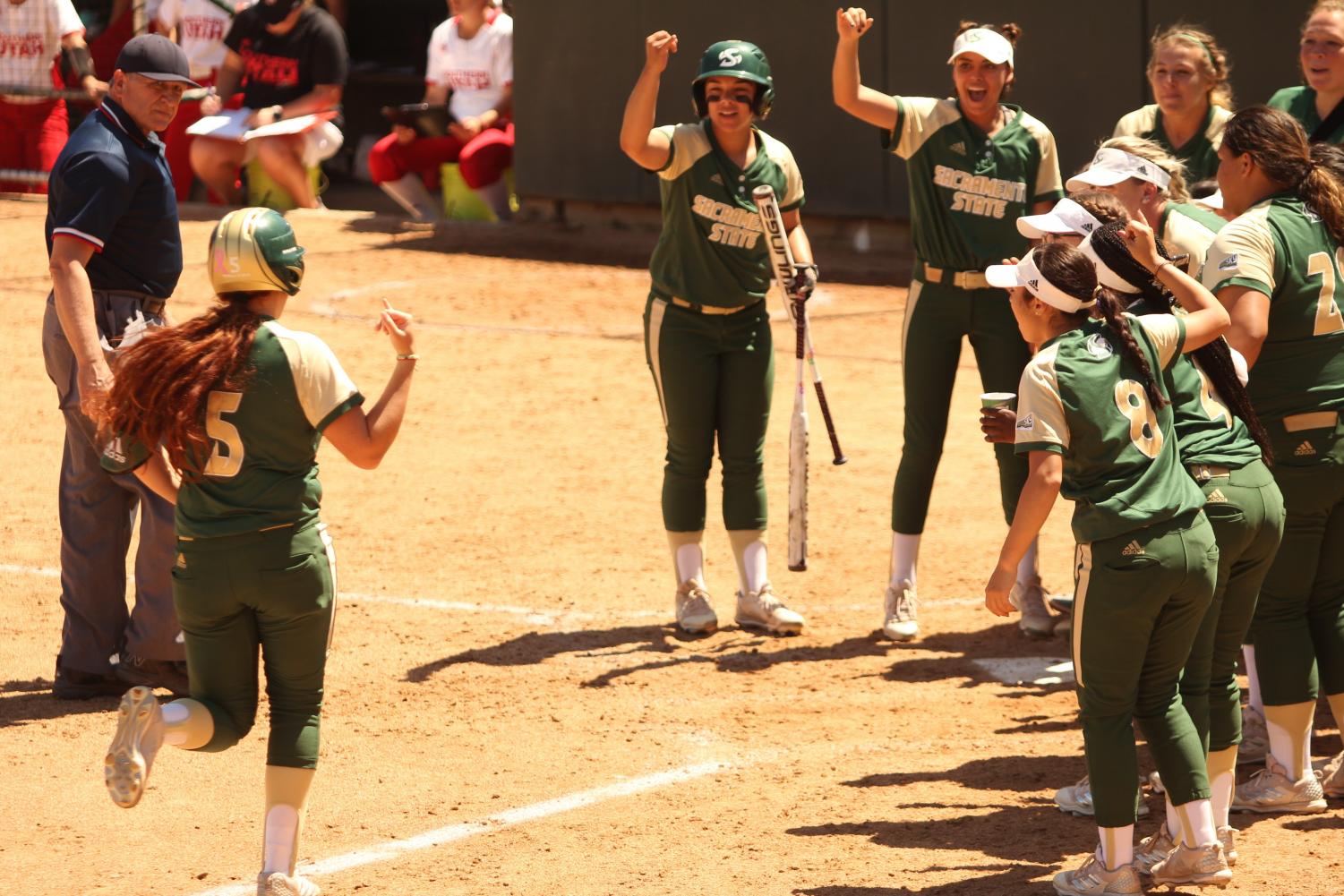 Matthias, who won 2018 Big Sky Pitcher of the Year for the second time in her career, threw a complete-game shutout while giving up four hits and striking out six batters.
"It is unreal," Matthias said. "The adrenaline is still there and it is crazy. We have been working our butts off for so long (and) we finally got over that hump of getting second and third every year to now finally getting first. We are finally moving to regionals, so that is amazing.
"It almost felt like time slowed down for a minute. I looked around and everyone was cheering. I screamed so loud and I don't think I have ever screamed so loud in a softball game."
Perez said she felt that playing Northern Colorado was a big boost for her team since the Hornets lost to the Bears in two out of three games earlier in the season.
"We felt that this was a revenge game for us because we didn't play so well against (Northern Colorado) at their place," Perez said. "It was an emotional day because of how long we waited to play and finding out in the seventh inning that if we closed it out, the tournament was over. We treated it like a championship game, but hearing that would be the last game, oh my gosh, that was extremely special."
Sac State will find out its next opponent in the NCAA Regionals on Sunday at 7 p.m. during the NCAA Selection Show on ESPN2.
"We will just be preparing them for the crowd, the energy and the pace of the game," Perez said. "Just making sure we really press them on making sure they are doing what they need to be doing.
"At the end of the day, we are probably not going to be coming in as a high seed, so we are going to be hoping that we spoil some people's expectation of themselves and hoping to shock some people."