Senior out for redemption in the pitching circle
As a high school senior trying to decide where she would go to college, Celina Matthias was attending a softball camp in Fullerton when her father yelled for her from across the field.
"Congratulations, you got accepted to Sac State," Robert Matthias told her. "You got a scholarship for softball."
Matthias, now a senior pitcher for the Sacramento State softball team, said she was filled with relief and started crying.
"My dad was being the manly guy; he was trying not to cry," Matthias said. "But inside he was probably thinking, 'Oh my God, she's on scholarship. We don't have to spend all this money on school!' "
Matthias, now 21, has always had softball in her life growing up in Elk Grove. In addition, she said she also played soccer for a few years before deciding to move on from the sport due to her hatred for running.
At 9 years old, Matthias' dad asked if she wanted to continue playing softball. Soon after, she began playing travel ball for the Lady Magic, a team she played for until she graduated from Pleasant Grove High School.
When it came time to choose where she wanted to go to college, Matthias said she originally wanted to go out of state before her dad convinced her to stay local due to her love for her family and dog.
However, when it came to Sac State, Matthias said she was originally skeptical about playing for the Hornets.
"I was like, 'Do I want to stay in Sacramento my whole life or do I want to be a bird and get out of the nest?' " Matthias said. "I took my first tour of the campus and I like nature (and) all the squirrels are so nice, and I can feed them without me dying, so it's great."
Sac State coach Lori Perez said that Matthias' command of her pitches was one of the many attributes that attracted Perez to recruiting her.
"She has a lot of different variety of pitches," Perez said. "She is somebody who you can use as a workhorse. She's somebody that can throw a lot of innings, but she's also somebody you can use in relief."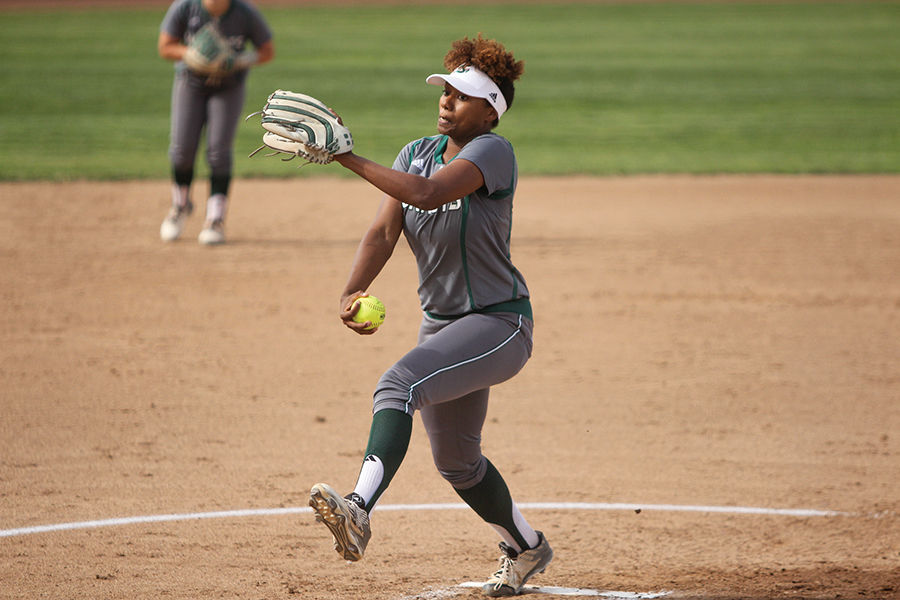 Matthias, a journalism major, used this "workhorse" attribute of hers to earn Big Sky Conference Pitcher of the Year during her sophomore campaign, which she said was an accolade unlike anything else she's previously received.
"I think that hit home for me because a lot of my softball life, I didn't think I was that great," Matthias said. "I always kind of thought I was second rate and probably a third-string pitcher.
"Getting an accolade like pitcher of the year is huge for somebody with low self-esteem. It finally came to the point where I felt like I deserve it because of the work and effort I put in."
During her sophomore season, Matthias was 20-13 with a 2.94 ERA in 214.1 innings pitched with 131 strikeouts.
However, her production saw a steep decline during her junior year, which she said created frustration and confusion.
"I'll admit, I think it's because I didn't put as much work in," Matthias said. "I got a big head. I didn't feel like me. I am not pitching like I should be. It was disappointing (and) I let a lot of people down because I was coming off this high bar and all the sudden it drops."
The production fell to an 8-9 record with a 3.43 ERA in 102 innings pitched with 83 strikeouts.
"I basically told myself, 'I need to get my ass in gear, and I am not going to let that happen again,' " Matthias said. "I did everything I could during summer (and) fall; I think I can say I am at a better place compared to when I started last year."
Perez said Matthias' success allowed her to become complacent, which in turn gave opposing offenses an advantage as they had studied and prepared for the 5-foot-8 hurler all offseason.
"Sometimes success early can hurt you in terms of 'OK, what do you work on now? What can you improve upon?' " Perez said. "She was still competitive for us (and) I think she learned from last year that she needed to make sure she was in shape and keep that edge that she had her first two years."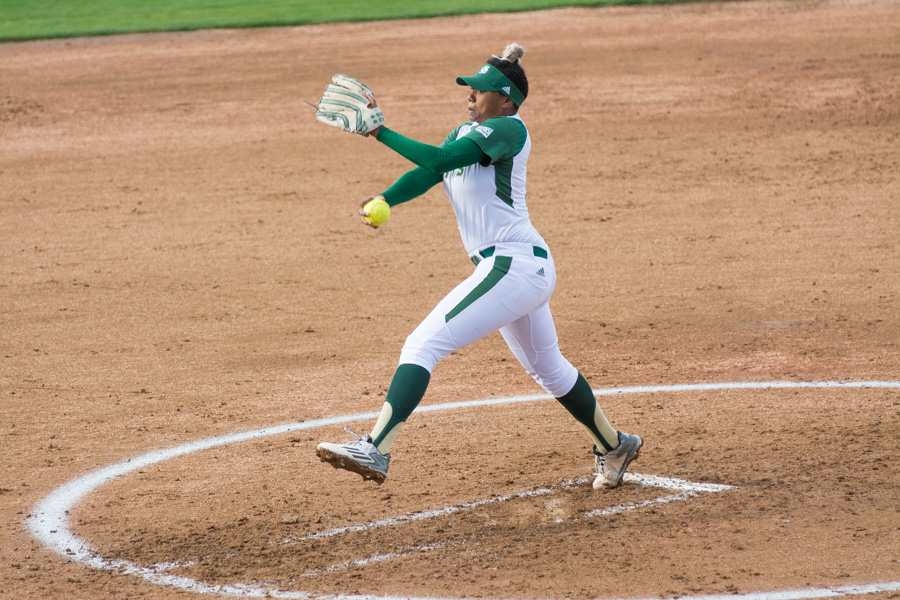 Matthias has regained that edge during her senior season with a 8-4 record that includes a 2.49 ERA and 92 strikeouts in 90 innings pitched. This rebound has helped inspire junior pitcher Savanna Corr.
"I feel like whenever we are in one of those tough games or pressure situations, she's always the one who can step up and really show her leadership on the field," Corr said. "She always wants the ball in her hands during those pressure situations. It makes me feel like I can do it too."
Off the field, Matthias — who wants to use her minor in creative writing to work as a storyboard writer for Disney — said she enjoys dressing up as characters from her favorite Japanese mangas and animes. This passion has led her to create an Instagram account for cosplaying which recently hit over 1,000 followers.
It's this creative expression that has led senior second baseman Zamari Hinton, who played travel ball with Matthias as a member of the Lady Magic, to refer to her as a free spirit.
"She doesn't care what anybody says and doesn't care what anybody thinks," Hinton said. "She is going to do whatever she wants, say whatever she wants and wear whatever she wants. That's just something I love about her because you can't tell Celina how to be Celina."