Perez looks to take softball to next level after nearly 2 decades with program
During her first day as an assistant coach at Sacramento State in 2005, Lori Perez had lunch with then-coach Kathy Strahan and was asked what her five-to-10 year plan was.
Perez said she responded with "Well, when do you plan on retiring? My goal is to be the head coach and take over your job one day."
Nine years later — following Strahan's retirement — Perez's goal became a reality as she was officially named the head coach of the Sac State softball program in 2014. Despite this triumph, Perez said it was a stressful time for her.
"I was left here and was the sole member of the program," Perez said. "I was seven months pregnant (and) I was just trying to hold the fort together."
Perez's son was due the day of the first team meeting of the year. Following her six days of maternity leave, Perez said she was back on the softball field with the same energy she's always had.
It's a passion that her players, such as senior outfielder Marissa Maligad, know well.
"Her passion for the game motivates and drives everyone on the team to do better," said Maligad. "She works hard (and) is willing to do whatever the team needs, even if it means coming out early and doing extra work or filming us, so we can come in during her office hours and talk to her."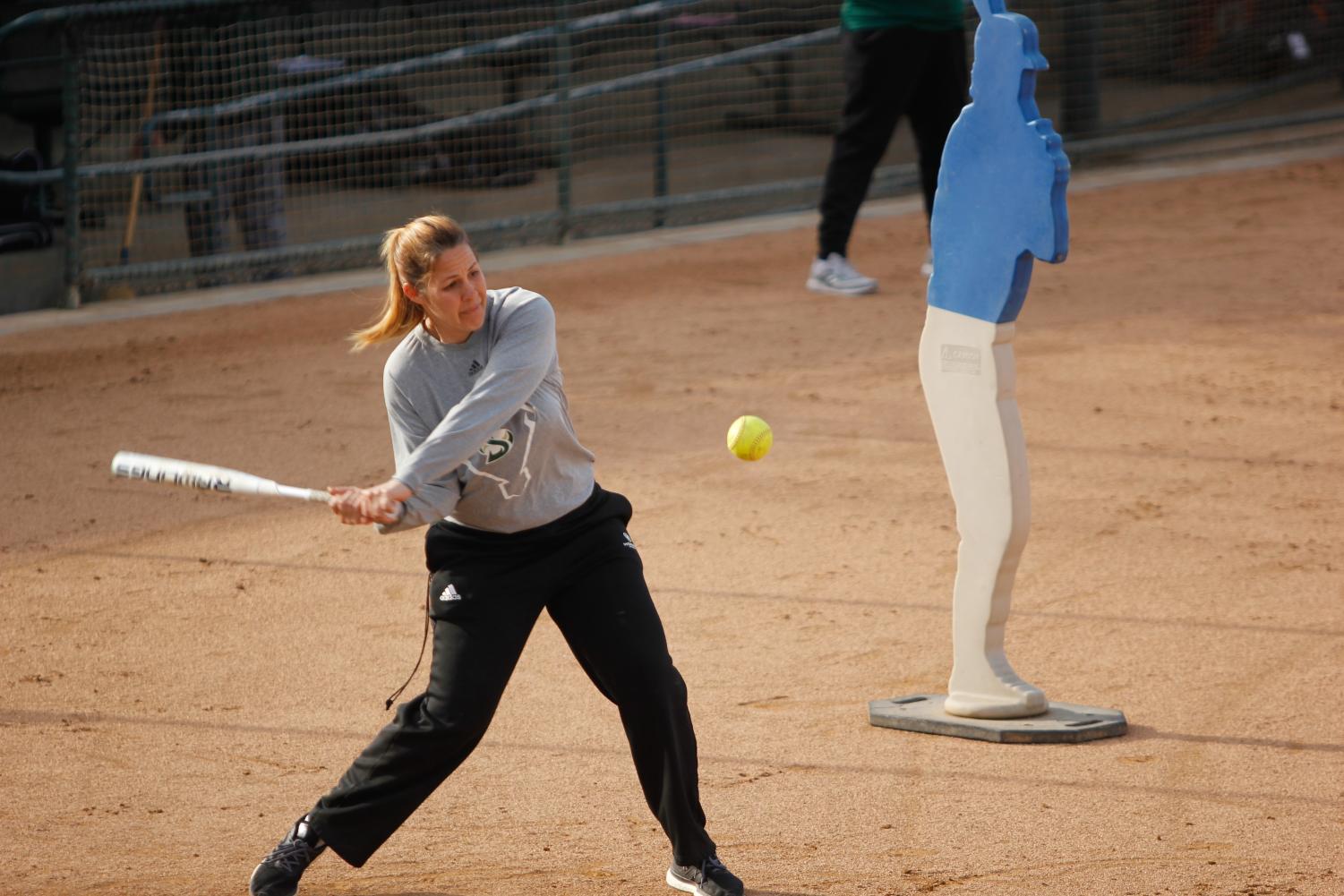 Growing up, Perez's passion was on full display as she spent most of her childhood at the ballpark with her family in Petaluma. However, playing softball was a challenge for her as she was asked to leave leagues because she was said to be "better suited at a better competition level," she said.
Perez eventually found a suitable competition level in the NCAA. She was recruited by the University of Massachusetts — which was ranked eighth in the nation at the time — and Ohio University. It was Sac State, however, that caught her attention the most.
"I loved it here when I came," said Perez. "I ended up wanting to stay closer to home. I loved the campus (and) I liked coach Strahan. So everything felt right coming here."
During her time as a player, Perez was a four-year starter and broke the career fielding assist record, which she holds today by one assist. She said the moment was also made more memorable because of how her teammates reacted.
"They knew (the record) was a big deal to me," said Perez. "The day I broke it — the first ball hit to me — I made an error. They were looking at me like, 'What are you doing?' Luckily, I got another ball, and I was able to break it.' "
Following her time as a player and graduating with a degree in communications, Perez moved on to find a job in coaching. She found out about a varsity softball opening at Center High School and went to apply.
"I was so poor at this time that I had to take the lightrail from Watt all the way through the loop to the other Watt," said Perez. "Then I had to take the bus from that Watt all the way up to Antelope and the bus stop stopped a mile away from the school, so then I had to run from there."
To her surprise, Perez was hired on at only 22 years old. She was then offered a job at Kelly Jackson's All-American Softball School in Sacramento. In addition, she worked at The Old Spaghetti Factory, which brought her to a total of three jobs at the time.
Three years later, she was led back to Sac State to be an assistant coach under Strahan. Perez said that this experience was "invaluable" as she was taught the behind-the-scenes office aspects of the job with Strahan's help.
Perez's skills off the field were also shown when Sac State senior second baseman Zamari Hinton first visited the school. Hinton said that Perez's ability to build a bond with her early on led her to be comfortable coming here.
"She came to some high school games, and she knew my high school coach," Hinton said. "She has a good connection with my parents as well, and she's very open to the community, so it's very nice."
Senior pitcher Celina Matthias said she thought she knew everything coming into the program as a freshman, but Perez challenged her right away.
"She is very precise about what she wants to do and how she wants to do it," Matthias said. "She likes to explain things a lot which is good for me because I need that kind of explanation. She's just a great coach all around."
RELATED: Softball team begins season looking for 'revenge' with powerful lineup
Entering her fifth season as head coach, Perez brings with her a 52-26 record in the Big Sky Conference. She said her goals consist of the program being more involved in the community and competing for its first Big Sky title.
"I want to host more events on campus with the beautiful stadium we have; my hope is to host the high school championships here," Perez said. "Within the program, all my players, anybody who sits in my offices and is recruited by me knows I am looking for players to help bring this program to the next level."