Softball team begins season looking for 'revenge' with powerful lineup
The Sacramento State softball team aims to improve from its third-place regular season finish and is looking for revenge after falling in the semifinals of the Big Sky Conference Tournament.
The Hornets — which were predicted to finish third in the Big Sky this year by the conference's eight head coaches in the preseason poll on Thursday — are bringing back 13 players from the 2017 season, including six positional starters and all three of their starting pitchers.
These familiar faces will enter 2018 with an even "hungrier" mindset after finishing 21-28-1 (10-10 Big Sky) in the regular season and being eliminated from postseason play against Idaho State in the semifinals last year, Sac State senior second baseman Zamari Hinton said.
"We are coming for revenge on everyone because we have a history of getting (taken) out early," Hinton said. "We're here to prove to everybody that we are different, and we are growing."
Hinton is coming off a season in which she had a .331 batting average and struck out only three times in 157 at-bats. This low strikeout total resulted in her finishing fifth in the nation in the toughest to strike out (once every 52.3 at-bats) category last year.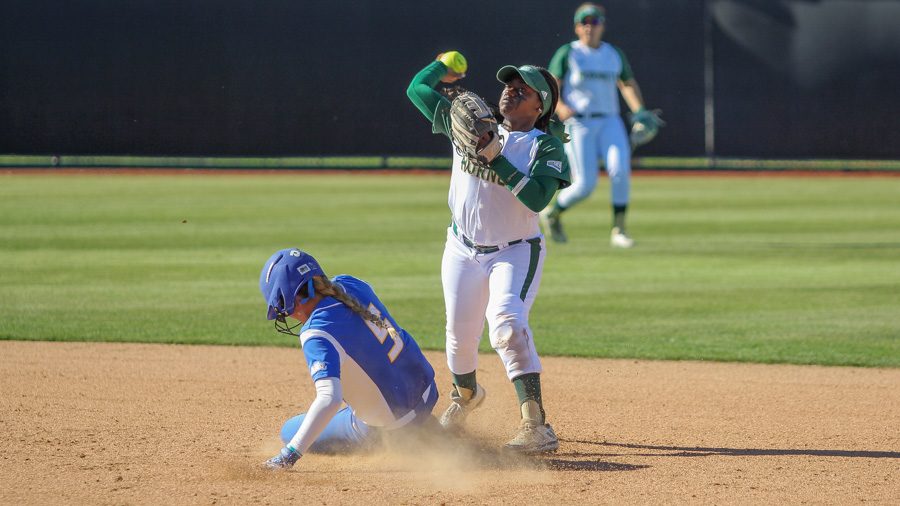 Sac State coach Lori Perez, who is in her fifth season at the helm of the Hornets, said last year's team was young and that led to "growing pains."
"The team ended (last year) feeling hungry for this season," Perez said. "There was a lot of growth and maturity off of last year. I am excited where we are coming into this year with some new additions and our returning players who made impacts last (season)."
The Hornets are adding two new transfers to the 2018 season: sophomore catcher Kaitlyn Rubio and junior third baseman Krystal Aubert. Rubio comes from New Mexico State where she hit .292 with 12 runs scored, five home runs and 17 RBIs. Aubert comes from the University of Washington,  where she received all-Pac-12 honorable mention honors in the conference as a freshman.
Sac State also earned some recognition last year after setting a program record with 45 home runs, including an individual school-record 15 from sophomore outfielder Suzy Brookshire.
RELATED: Softball slugger shatters single-season home run record
"I want to be a better outfielder and get more to the basics," Brookshire said. "I want to make adjustments after the first at-bat sooner and help out the rest of the team when needed to, before they have to go to the coaches for help on something."
Perez, who was the assistant coach at Sac State from 2005-13, said this team reminds her a lot of the 2008 championship team she was a part of because of the strength of its lineup.
"We had a lot of firepower on that team, and they broke a lot of records," Perez said. "This team is no different. This is probably one of the strongest we have had in terms of power at the plate."
Traditionally in softball, teams ideally want to carry four pitchers on the roster to help reduce fatigue and account for possible injuries. However, the Hornets will be carrying three pitchers, which senior pitcher Celina Matthias said shouldn't be a problem.
"I don't have any concern about (lack of pitching depth) because I am used to pitching as many innings as I need to," Matthias said. "That's what coach Perez conditions us for is to pitch two or three games a day if we have to.
"So having a pitching staff of three is going to be difficult, but at the same time, everyone is going to have more pitching time, which I think pitchers really want."
Matthias, who was named the Big Sky Pitcher of the Year in 2016, is coming off a season when she went 8-9 with a 3.43 ERA in 102 innings pitched.
Perez said she has carried three pitchers in the past, and she has no concerns about carrying three this season.
"Four is the magic number (for pitchers), but the three we have are very capable," Perez said. "They're hungry (and) if there's any concern, it's just making sure everyone is healthy. They're all going to get lot of inning time (and) that's only going to be a positive thing going into conference."
Sac State — which begins Big Sky play against Northern Colorado on March 23 — starts its preseason schedule with the Capital City Kickoff from Feb. 9-11 at Shea Stadium.