Senior women's basketball guard handles leadership for Hornets
After a concussion in November, Justyce Dawson said that she sat in disbelief, struggling to cope with her first major injury and not being able to compete on the court she has become so familiar with.
Three months later, on senior day, she hit the game-winning shot as the clock expired for the Sacramento State women's basketball team on Feb. 24.
"We hadn't ran that play, the lineup wasn't ideal because we had five guards in instead of one post, so nobody really knew what to do, but I knew my spot, so I was like 'I'm going to just run mine,' " Dawson said.
RELATED: Dawson's game winner lifts women's basketball over Southern Utah on senior day
Long before her dagger layup against Southern Utah, Dawson first began playing basketball at 6 years old with her three brothers in Carson. Dawson said that sports were a big focus for her and her family growing up.
"On weekends, it was basketball, basketball, basketball," Dawson said. "Growing up, somebody always had something.
"My two older brothers played football, and I actually started playing (basketball) because of my godsister. She went to the University of Notre Dame, so when I was about 8 years old, we used to fly out to South Bend and go catch her games."
Dawson went on to play for the local Long Beach Poly High School Jackrabbits, which ranked No. 4 nationally during her senior season, according to MaxPreps.com. Dawson played alongside two McDonald's All-Americans with 12 players, including Dawson, going on to play Division I basketball in college.
"We had really good chemistry as a team on and off the court, and I still talk to most of them," Dawson said. "They're like sisters — Jackrabbit family."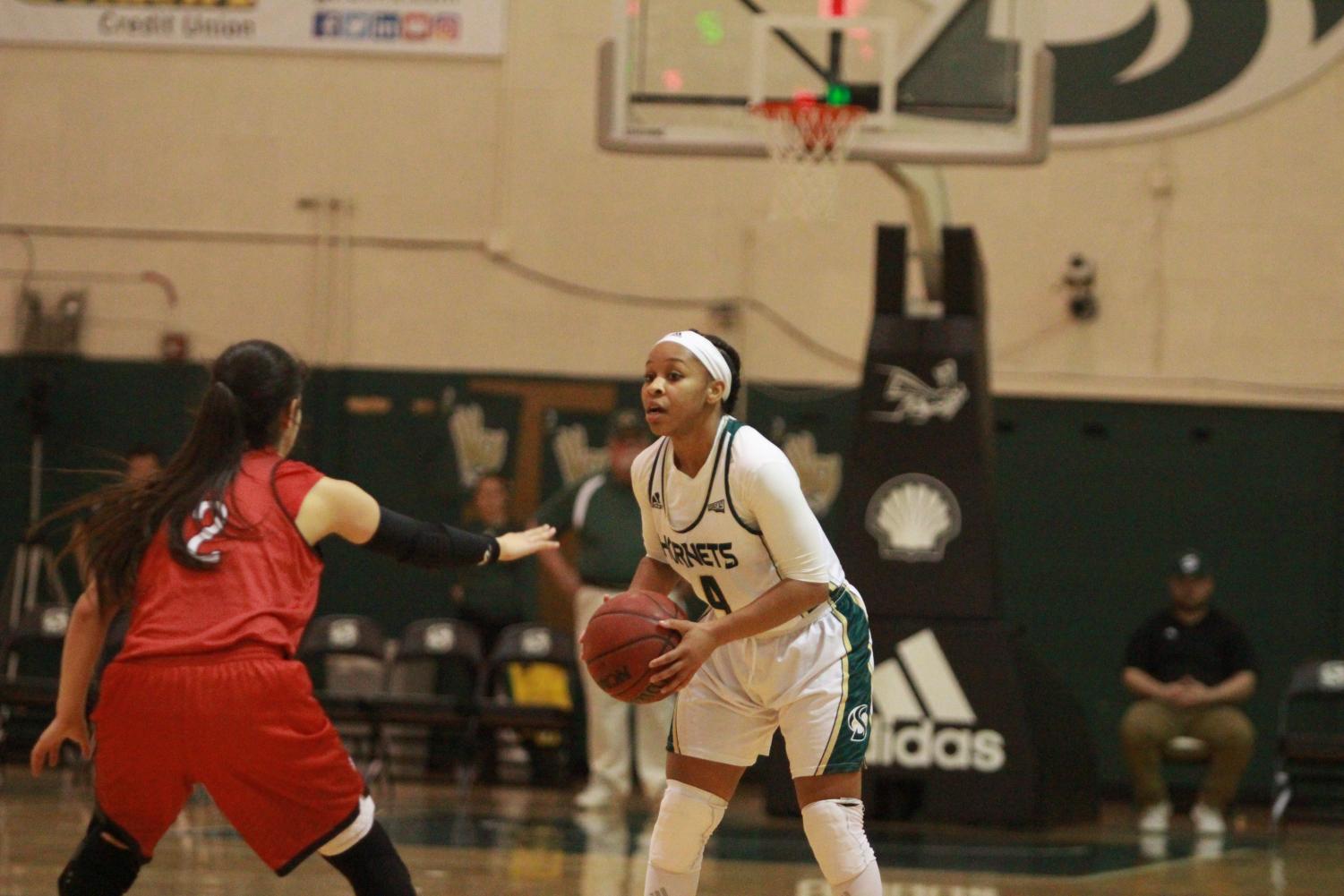 Dawson said she has found that sort of camaraderie after she chose to play at Sac State as well, but it took time to secure her spot on the floor.
"I literally started from the bottom here," Dawson said. "(I was) just watching and learning from all the upperclassmen in front of me until taking on a much bigger role every year."
Four seasons later, Dawson is one of three seniors on the 2017-18 team, and coach Bunky Harkleroad has emphasized how she made it with determination and selflessness.
"Justyce sets a great example with her work ethic: she doesn't whine, she doesn't complain, she's respectful," Harkleroad said. "She just has a lot of values, and she carries herself in the right way, and she has a lot of values that reflect what a great teammate she is."
Dawson said her goal is to help other players based on what she has been through during her time on the team.
"Usually when I see people struggling with things, I try and help them out and give them advice like 'this is what I did, but this is what I should've done,' and basically just try to help them learn from my experiences," Dawson said.
One of her fellow upperclassmen, senior guard Maranne Johnson, said that Dawson has great leadership abilities.
"She has a lot of qualities that not a lot of point guards have," Johnson said. "She's a great person inside and out, and it shows on the court."
https://twitter.com/_Mjaaaye/status/968177461564354560
Johnson said that she and Dawson were close from their beginning at Sac State, and that their relationship has continued to grow over their time together.
"Freshman year, we were both shy and a little intimidated knowing that we were freshmen, but we kind of leaned on each other," Johnson said. "Sophomore year, we opened up a lot more and got to know each other like the back of our hands.
"Junior and senior season hit very fast, and the bond just flourished."
This bond that Dawson shares with her teammates is not lost on the coaches, Harkleroad said.
"When you want to discuss the pulse of the team, you want to talk to Justyce," Harkleroad said. "When you want to find out how people are really doing, you want to talk to Justyce."
Dawson balances her playing with her schoolwork as well. She was named to the Big Sky All-Academic team for the second time in her collegiate career during her junior year while also leading the conference and ranking 11th in the country in assist-turnover ratio over the same season, according to the Sacramento State Athletics website.
"(Dawson is) someone you can look up to on the court and off the court," Johnson said. "She's always in her books, she makes sure that everyone else is in their books, and if anyone ever needs help, then she's always someone that we go to."
After she graduates from Sac State, Dawson said that she plans on going home to work before applying to be a graduate assistant coach at some schools near her home in Southern California in spring 2019.
Before that, she and the rest of her team will compete in the Big Sky Tournament beginning on Monday.
View Comments (2)