Sac State football program hosts walk-on tryouts
The Sacramento State football team hosted its annual tryouts for potential walk-ons on Tuesday at Hornet Stadium to coincide with the beginning of the 2018 spring practice season.
The 13 would-be walk-ons — which includes students who were not recruited by the school and others who did not receive an athletic scholarship to play football at the University — were first measured and weighed.
Overseeing the operation was Sac State coach Jody Sears, who was a former walk-on himself for the Washington State football program in the late 1980s. Sears, who helped lead the Hornets to a 7-4 record and a Causeway Cup victory to end last season, said the team looks for a variety of things including "football IQ," catching and the changing of direction with their bodies.
"They have to be able to take instruction and be coachable, but at the same time the guys got to be able to run," said Sears after the players competed in one-on-one drills. "This game is a game of toughness, but you got to have good speed."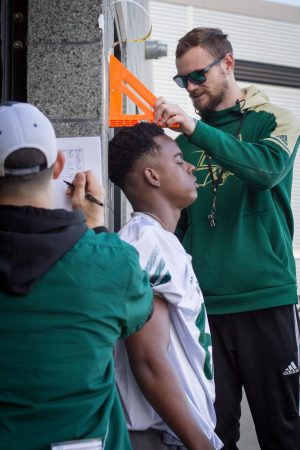 Sac State sophomore student Daniel Evans, who stands at 5-foot-7, said he is determined to follow his dreams of playing Division I football.
"I've never really gotten much opportunity for football," Evans said. "People just assume that I won't be able to perform as good because of my size, but I'm still waiting on that chance and I don't quit." 
Evans, who played football at Dorsey High School in Los Angeles, tried out for Sac State last year, but did not make the team as a walk-on.
"I worked harder this year and got myself in better shape for tryouts," Evans said. "I did miles of running, footwork and spent a lot of time in the weight room just trying to develop my game all around, not just physically but mentally as well." 
Another student who participated in the tryouts was junior Valentine Ilouno, who has tried out for the football team three times now. 
"That motivated me this time because I feel like I can do it," Ilouno said. "Regardless of all adversity I just pursue what I want to do." 
Sac State sophomore running back Isaiah Gable has experienced this challenge of trying to make it as a walk-on. Gable successfully made it on the team two years ago. 
"Having that chip on your shoulder knowing you're a walk-on trying to earn a scholarship, it's a big surprise at the end and I'm still working on it," said Gable regarding earning a scholarship. 
Within the next few days the coaches will announce their decision on who makes the team. 
"The speed and the size and the strength (of college football) can really overwhelm you," Sears said. "But again, it's a game of toughness, it's a game of discipline and if you have the right heart and the right attitude, you will generally find your way on the field in some capacity."