Gymnasts prepare for senior-day finale against ranked opponents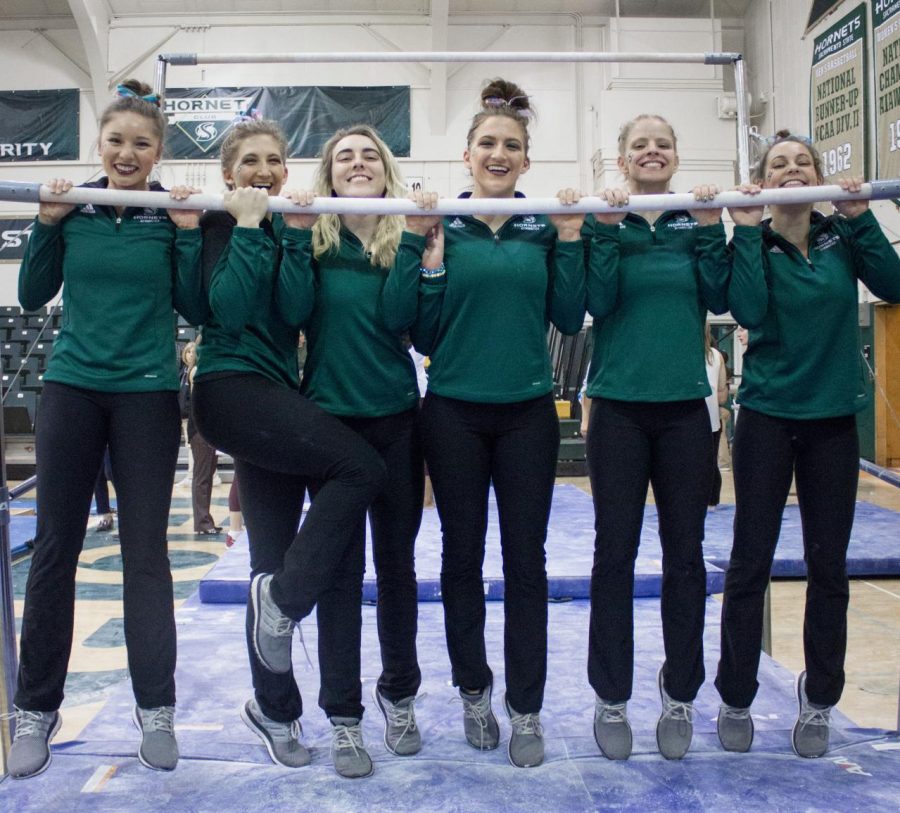 Six seniors will compete in their final home meet as the Sacramento State gymnastics team hosts No. 13 Oregon State, No. 17 Arizona State and UC Davis on Friday at the Nest.
Seniors Jennifer Brenner, Annie Juarez, Courteney Ng, Lauren Rice, Caitlin Soliwoda and Courtney Soliwoda will be capping off careers that have seen many highlights as well as low points that forced the gymnasts to make tough decisions and fight through injuries to capture glory.
Juarez, the Soliwodas and Rice all have gone through difficult injuries that have held them out of action.
For Juarez, the first three years of her collegiate career saw her miss 22 of 34 possible meets due to multiple injuries, and that nearly was the end for her.
"I'm just enjoying being here," Juarez said. "A year ago I was going to quit. I had two surgeries and I didn't really want to do this anymore. Personally, I'm happy and I want to go to regionals. I really want to make it as an all-arounder."
Juarez is in position to qualify for an NCAA Regional for the first time in her career as an event specialist in the floor routine. She also has a chance to qualify as an all-arounder if she records scores of 39 or above in the final two meets, said Sac State coach Randy Solorio.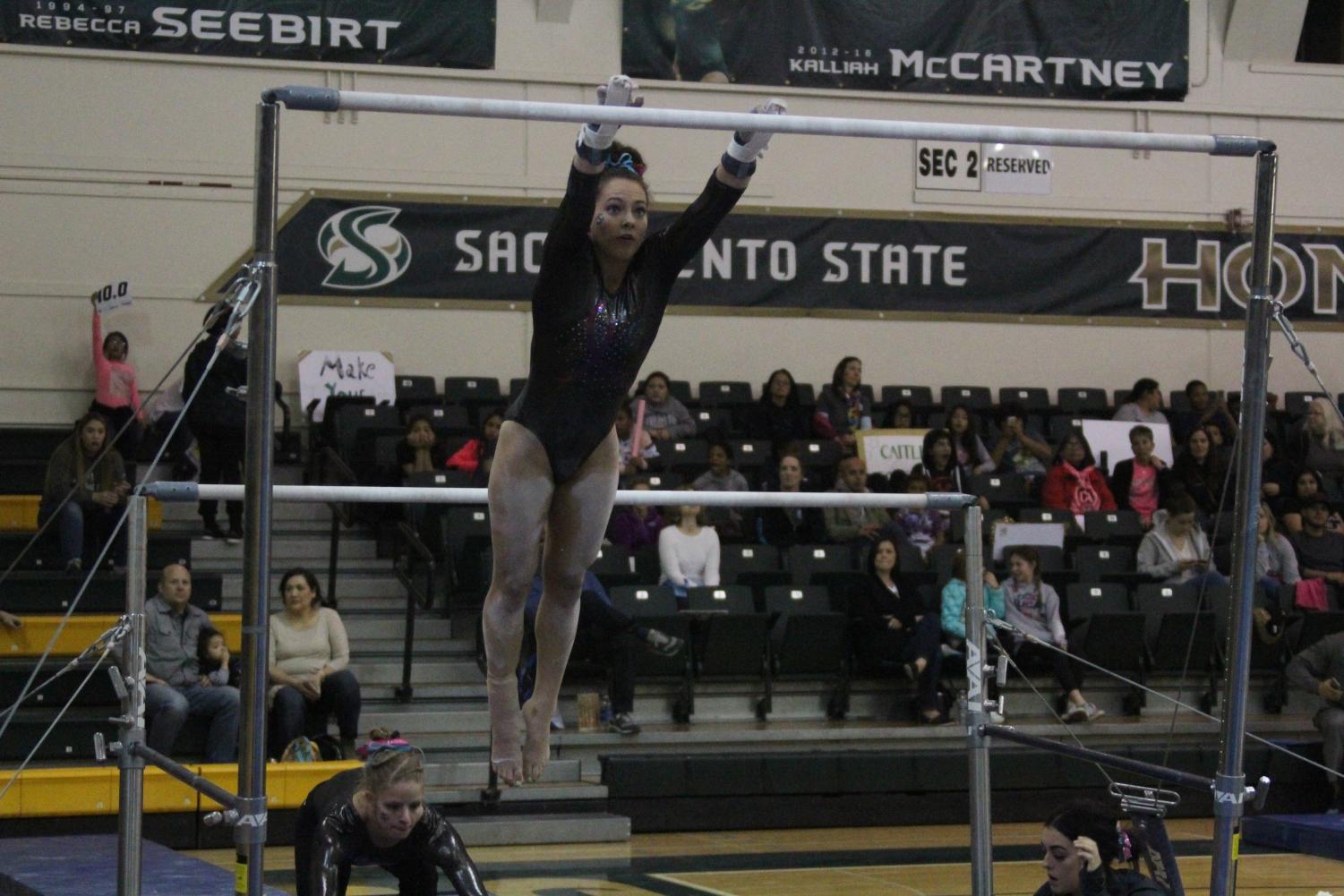 Caitlin Soliwoda is in line to qualify for a second consecutive NCAA Regional. This season she has scored 9.800 or better on 11 routines, including three at Seattle Pacific University on Feb. 23. Now, the senior from Las Vegas is set to see the postseason for a second consecutive season.
Her twin sister Courtney is also in line to make the postseason for a second consecutive year as an event specialist. After a sophomore season when she was held to just four meets, she has competed in every meet since, despite fighting through injuries such as a torn ACL a little over a month before the season began.
While the beginning of her season was initially in doubt, Courtney Soliwoda went through a rehab that got her into the lineup for the first game of the year. This season she has anchored on beam and scored above 9.800 in her last five meets. Twice she scored 9.875, just short of her career high of 9.900. On the uneven bars, she has been equally impressive and scored 9.775 or above in four straight meets.
The Hornets have competed against ranked teams such as Cal Berkeley, the University of Minnesota and Boise State in that span, and Courtney Soliwoda said that facing ranked programs brings her and the team's energy level up. Arizona State and Oregon State, which are both ranked, will be Sac State's competition on senior day along with crosstown rival UC Davis on Friday.
"I love having teams come in that are better than us," Courtney Soliwoda said. "It sets the bar higher, and we just have to come in with expectations that we got to do our thing."
While qualifying for an NCAA Regional as a team is going to be difficult, the Hornets can still win a Mountain Pacific Sports Federation Championship on March 24 at the Air Force Academy, which will feature all five teams in the federation.
"As a team, we are trying to win conference first and foremost," Juarez said. "In conference it doesn't matter what you do beforehand. It's whoever hits everything that night, so we're doing everything we can do to hit everything that night to win conference."
Sac State won a conference title in 2016, which was when the current seniors were in their sophomore seasons. Rice, then a sophomore, helped lead the team to victory that night with a 39.325 in all four events as an all-arounder. She scored 9.850 in three different events.
Rice's sophomore season was also the first of two consecutive trips she took as an all-arounder to an NCAA Regional.  
For Rice, a third trip to an NCAA Regional is not in the cards. On Jan. 12, she tore ligaments in her ankle and hasn't competed since. She is attempting to make a comeback on the uneven bars and has been successful on everything except for the landing.
While their strong scores haven't been in the lineup, fellow seniors Jennifer Brenner and Courteney Ng have still put up strong numbers. Brenner has scored 9.800 or above in three of her last four meets, while Ng has led off the bars all season and recorded scores of 9.700 or above in five meets. In last year's Mountain Pacific championships, Ng recorded the highest bars score of her career with a 9.850.
While Friday is the last time the six seniors will participate in gymnastics at the Nest, their season will continue at the federation championship on March 24. Then, on April 7, it is likely that Juarez and the Soliwodas will be participating in an NCAA Regional.