Senior gymnast's flair on floor leads to national following
On a cold night in April not only was the sky pouring in Seattle, but an ovation also rained down from the rafters as Sacramento State senior gymnast Lauren Rice twisted through the air to finish her floor routine at the NCAA Regional in a sold-out Alaska Airlines Arena.
While Rice finished the meet just a quarter point from qualifying for nationals, there was no doubt that the gymnast, whose hair is dyed green, had the most popular routine.
"The only way you are going to get attention in the gymnastics world is either being really good or really outrageous," Rice said. "I decided to go with the really outrageous part by making my floor routine humorous; I've attracted a new audience and gained a fanbase and also I dyed my hair a little crazy."
Her floor routine started with "…Baby One More Time" by Britney Spears and also featured "Anaconda" by Nicki Minaj.
"I mainly just want to have fun constantly," Rice said. "I think when people start to take things too seriously they get very tense and that usually makes them mess up. I generally just think if I'm having fun, then I'm going to do good."
Lauren Rice on floor tonight for @SacStGymnastics @SH_Sports @TheStateHornet @sacstate pic.twitter.com/qQq9F64WH5

— Thomas Frey (@ThomasFreyRP) December 9, 2017
Rice learned this mindset from her family, which also has roots in gymnastics. Her older sister Taylor was an all-American at Stanford in 2015 and her parents — Cassie and Michael — each were all-American gymnasts at Oklahoma.
After college, her parents opened up Gymcats, a gymnastics gym in Las Vegas.
As early as kindergarten, Rice remembers waking up in her mom's office and going out to play on the gymnastics equipment as her mom began instructing classes each morning.
"I've been in the gym ever since I was born pretty much," Rice said. "I think it was an interesting dynamic especially because my sister was always doing gymnastics, and she was two years older than me. I saw her grow up before me."
From a young age, Rice was traveling to places like Mississippi, Minnesota, Virginia and California for gymnastics competitions and quickly moved up the ladder in the amateur realm.
Not only were Rice's skills on the mat, beam, bars and vault improving, but she also started choreographing dance routines when she turned 13. She experimented with different music in the club setting for four years and knew that when she entered college, she would want to make her own floor routines.
Sac State gymnastics coach Randy Solorio said he liked that and offered her a full scholarship during her official visit.
"I'm all about letting them express who they are," Solorio said. "They buy into it because it's theirs rather than someone telling them what to do."
From Rice's first meet as a freshman — which was coincidentally against her sister Taylor — she was competing in all four events as an all-arounder. She choreographed her own floor routine and was later named Mountain Pacific Sports Federation Freshman of the Year.
Rice improved in her sophomore year and qualified for her first NCAA Regional where she finished an eighth of a point away from qualifying for nationals. However, to get to this point, she had to overcome a consistent pain in her ankle that eventually caused her to have surgery in the summer.
"She is always looking at the bright side of things, and even though she is always optimistic, she is realistic," senior Courtney Soliwoda said. "Emotions are contagious. If she knows that the path is not going to work, she takes an alternate route to get there."
Rice was told different timeframes for how much time she would miss by several different people and went into her rehab with an open mindset to take her time and not rush back.
It was also too open of a mindset. She said her assistant coach, Melissa Genovese, told her that she was capable of moving quicker in her rehab. Once she began to rehab with more purpose, she saw an improvement and looked toward making a return.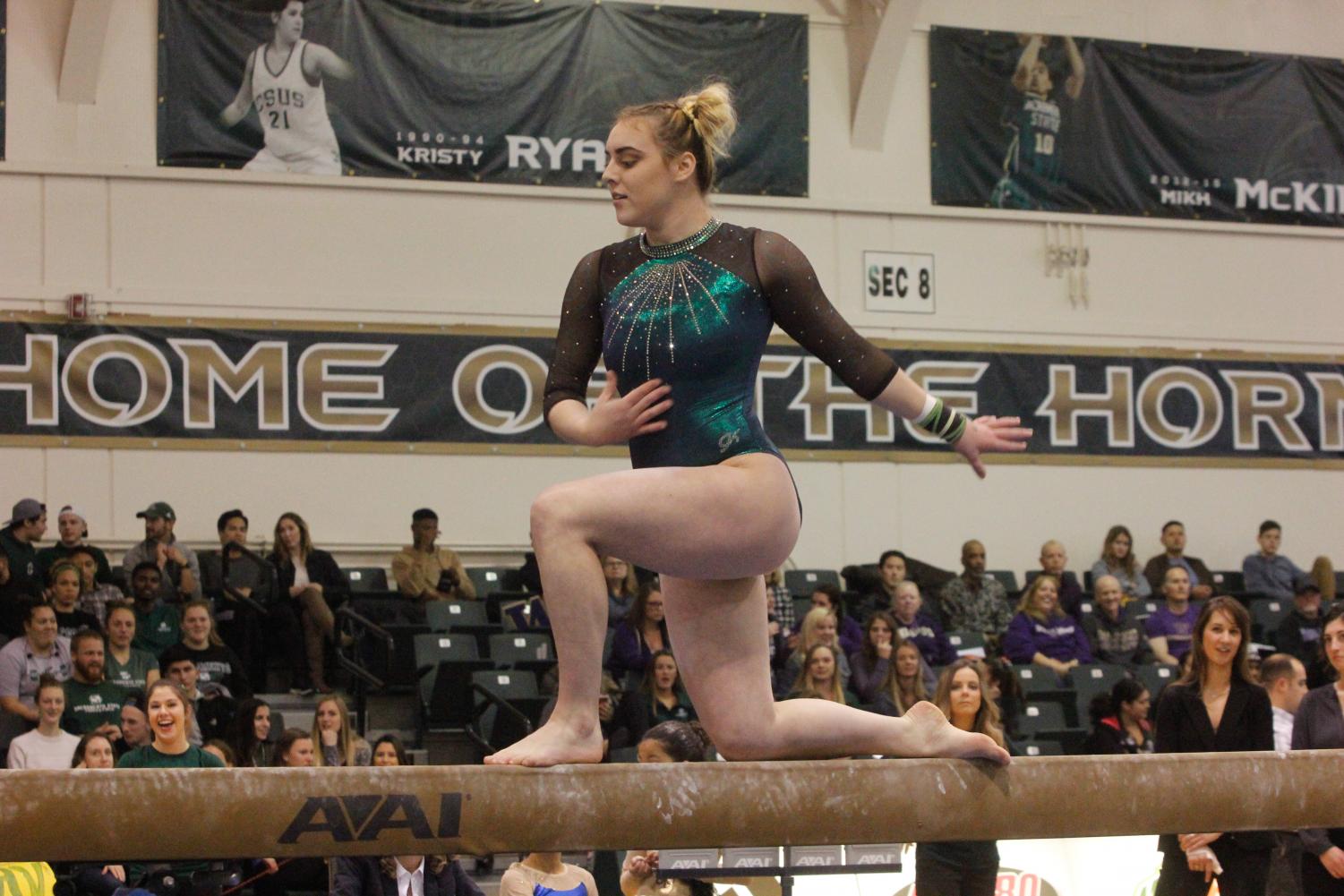 She returned as an all-arounder in the final six meets of the season and qualified for the NCAA Regional for a second consecutive year.
Rice narrowly missed out on reaching nationals but her popularity grew as she showed off her floor routine to a national audience.
It all started when her floor routine was talked about in the middle of the season on "Gymcastic," the top gymnastic podcast. The show talked about how her different dance and music selection made her a can't miss talent.
So much so that Lauren Hopkins — the editor-in-chief of The Gymternet, one of the leading gymnastics websites — could be heard panicking as the cameras went off Rice and momentarily on to someone else during her live-blogging at the NCAA Regional.
Not only does Rice choreograph her own routine, but she has helped fellow senior Caitlin Soliwoda make hers more popular as well.
"I'll send her songs (and) she will blend them together and pitch in her own ideas," Caitlin Soliwoda said. "She has a really good knack for listening to music and creating music. She created mine and then we choreographed my routine together."
While Rice would like to choreograph more of her teammates routines, she said her busy schedule — which includes a heavy mechanical engineering workload — has kept her from it.
Due to gymnastics practice in the middle of the day, Rice is forced to take most of her classes at night. She said that most of her days are spent at the gym, in the classroom or in the library studying.
For Rice's senior project, alongside four of her classmates, she is working to develop a parking tracker for Sac State parking lots 9 and 10. They got a lot done before her senior season started.
Along with her difficult class schedule as a mechanical engineering major, she has her senior season of gymnastics and rehab to work on.
In Sac State's Jan. 12 home opener against the University of Washington, Rice was finishing up her final event, the floor. The routine featured music including Kendrick Lamar's "Humble," Haddaway's "What Is Love" and even the theme song of Wii Sports. She was just about to turn around and do her death drop to end the routine. Instead, she dropped after injuring her ankle on the landing.
RELATED: Injuries headline Sac State gymnastics season through 3 meets
Rice tore her ATFL and CFL ligaments in her ankle, and she said her recovery time is still unknown more than two weeks later as her senior season sits in a limbo.
The last time she was injured she did everything she could to come back and it paid off. She is trying to make it back for one more round in her final season.
Donate to The State Hornet
Your donation will support the student journalists of Sacramento State University. Your contribution will allow us to purchase equipment and cover our annual website hosting costs.