Twin sisters defy injuries to lead Sac State gymnastics
As 3-year-olds climbing swing sets, Sacramento State juniors Courtney and Caitlin Soliwoda's mother enrolled them in gymnastics lessons for their own safety.
"She just wanted us to learn how to fall and land without killing ourselves," Courtney said.
Yet after 17 years of training, athletic ability is still not usually the first thing most people notice about the Soliwodas — after all, the sisters are identical twins.
Born and raised in North Las Vegas, Nevada, the Soliwoda sisters grew up nearly inseparable. Little has changed over the years, but now instead of training with youth clubs back home, the twins compete on Sac State's nationally-ranked (No. 43) gymnastics team.
"(Our) coach is always like, 'How are you guys always together and you don't get so sick of each other?' " Caitlin said. "That's just kind of what we're used to. She's always been there by my side."
Despite their tight bond, the sisters have not always competed simultaneously thanks to an array of injuries through high school and college, in large part suffered by Courtney.
Over her four years in high school, Courtney had hip surgery, two stress fractures in her right leg and SLAP tears in her shoulder.
Though Courtney's injuries frequently kept her out of commission during the first two years of high school, she said she enjoyed the opportunity to watch her sister improve and develop as a performer.
However, with Courtney sidelined for 10 months to a year at a time, Caitlin says she seriously considered leaving gymnastics for good.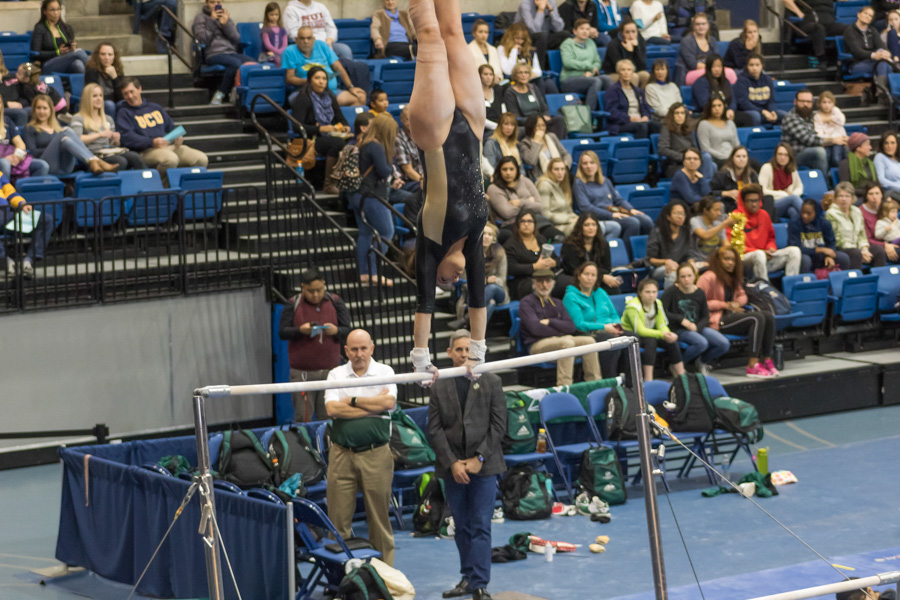 "That kind of took a huge toll on me," Caitlin said. "I had great coaches and great teammates but I just personally wasn't doing well, so I came very close to being done and just calling it."
She decided to stick with the sport, however, after the twins switched clubs during their sophomore year to train with Gymcats in Henderson, Nevada, where they met future Sac State teammate Lauren Rice. In 2013, the three gymnasts helped their club win a Nevada state championship.
In 2015, the Soliwoda sisters and Rice joined Sac State in a historic recruiting class that boasted six true freshman, including Courteney Ng, Megan Kyle, Annie Juarez and Jennifer Brenner.
Before being named team captain for the Hornets, Courtney underwent knee surgery in May 2015. In 2016, she received a stem cell injection in her knee as the pain still lingered, keeping her out of competition for seven events.
That same year, after tying a Sac State record on bars (9.950) against San Jose State, Caitlin sprained her ankle tumbling and was unable to compete for three meets. Still, she was able to return and compete on vault and bars to help the team win a Mountain Pacific Sports Federation Conference championship.
Through all of the Soliwoda's collegiate setbacks, Sac State coaches and teammates agree the twin's patience and positivity have become an integral part of the team's success. Caitlin's bright, outgoing charm and Courtney's mellow, poised temperament complement each other well, Rice said.
"I would say that they are the most positive people I have ever met in my life and they bring the most uplifting spirit to our team," Rice said. "It's something that is really hard to find in a person — it's amazing to have two of them, really."
Sac State gymnastics coach Randy Solorio also appreciates the sisters' athletic ability and dependability.
"(In) our sport, sometimes you have the little stress and apprehension of 'are they going to make this routine?' but with Caitlin and Courtney, you don't have that feeling," Solorio said. "You just know, 'all right, it's going to happen and they're going to hit.'"
Outside of gymnastics, the Soliwoda sisters enjoy dancing in various styles, naming line dancing as their favorite. Courtney and Caitlin have also taken kinesiology 63 together, a beginning ballroom dance course taught by Solorio at Sac State.
The Hornets have opened the spring season with a 5-2 overall record, and were ranked as high as 24th in the nation midway through January.
If the Soliwodas and the rest of the team can remain healthy, the Hornets could have a chance to match or surpass last season's success, as they continue the season Friday, hosting Alaska Anchorage at the Nest at 7 p.m.
"This team is as good if not better than last year," Solorio said. "We are where we need to be so when we're in the gym, we're not beating each other up in having to learn new skills — we're working on the small areas that will make us that much better."
(Video by Matthew Nobert and Sami Soto)