Students inconvenienced by campus infrastructure failures
Sacramento State's infrastructure has experienced a fair number of problems in recent weeks as the California State University system deals with a backlog of over $2 billion in repairs, according to Teamsters Local 2010.
This semester has seen a power outage that shut down buildings on the first day of school and forced classes to be canceled, a flood that closed the Hornet Bookstore for a week and exposed piping in hallways.
The Teamsters protested on Jan. 31 at the CSU Board of Trustees meeting, alleging that failing infrastructure systemwide has led to safety concerns for their employees.
Power outage
On Jan. 22 — the first day of school — Sac State experienced a campuswide power outage. While the power to most buildings was restored in about 15 minutes, Riverfront Center and Del Norte Hall were still without power for the rest of the day. Full power was not restored until Jan. 27.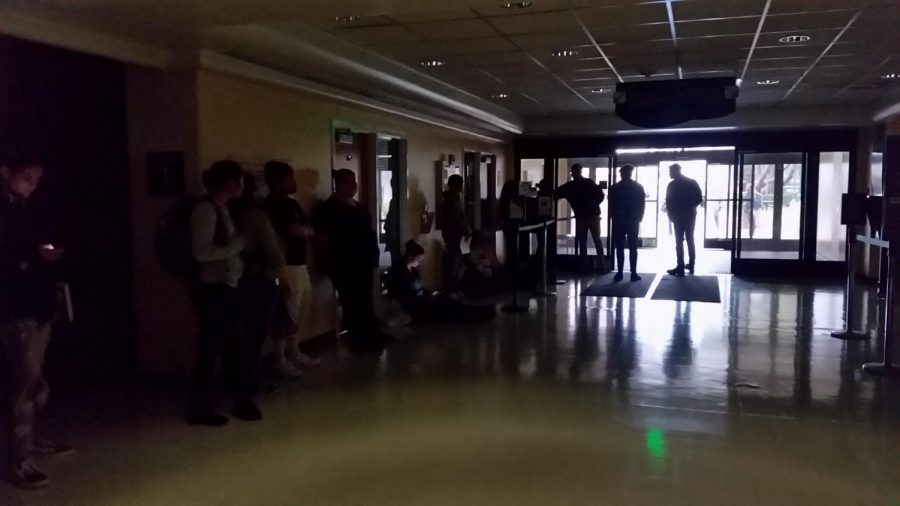 Kinesiology major Kevin Nguyen said he was in biology class when the power went out.
"We had to use our phone flashlights to write notes and light up the board for the teacher to write on it," Nguyen said. "It was a mess."
According to Justin Reginato, the associate vice president of facilities management, the outage was caused because the switchgear that services Shasta Hall, Del Norte and Riverfront was old and failed.
He said that a consultant helped to isolate the issue and now that he knows how it occured, the department is working to develop a plan for the future.
Reginato noted that most power outages arise from a failure in the equipment delivering power to campus via SMUD.
Christine Miller, Sac State's vice president for information technology, said that preventative measures are in place to assure that essential student systems remain online through a power outage.
"Our Data Center does have a failsafe and things like uninterruptible power supplies so that systems like SacCT stay online when we have those kinds of outages," Miller said.
Bookstore flood
The Hornet Bookstore was closed for a week in the beginning of February due to flooding, causing students to have to find other means of finding supplies for their classes.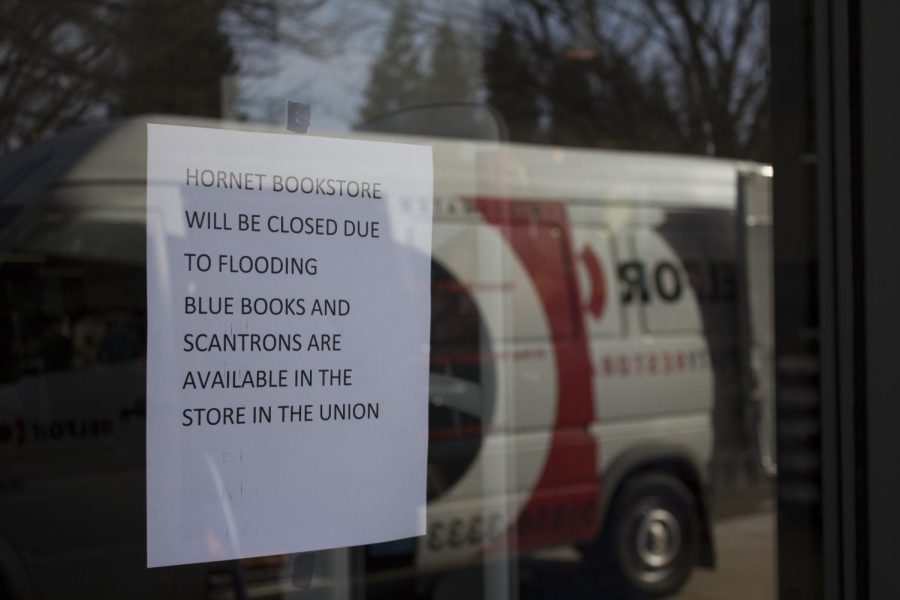 Computer engineering major Mustafa Oudeh feared that he would lose credit in one of his classes for not having the book he needed.
"I was busy last week so I planned on buying it this week but the flood happened and the bookstore closed," Oudeh said. "I was forced to order it from Amazon with two-day shipping to get it by when I needed it."
As previously reported by The State Hornet, the bookstore suffered 15,000 square feet of damage after a blown water supply line for a coffee maker caused the flooding, according to Grant Cody, the general manager of the BELFOR Property Restoration Sacramento office.
The line broke because a hose clamp failed that was connected to the water supply line. That installation was done about 10 years ago, according to Jim Reinhart, the executive director of University Enterprises, Inc.
UEI is on the hook for $50,000 and insurance will cover the rest, Reinhart said.
BELFOR removed the carpets, set up dehumidifiers and removed wet drywall to get the bookstore back up and running, Reinhart said.
Reinhart said that a new carpet will be put in over the summer. He also said that bookstore employees continued to work on the second floor.
Exposed piping
Exposed piping is prevalent in several buildings. Brighton Hall has a gaping hole in the wall by the custodial office, Placer Hall has its very own by the front entrance to the building and Douglass Hall has an unlocked access door in one of the men's stalls downstairs that leads to its own set of pipes. Calaveras Hall has a wall outlet without a plastic cover over it.
Who did this?? 😂

Photos by Robby Sanchez (@Its_Robby) pic.twitter.com/Zk7PH198iZ

— The State Hornet (@TheStateHornet) February 8, 2018
According to Reginato, Pacific Gas and Electric was doing a routine inspection when its equipment "sensed a low level of natural gas" near the southwest corner of Humboldt Hall. Workers dug up the pipes and found that the leak was coming from a Sac State gas line.
They immediately shut off the line with the leak but in that process discovered abandoned lines and ones that were not installed like they were on the plans. They will bring a contractor in to reroute the pipes and will wait until the summer to do the work when it is less populated.
Wi-Fi
Students have complained that the campus Wi-Fi has had its own set of problems, from being slow to being unreliable for students who have tried using it.
History major Geoffrey McCoy said he has experienced his own issues with the faulty connection.
"Sometimes when I try to connect to the internet to do some homework, it just doesn't work," McCoy said. "I feel like it has to do with the change from SacLink to eduroam and it's just an inconvenience sometimes."
Miller compared Sac State's Wi-Fi to a "shared pipe," noting that the pipe can often become clogged depending on how many people use it.
"I haven't heard about the bad performance personally and we're pretty pleased with our network performance most of the time," Miller said. "We've tried to stay ahead of demand, so we don't have a lot of time when we have network performance issues but I'm sure it happens during peaks like the first week, midterms, finals, et cetera."
Miller also said that hardware is constantly being updated so that it can keep up with the capacity it needs to hold.
"When we had those power outages in the beginning of the semester, we decided to accelerate the replacement of some of our UPS units that are in distributed buildings across campus just to be extra certain that they would perform as expected when we needed them," Miller said.
Protest
The Teamsters Local 2010 said in a press release that the "$2+ billion backlog of neglected repairs and maintenance work" is increasing at a rate of $143 million per year.
"Service interruptions consistently happen throughout the CSU," said Hector Fernandez, the Teamsters Local 2010 director of skilled trades in the press release. "Instead of planning ahead, we are forced to play catch up every day due to the administration's negligence."
The Teamsters allege that their workers in the CSU system are "overworked and understaffed," another reason for their Jan. 31 protest.
Additional reporting by Nick Minges
View Comments(1)
Donate to The State Hornet
Your donation will support the student journalists of Sacramento State University. Your contribution will allow us to purchase equipment and cover our annual website hosting costs.