Gymnastics team records season high, wins tri-meet with 195.400 score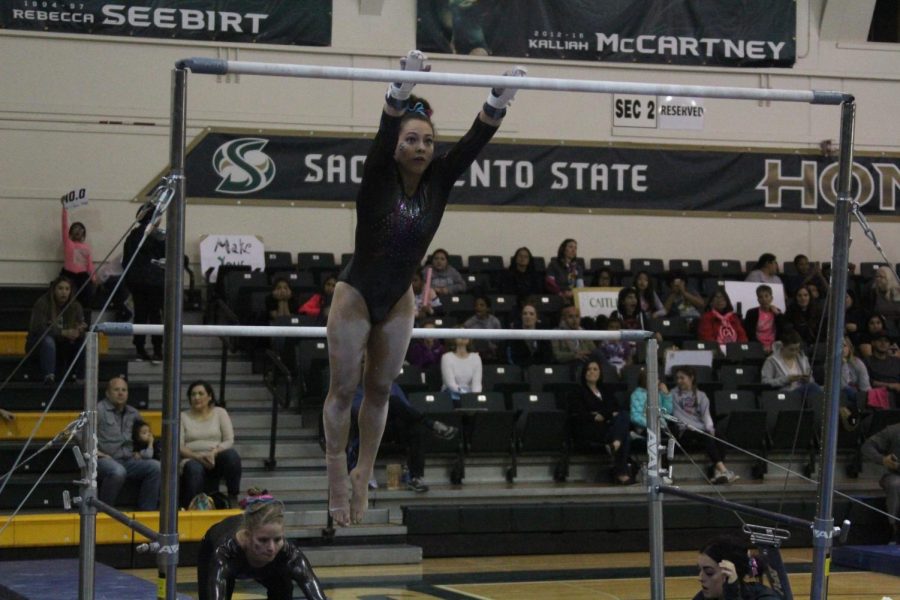 The Sacramento State gymnastics team recorded a season-high 195.400 in a win over San Jose State (194.050) and Seattle Pacific (189.200) on Friday night at the Nest.
The Hornets have now scored 194.400 and 195.400 in back-to-back weeks after hovering at 193.275 or below in their first five meets of the season.
Senior all-arounder Caitlin Soliwoda said that the team has been capable of hitting scores like this all season and that it is what she knew it was capable of since the preseason. If the Hornets can record scores as high as this one in the remaining five meets, they will move on to an NCAA Regional as a team.
"Finally we put it together the way we have been doing in practice and it showed," Soliwoda said. "That's the team that we are. We aren't a 191 team, we never have been."
For the first time this season, the Hornets didn't see a gymnast fall off the balance beam — which was reflected with a season-high score of 49.025.
"We just let go of the nerves," Soliwoda said. "We decided that we don't have anything to lose anymore and we might as well give it everything we've got and be confident."
Vault was the only event the Hornets didn't reach a season event high in. On the uneven bars and floor, Sac State drilled down 48.975 on each event.
"I hope it stays at this level and maybe goes up a little bit," said junior Jackie Sampson. "I can't even put it into words. We have been struggling."
A week after missing a meet with an injury, Sampson scored the highest score of all 18 competitors in the event with a 9.875. On beam, her 9.850 was the third highest in the meet and a career high.
Caitlin Soliwoda had a season high score of 39.175 in all four events as an all-arounder and didn't record a score below 9.750 all night.
However, her score wasn't enough to top Sac State senior gymnast Annie Juarez (39.200), who for the third straight week recorded a career high as an all-arounder and took home the event crown.
Soliwoda held a half-tenth lead over Juarez heading into floor — the final event — and even though Soliwoda recorded a solid score of 9.775, Juarez hit all of her skills with near perfection and scored a 9.850.
"Nothing surprises me with her," Soliwoda said. "I expect nothing less from her and I know she is going to qualify for regionals. That's how confident I am in her."
It's the second time that Juarez has won the all-around and it's also the second time that Juarez and Soliwoda have finished with the top two all-around scores in a meet.
"This team has the ability to do this from the beginning and they just put it together tonight," said Sac State coach Randy Solorio. "They have been great, but I know we have better. A 195.400 is outstanding with an OK vault, I know we can perform on vault higher."
The Hornets will hit the road and take on Seattle Pacific for a second consecutive week on Friday in Seattle at 7 p.m.