Munch Madness analysis: How the Filling Four became the Tasty Two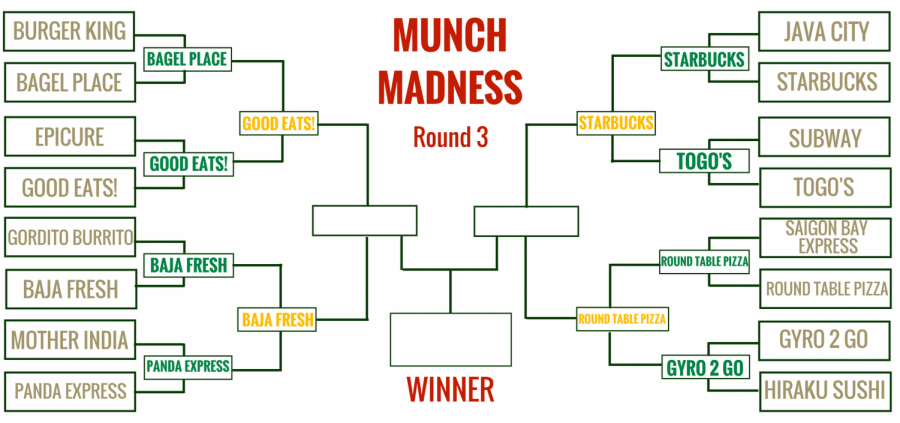 (Go to StateHornet.com/TheFoodIssue for more food-related stories)
We've almost reached the end of Munch Madness, and I feel changed. I laughed in Round 1, I cried in Round 2 and I gained 15 pounds this semester.
In Round 3, the Filling Four became the Tasty Two, and the winners are ready to be voted for right now. Below, read unproven guesswork as to why they won.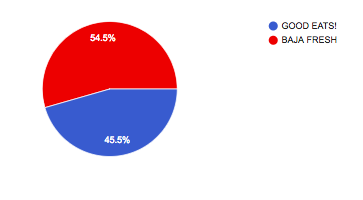 The matchup: Good Eats! vs. Baja Fresh
The result: Baja Fresh (54.5 percent) defeats Good Eats! (45.5 percent)
Analysis: College sucks.
Sometimes, things get real hard. You feel worthless, aimless and like nothing you do matters. Impending debt, finding a job post-graduation, politics, global warming, Nazis are back I guess; all these things weigh on your mind.
Amidst this sea of troubles, you don't want a knife and fork. You don't want to apply butter to bread. You don't want to make sure you aren't swallowing chicken bone. And you don't want to eat macaroni and cheese with no flavor.
You want to hold something warm, soft and heavy (seriously, those burritos are heavy), and you want to eat it with no worry. I call this The Burrito Zone. No concerns can find you in The Burrito Zone.
Good Eats! is good food. It's basically the name of the place. But this is about more than what food is good; it's about what food is best for Sac State. And Sac State needs a little bit of burrito love just as much as the next university.
Baja Fresh moves on to the championship round against Round Table Pizza.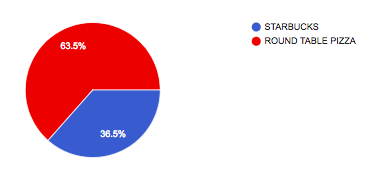 The matchup: Starbucks vs. Round Table Pizza
The result: Round Table Pizza (63.5 percent) defeats Starbucks (36.5 percent)
Analysis: Down goes Starbucks! Down goes Starbucks! Down goes Starbucks!
It may seem like an upset that the world's premier coffee chain got beaten by an average chain pizza place, but here's why it isn't:
Round Table Pizza serves pizza; Starbucks serves coffee. Put a rat in a room with pizza and coffee,

the rat will eat the pizza

. Look at yourself deeply enough and know, you would do the same.

Round Table Pizza has televisions; Starbucks does not. Put me in a room with a television and nothing else, and I will pull out my phone and look at Facebook or Twitter. But every now and then, I'll look at the TV because it's bigger, and I ran out of new posts to scroll through.

Round Table Pizza serves beer; Starbucks does not. Put college students in a room with beer and with not beer, and then wait a couple hours and call the cops, probably.
These factors, combined with my hypothesis that the long lines at Starbucks are the foremost reason that Finish in Four will never work, combined to give Round Table a rather easy win. All of its wins have been relatively easy so far; there is every reason to consider Round Table Pizza the favorite to take home the gold.
Tomorrow: Will pizza reign supreme, or will burritos stake their claim in the pantheon of college food? Is beer the only reason these two are in the finals? Will the Herky signal I've constructed on top of the library finally get him to bring back The Buzz? Find out tomorrow, and vote in Round 4 today.