Munch Madness analysis: From the Sub-par 16 to the Edible 8
Coffee against coffee, burrito against burrito; Round 1 was sometimes close, but not very surprising.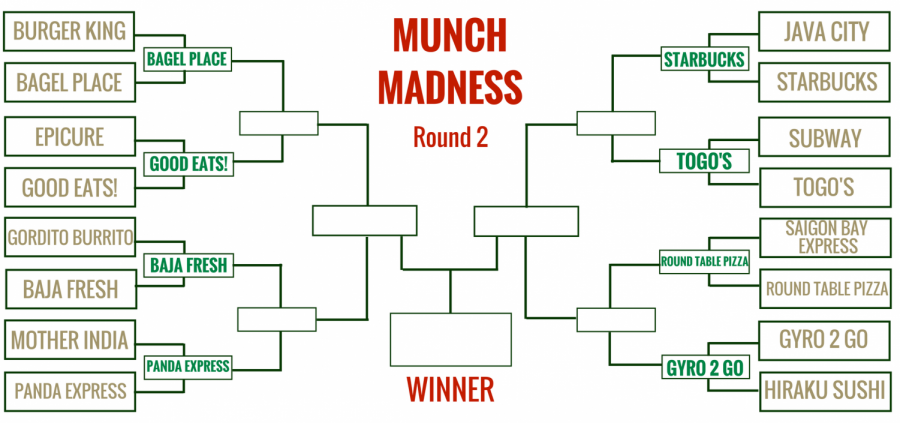 (Go to StateHornet.com/TheFoodIssue for more food-related stories)
Vote today in Round 2 of Munch Madness, and read below how the So-So 16 became the Edible 8.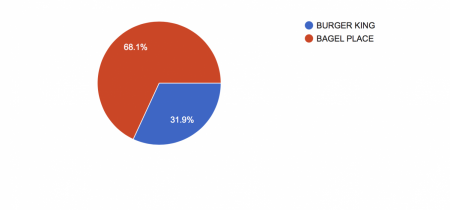 The matchup: Burger King vs. The Bagel Place
The result: The Bagel Place (68.1 percent) defeats Burger King (31.9 percent)
Analysis: The Bagel Place is the newest eating establishment on campus, replacing the salad-based RF Greens. This was more than a symbolic gesture about the average college student's need for carbohydrates; it was an immediate clarion call for students who wanted sandwiches where instead of normal bread, it would be a bagel.
It's been a hit so far and this matchup was easily predictable because, well, Burger King is Burger King.
The Bagel Place moves on to a Round 2 matchup against Good Eats!.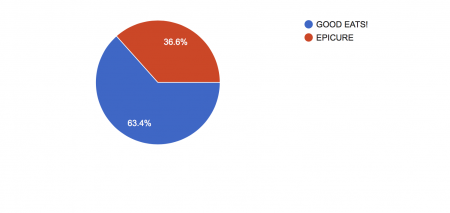 The matchup: Good Eats! vs. Epicure
The result: Good Eats! (63.4 percent) defeats Epicure (36.6 percent)
Analysis: Good Eats! is like a weird combination of the band "fun." and a KFC, basically. The punctuation is annoying, the meats are well-cooked, the mashed potatoes are good, and the macaroni and cheese is bland but edible.
Epicure, the only sit-down restaurant on campus, is nice, but expensive. The menu link brings back a 404 error, which is just sad. It also remains unclear how many students even know it exists as a restaurant. Exhibit A, the final quote from Epicure's website: "Epicure Restaurant is located near Round Table Pizza in the University Union." If you have to use another eating place as a reference for where your restaurant is located, you're in trouble.
Good Eats! moves on to a Round 2 matchup against The Bagel Place.

The matchup: Gordito Burrito vs. Baja Fresh
The result: Baja Fresh (52.7 percent) defeats Gordito Burrito (47.3 percent)
Analysis: The first Munch Madness buzzer beater! As of sundown last night, Chubby Burrito held a razor's edge lead over Baja Fresh. Come morning, Baja Fresh (The Freshmaker?) pulls out the expected win.
Chubby Burrito had two specific advantages in its breakfast options, which are reliable, and its name, which is hilarious if you've taken Spanish 1A or pulled out Google Translate while in line. Baja Fresh has no breakfast options and means "low fresh" in Spanish, which is also a way to describe the way the ingredients taste at Baja Fresh.
'Tis a pity two burrito places faced each other in round one, but Baja Fresh now stands a solid chance of making it far simply because it is the last burrito in the race, and burritos are burritos. It will be sad to no longer be able to say Chubby Burrito. Chubby Burrito.
Baja Fresh moves on to a Round 2 matchup against Panda Express.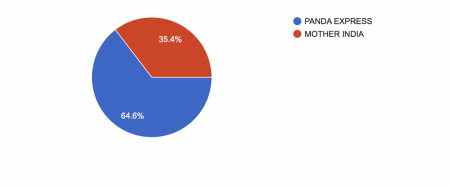 The matchup: Panda Express vs. Mother India
The result: Panda Express (64.6 percent) defeats Mother India (35.4 percent)
Analysis: Panda Express has been referenced multiple times on Rick and Morty. Mother India is also the name of a 1957 movie with a 92 percent on Rotten Tomatoes. Interesting!
There are two Panda Expresses, one of which is definitively better than the other on a normal day. Panda Express has a million options. Chinese food is bomb and almost always sounds good. Panda Express is not very good. Mother India is good. Panda Express was always going to beat Mother India. Come back tomorrow to find out which Panda Express is better!
Panda Express moves on to a Round 2 matchup against Baja Fresh.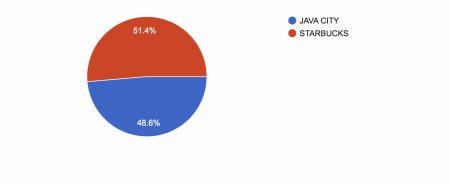 The matchup: Java City vs. Starbucks
The result: Starbucks (51.4 percent) defeats Java City (48.6 percent)
Analysis: This matchup wasn't a coffee contest as much as it was a philosophical struggle: wait in line so long you arrive late to class with your Starbucks in hand (never a good look), or drink Java City, which is coffee, I guess. That, and the food options Starbucks offers, make it honestly a surprise how close this result was. Y'all really do hate those lines.
(Disclaimer: If the Buzz still existed, The State Hornet would have never done Munch Madness. We'd be too busy eating at The Buzz.)
Starbucks moves on to a Round 2 matchup against Togo's.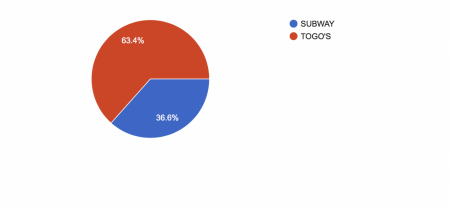 The matchup: Subway vs. Togo's
The result: Togo's (63.4 percent) defeats Subway (36.6 percent)
Analysis: An interesting matchup. While Subway's location next to the bookstore was problematic to begin with and is now neighbor to construction, the extent of Togo's victory is honestly surprising. Sandwiches are just … sandwiches.
Though, if someone asked me if I wanted a sandwich and told me I wasn't allowed to make it for myself, and the only two options were Togo's or Subway, I'd probably end up saying Togo's, after making sure I couldn't have a sandwich with a bagel as the bread first.
Togo's moves on to a Round 2 matchup against Starbucks.

The matchup: Saigon Bay Express vs. Round Table Pizza
The result: Round Table (53.1 percent) defeats Saigon Bay (46.9 percent)
Analysis: This round's overall winner of best mashup name (Round Bae Express) was a close contest that asked a simple question: Do you like beer and pizza and sports and hanging out with friends while eating pizza, drinking beer and watching sports?
On second thought, that wasn't a very simple question. But my honest belief is that 53.1 percent of voters like those things and the rest don't. Or they really like pho. Either option is fine really. It will be interesting, though, to see how long the most expensive food option on campus will last going forward.
Round Table Pizza moves on to a Round 2 matchup against Gyro 2 Go.

The matchup: Gyro 2 Go vs. Hiraku Sushi
The result: Gyro 2 Go (71.1 percent) defeats Hiraku Sushi (28.9 percent)
Analysis: This matchup, more than anything, was about trust. Gyro 2 Go serves halal meats and falafel in either a gyro, wrap or on a plate. It also has fries, which can be drenched in white sauce and Sriracha. Everything there is relatively trustworthy.
Not to be rude, but Hiraku Sushi serves mainly sushi. Which means it is mainly untrustworthy.
Gyro 2 Go moves on to a Round 2 matchup against Round Table.
Tomorrow: Who will move on to the Filling Four? Will we finally see a true upset? Will The Buzz win even though it doesn't exist anymore? We will see!