The Bagel Place: a place for bagels
Sacramento State students have a new place to line up for breakfast this semester with the arrival of The Bagel Place, a new dining option developed by University Enterprises, Inc.
True to its name, The Bagel Place offers an assortment of bagels and bagel sandwiches. The place is located at the River Front Center in the spot that formerly housed RF Greens, a restaurant that specialized in customizable salads.
According to an email from Angela Rader, director of UEI marketing services, the menu items from RF Greens "did not resonate" well with the campus community. Rader added that the change of restaurants came when UEI saw a need for a breakfast option at Sac State.
Michael Amader, a junior criminal justice major, has been to The Bagel Place on three occasions during its opening week. The restaurant has become his go-to place for breakfast.
"Honestly, I never went to (RF Greens) when it was here," Amader said. "I've always been a bagel person. So, as soon as I heard there was a bagel place, I thought it was something that was needed."
There are not many places on campus that make breakfast food. Before its closure, The Buzz cooked up traditional breakfast items like french toast, omelets and oatmeal.
Now, only coffee shops like Java City and Starbucks sell small breakfast items like danishes, muffins and bagels, but come with long lines of people just trying to get their coffee for the day.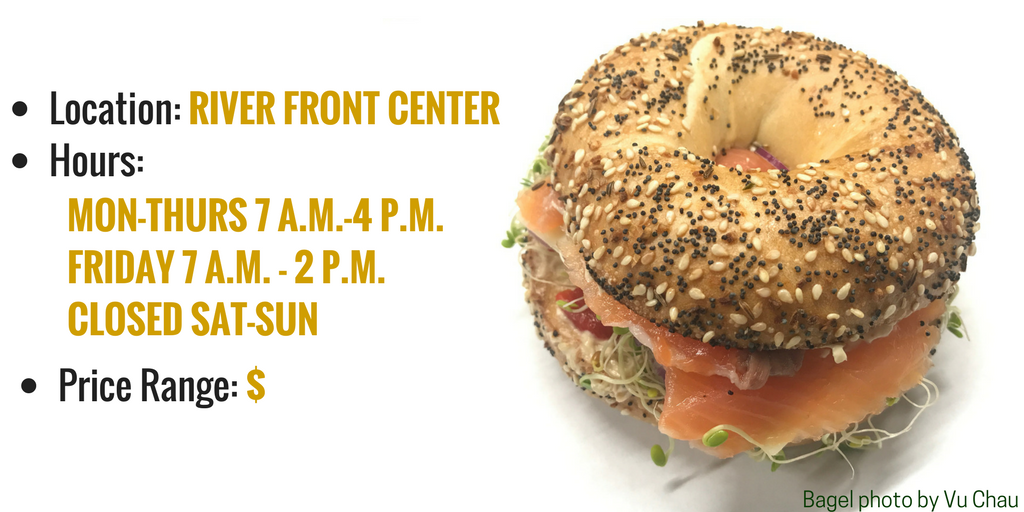 The Bagel Place mixes cream cheese and other seasoning in-house to makes its signature shmears. Customers who are not familiar with the shmears and want to see what it tastes like are welcome to sample each one to see what they like best.
A customizable option is available where bagels can be topped with the customer's choice of meat, vegetables, cheese and shmear.
Anu Basra, a freshman psychology major, decided to create her own sandwich with a jalapeno cheese bagel paired with a garlic herb shmear.
"It's cool, I love it," Basra said. "You get to customize what you want to your taste."
Some other speciality items on the menu include the Goldie Lox, a bagel with sour cream chive shmear, smoked salmon and assorted vegetables.
There is also Nutzo's Dynamite Hamwich, a ham and egg sandwich named after the restaurant's mascot. Images of Nutzo the squirrel can be found all around The Bagel Place, on the sign, menu screen and walls. It stands as an homage to the many squirrels on campus.
According to Amader, who was at The Bagel Place on its opening day, the eatery has become a destination for students curious about the new place.
"I usually come here for breakfast, right after my morning classes," Amader said. "It was really busy the first day (it opened) so it seems like they're doing pretty well. I'll definitely be back here, once in awhile."
Additional reporting by Carlo Marzan