Hornets win Big Sky volleyball opener over Weber State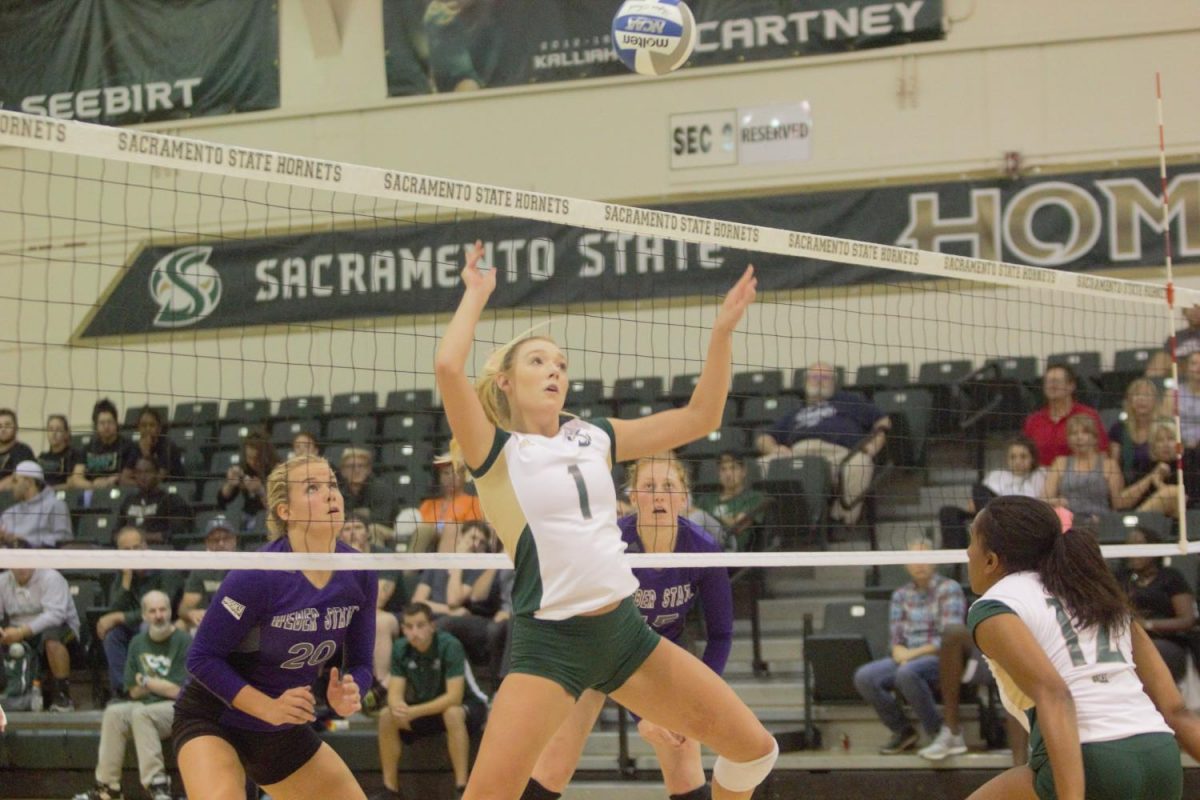 The Sacramento State volleyball team opened up Big Sky Conference play with a 3-1 win over Weber State Thursday night at Colberg Court.
The Hornets (10-7, 1-0 Big Sky) started each game of the four-set victory (25-21, 19-25, 25-22, 25-23) off slow before going on long runs, which involved some trickery by senior setter Kennedy Kurtz that lead them to victory.
After splitting the first two sets, Sac State went down 6-1 to start the third set. The Hornets recovered and tied the game up at 12 before going back and forth and taking an 18-17 lead. This is when Kurtz, who leads the nation in assists, started to take advantage by dishing passes to her teammates who were powering balls over the net for points.
With a one point lead, instead of passing the ball to one of her teammates, Kurtz faked out the defense and took it over the net herself for the score. She did it again two plays later.
"I'd really like to shoutout my hitters because they get really good kills, which opens up me being able to dump," Kurtz said. "I just look for the blockers and if the blockers aren't jumping with me and they are jumping with my middles, then I know that the opportunity is there."
The second dump by Kurtz gave the Hornets a 20-18 lead and they went on to win set three 25-22.
Hornets win Game 4 and the match 25-21, 19-25, 25-22, 25-23 over Weber State. Here is the game winner @SacStateVB @SH_Sports pic.twitter.com/pPmQZJGd7v

— Thomas Frey (@ThomasFreyRP) September 22, 2017
"I think (the dumps) bring a lot of energy," said Brigitte Murdock, the Hornets senior libero. "It is such a good kill (and) we get really excited when that happens because she is a setter and setters aren't usually offensive. She is a very offensive setter and that is definitely a threat that we have."
Sac State carried the momentum into the fourth set, which went down to the wire at 25-23. Senior outside hitter Shannon Boyle had four of her 13 kills in the final frame, while Kurtz had 17 of her 52 assists in the fourth set.
Weber State (2-11, 0-1 Big Sky) brought a losing record with them to Sacramento, but the Hornets weren't fooled. They knew that Weber had a tough non-conference schedule and  they would come in ready to play, junior middle blocker Lana Brown said.
"They are really good, defensively, with their blocks," Brown said after finishing with 14 kills and five blocks. "They are one of the hardest teams to attack around but we found a way to do it. I thought we did a really good job digging balls. They have some really hard hitters and we were able to play defense on that."
Sac State will host Idaho State next at 1 p.m. Saturday at Colberg Court.