Sac State women's golf ends 10-year NCAA Regional drought
For the first time since 2007 and in only the second time in school history, the Sacramento State women's golf team won the Big Sky Championships to advance to an NCAA Regional.
With a young roster, the Hornets had to overcome a rainy stretch in February that took away almost all of their practice time. Without an indoor facility, practices were canceled due to weather, and when it wasn't raining, the courses were damp and the ball wouldn't bounce down the fairway or roll on the green as it normally would.
Not being able to practice hurt the Hornets as they finished fifth and ninth in their first two matches of the spring season, Sutherland said.
"In our first tournament, we just weren't very good," Sac State coach David Sutherland said. "I would definitely say that was a low moment and (we) were wondering if we could recover from (it)."
The Hornets shifted their direction from there as the Sacramento State Invitational (March 20-21) approached. Sac State had a week off and didn't have to travel anywhere, allowing the team to practice an extra three days at the Sierra View Country Club and get used to the course.
By being able to fully practice for the first time in a month, the Hornets pulled off the win with freshman Sofie Babic finishing in third place.
In her first year with the Hornets, Babic finished inside the top five three times. She was joined on the Big Sky Conference third team with junior Astha Madan and freshman Nishtha Madan.
Babic said she had been unsure how she would adjust coming over from Sweden as she didn't know how much the competition, the coaches or the courses would vary.
She said that her questions were answered after she finished second in her second-career tournament while breaking the school's all-time record for lowest score in a tournament (213).
That record stood for just over a month before sophomore Julia Becker broke it by recording a 211 and her first-career win at the Rainbow Wahine Invitational in Wahiawa, Hawaii from Nov. 1-3.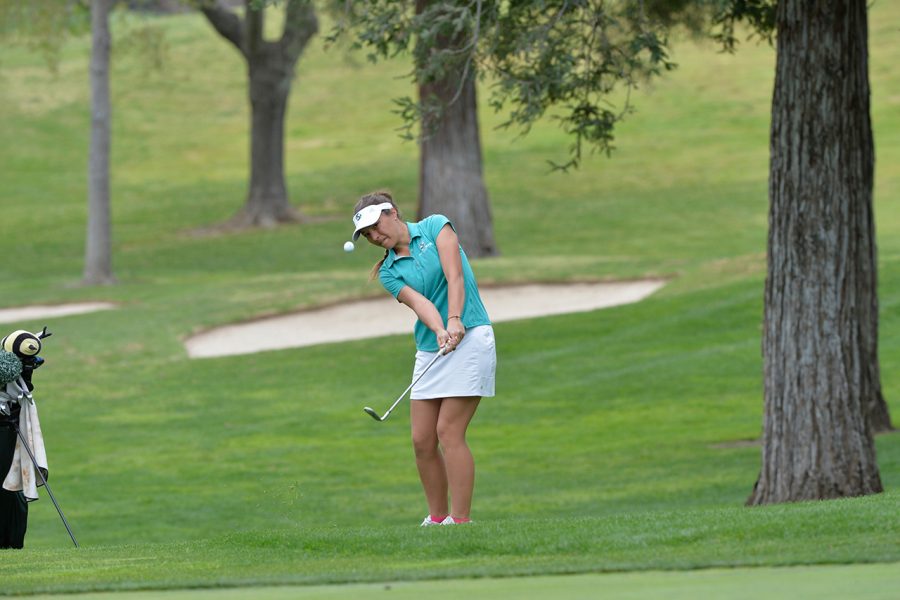 Becker, who was named to the Big Sky first team on April 17, recorded her second win of the season in the Wyoming Cowgirl Classic (April 6-7) while the team finished in second place out of 18 schools in the final match before the Big Sky Championships.
"On the golf course, Becker is just insanely talented," Sutherland said. "Julia is very competitive and often times she plays her best golf when it is the most important. She set a standard this year."
Sutherland, a former All-American at Fresno State and a member of the PGA Tour for more than a decade, was named head coach of the women's golf program in 2007.
His team's performance this season led to him being named the Jeff Smith Big Sky Women's Golf Coach of the Year, an award he credited to his players. However, his team deferred the honor back to him.
"He is not like any other coach," Babic said. "He listens to what we have to say and he has a lot of experience that he can share with us. He is always out there on the course with us when we are having trouble and just wants the best for us."
The Hornets finished second in the last three seasons at the Big Sky Championships, and for a time, it looked like that would happen for a fourth consecutive season. Sac State held a lead as big as eight strokes on the back nine before Idaho came back in the final round on the back nine and tied it up on the final hole to send the championship to overtime.
The five Hornets stepped back to the tee on 18 for 380 yard par-four and it came down to Becker and Astha on the final hole. After strong drives, they chipped the ball on to the fairway without issue and Becker set up and made a challenging putt.
That helped to take the pressure off of Astha — who was about 60 feet from the hole — as she needed to make it in three strokes to win and it took her just two after a putt set her up for a tap-in to win, Astha said.
"It was a great feeling to finish off the tournament," Astha said. "It wasn't like there was a lot of pressure though — Julia's putt made it that way. Everyone was really happy."
Sac State will continue its postseason at the NCAA Albuquerque Regional at The Championship Course from Monday to Wednesday in Albuquerque, New Mexico.