Meet the self-described 'good kids' behind Hobo Johnson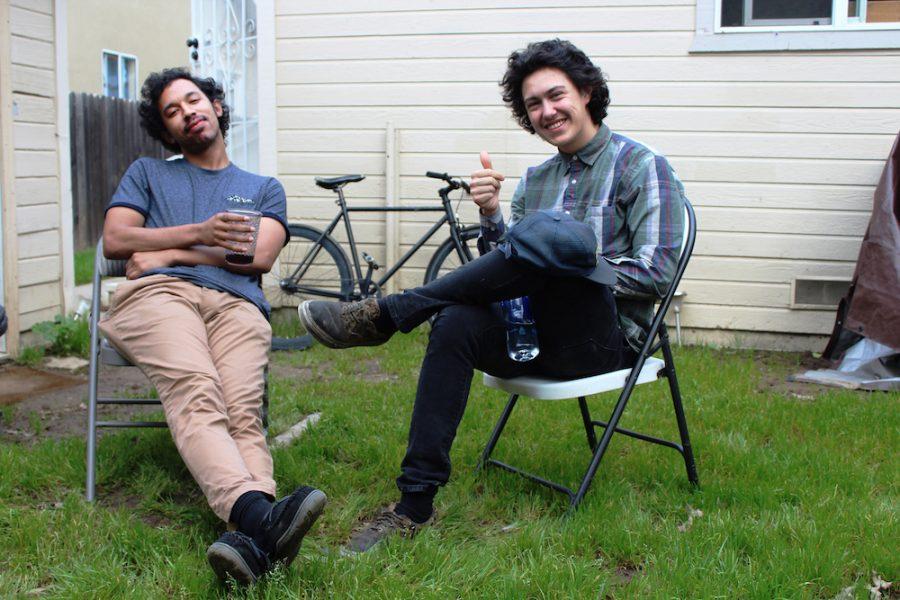 After hours of practicing in a patchy, muddy backyard on the edge of Oak Park, clad in a flannel and a backward baseball cap, rapper Hobo Johnson may have gotten the big break he was looking for.
Hobo Johnson, whose real name is Frank Lopes Jr., and his bandmate Derek Lynch — the core of Lopes's band the Love-
makers — received an Instagram message from Joseph Pepin of Control Music Group, who manages the likes of indie-pop band Phoenix, Indonesian hip-hop artist Rich Chigga and singer-songwriter Hana Pestle.
The message expressed the company's interest in managing the group, to which they excitedly agreed.
"We posted (our) videos on Facebook and on YouTube," Lopes said. "Somehow, I personally don't believe it but … It took him through some weird YouTube wormhole and it went down to Oak Park, Sacramento."
Since they signed with Control, Lopes and Lynch have had to raise money to buy the tools they need to improve their music.
The pair started a Kickstarter campaign with a goal of $3,000, which was raised within 25 hours. Lopes and Lynch were nervous to set such a high goal, because they did not expect their fans to respond so positively at such a quick rate.
"I wanted to put it at $1500, because I didn't think anyone would want to have anything from us, but they did," Lopes said.
The campaign gained traction quickly and raised over $5,500 by Feb. 26. Lopes and Lynch have decided to use the funds for a re-release of their latest album, "Live From Oak Park."
According to Lopes, the goal of the re-release is to rework some musical aspects of the album. The duo wants to add vocals, cello, violin and saxophone elements as well as their own bass and guitar.
"I wanted to make it a much more musical thing," Lopes said. "The original project was just piano, drums, and my voice, and nothing else. The words are really good, but I want the music to be really good."
Lopes started exploring music as a child, and said that he would make up poems to sing in the shower and rap on his walk home from school.
"I was known as the kid who would walk to school and rap the whole time," Lopes said. "I just always kept it in my mind that it was something I wanted to do."
In high school, Lopes turned to music after selling his PlayStation console.
He used the money to buy a microphone and a MIDI controller, which is a device that helps artists translate and manipulate their music.
Ever since, Lopes has been making beats and rapping over them.
"Just recently I became good at rapping — kinda — before I was pretty bad and now I'm not as bad," Lopes said.
For Lynch, learning guitar was what started his journey in music. Eventually he got tired of practicing guitar in his room and branched out by meeting other local artists.
Lynch and Lopes met at an open mic night in Del Paso Heights and became close after another rendezvous at Goldfield Trading Post bar in downtown Sacramento.
"Ever since then we've been kickin' it — it's a merry relationship," Lopes said. Lopes' and Lynch's goals are to make good music, but also to stay afloat.
Lopes describes his end goals among other things as wishing to buy his mother a house and to build his credit.
"Of course I wanna make amazing music, but it's hard to do when you're poor and you don't know what you're going to eat or how you're going to pay rent," Lopes said.
Another goal of Lopes' is to create a production company for other Sacramento artists to be able to create and mix their music without barriers.
"We're two good kids," Lopes said."We wouldn't hurt a fly. We mean well. (We're) gentle souls looking to have a good show. (We) just wanna make love and make music sometimes."
(Check out one of Lopes' music videos below)