Hornets fall 6-1 to Fresno State women's tennis team
Fresno State handed the Sacramento State women's tennis team its first loss of the spring season as the Hornets fell 6-1 Sunday at the Spare Time Indoor Tennis Center.
Despite being one of the youngest teams in the nation with five freshmen on its eight-player roster, Fresno State (1-0) nearly swept Sac State (1-1) in singles and doubles competition.
The Bulldogs entered the team's first match of the spring season eager for a victory, and did not let age stop them from playing aggressively from the first set.
Sophomore Olivia Noble and freshman Juliane Triebe displayed some of the team's most dominant performances, muscling a 7-6 doubles win over Hornet senior Andie Mouzes and redshirt freshman Carolina Chernyetsky in the No. 2 spot.
"At the beginning of the sets, especially in doubles we were there — we had a really good chance to win," Sac State coach Clarisse Baca said. "We play a really good defensive game but you know that these teams (are) faster and stronger — we need to get up there and be a little bit more aggressive in our points, especially on our serves."
Sac State's lone doubles win came from junior Ana Loaiza Esquivias and freshman Karina Vyrlan, who claimed the No. 1 spot after defeating freshmen Georgia Lawson and Katerina Stloukalova 6-2. Prior to Sunday's match, Lawson and Stloukalova were ranked as the No. 50 doubles team in the nation in the Intercollegiate Tennis Association preseason poll.
In singles competition, Fresno State took five of the six matches in straight sets, including a 6-3, 6-2 win by Noble, prevailing over freshman Sofia Gulnova.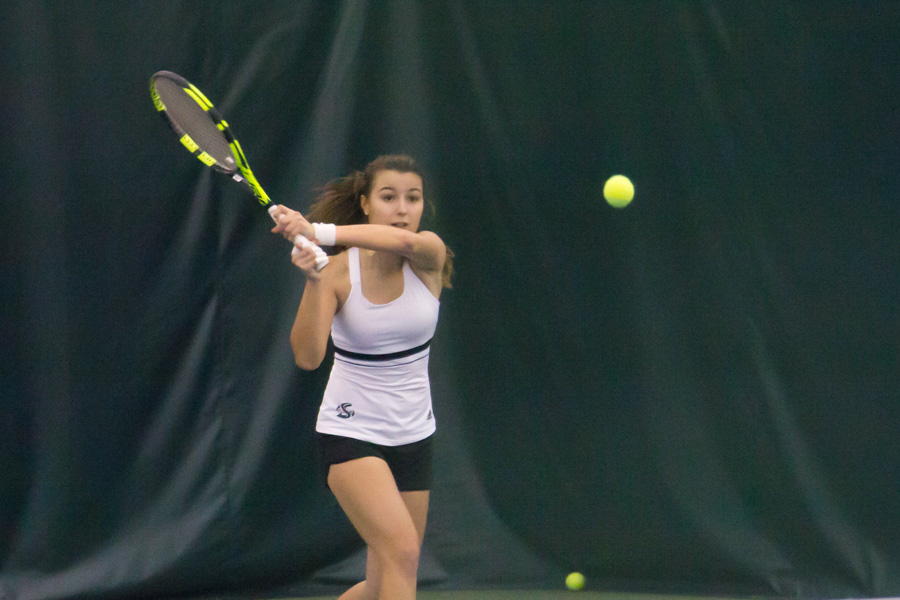 Esquivias was again among the Hornet's bright spots in singles, bouncing back from a 6-1 loss to Bulldog senior Galina Bykova and winning the second set 6-5. The Hornet raised her fist triumphantly as Bykova's final shot landed out of bounds, securing Esquivias' 1-0 victory in the tiebreaker round — her second No. 1 singles win of the season.
"It's always hard to come back but I was able to pull through and win," Esquivias said. " I was nervous but I knew I could win the match so I played point by point. I think it was good to get some confidence in my game."
As the Bulldogs gear up to face the nationally-ranked SEC powerhouse Auburn Tigers next week, Fresno State coach Ryan Stotland says he was pleased with his young team's spring debut.
"Both teams were a little nervous and not playing our best tennis but we both competed well; it was a fun match," Stotland said. "You can't just gain (experience) in a week but I think this match will really help us moving forward."
Next Sac State will host rival UC Davis on Jan. 28 at 1 p.m.