Hornets prepare to flip out over gymnastics competition
The Sacramento State gymnastic team's annual Flip Fest — to be held on Dec. 9 — will be the first time all semester that the public will be able to watch the gymnasts perform routines.
Flip Fest is unlike any other gymnastics competition the team will compete in, as the gymnasts will only be competing against their own teammates. This competition serves a special purpose for the team, allowing them to practice, get all the kinks out of their routines, enjoy some camaraderie and see how they perform in a competition setting before the season officially starts on Jan. 9.
"I am looking forward to the event; I get to see how the girls perform under pressure," assistant coach Tanya Ho said.
Ho says that the event is set up and run just like a normal competition even though it will just be their team competing, and it is important to have an event like this.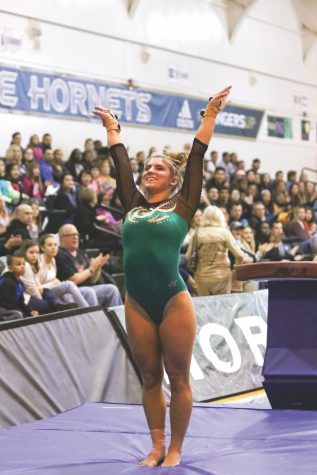 "It is difficult to recreate this kind of atmosphere at practice so Flip Fest gives us a chance to have a competition under our belts before the season officially starts," Ho said. "We set up the gym just like a home meet and even bring in judges."
Senior gymnasts Anneke Klaver and Julia Konner are no strangers to this unique event and all the ups and downs of putting it on.
"The entire basketball gym has to be arranged with all of our mats and equipment…which is a lot of stuff," Konner said. "It's a little easier to perform with just the team because we know it's for fun, but we are all still very competitive so you know it's on when we walk on the floor."
There is so much more that goes into preparing for this event than most realize, as the girls practice in and out of the gym for hours every day, and spend hours alongside their coaches, staff and students turning the gym into a full gymnastics facility for the day.
"We've been preparing for Flip Fest as well as our upcoming season since the beginning of the semester," Klaver said. "This prep includes loads of conditioning, skill work, endurance training — you name it, we did it. As of recently, we've been working on putting routines together and showing them in our own 'in-gym' intrasquad. A lot of behind-the-scenes work goes on in putting this event together, such as help from students and staff in turning the Nest into our very own gymnastics facility which takes hours to do."
Even through all the hard work and preparation, the team loves the event for what it allows them to do and they look forward to it every year, Konner said.
"The event is special because it gets us out in front of an audience performing our routines for the first time," Konner said. "I love Flip Fest because it's just our team so we have some fire and it's great to finally get out on the floor again after training hard all summer. Also, I always love putting on new sparkly leotards and putting on a show for the audience, and as always have a blast doing it."
"The fact that people are watching other than your teammates and coaches and it's just you that they're watching brings out some nerves we might not see in our training gym," Klaver said. "However, that's what also makes the event so much fun. You're trying to impress the crowd and show off how hard you've been working all semester."
Flip Fest will be taking place in the Nest on Friday at 7 p.m. and admission is free for everyone.