Nation's only Latin jazz ensemble to headline own Sac State concert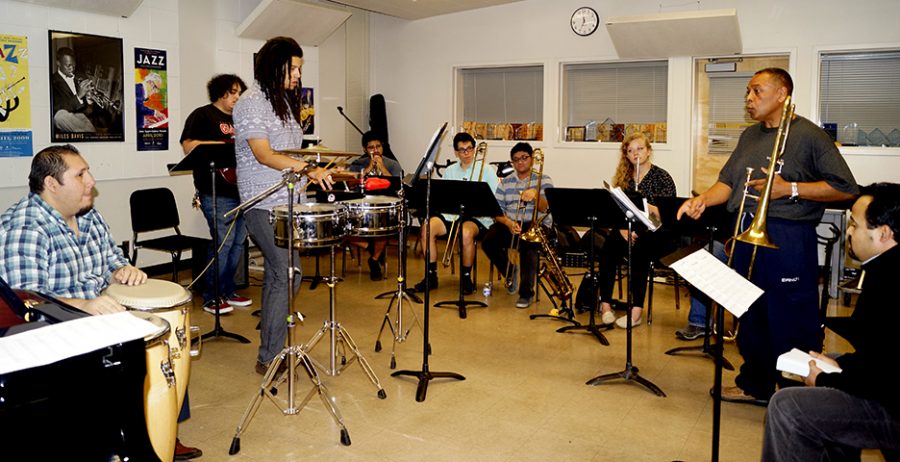 Sacramento State's own Latin Jazz Ensemble will perform at its own concert at Capistrano Hall tonight.
The Latin Jazz Ensemble is consisted of timbalero Billy Thompson, baritone saxophonist Domenic Dalpez, alto saxophonist and flutist Megan Spurlock, bassist Michael Williams and trumpeter Mario Bonilla.
Carlos McCoy, the ensemble's musical director since 2012, said the concert will be a collaboration with Abel Figueroa, who has recorded albums with artists like Celia Cruz, Jose Feliciano, Santana and Cachao.
Figueroa said he was asked to join the event to help the performers and student attendees learn and develop their own sense of Latin jazz style, which, according to him, is a new style on campus.
"The students in the ensemble are eager to learn and I'm giving them the opportunity to learn from my experience," Figueroa said. "Also I'm teaching them a 'moña,' which is a trick in music where you improvise little pieces of notes in between a song."
Figueroa said he came from a family of music and they put him through years of rigorous training since the age of 13 at Puerto Rico's music academy Escuela Libre de Musica, which translates to "free school of music" in English.
Other musicians who will join Figueroa and members of the Latin Jazz Ensemble are conga player and alumnus Aaron Routtenberg, 18-year-old pianist Odalys Caro (daughter of the famous artist Carlos Caro) and volunteers from the Delta Community College.
Since its inception in 2002, the campus Latin Jazz Ensemble has had 3 promotional CDs.
Some members will graduate by the end of this school year but McCoy said that he is positive another CD will be recorded.
"This will be my first production (with the students)," McCoy said. "I have to say that Latin Jazz Ensemble is one of the hardest working ensembles."
The concert will be tonight at 8 p.m. at the Capistrano Hall.