Gymnastics coach takes on full-time role at Sac State
With cheerful eyes and a smile that extends from ear to ear, anyone can tell he is a man filled with joy, excitement, passion and a heart for his sport and his students.
This is the case for newly named Sacramento State head gymnastics coach Randy Solorio, who not only strives for the best scores and competition results, but also strives to make his gymnasts the best people and athletes they can be.
Team captain and senior Julia Konner knows this as well as anyone on the team as she has worked with Solorio since her freshman year.
"Randy likes to be on a friendly level with us; he is laid back, he makes jokes, makes things interesting to us, and tries to keep up with what is going on with us," Konner said. "He even likes to read little quotes out of his book of happiness just to make us smile and inspire us for the day, but he also knows when to tell us 'hey, get yourself together, you need to do this.'"
Solorio is able to seamlessly fuse together his fun-loving personality with a work ethic of dedication and professionalism to create an environment that allows the team to enjoy the hard work they do. It is important to him that the team is always growing and learning how to improve themselves.
"I love seeing these athletes get new skills and seeing their positive accomplishments which not only help them in the gym, but also in the real world," Solorio said. "I get to help build them up and teach them so much more than gymnastics. They're smart, they can think, they can make decisions based on their performance; they do all the work and I just get to channel them."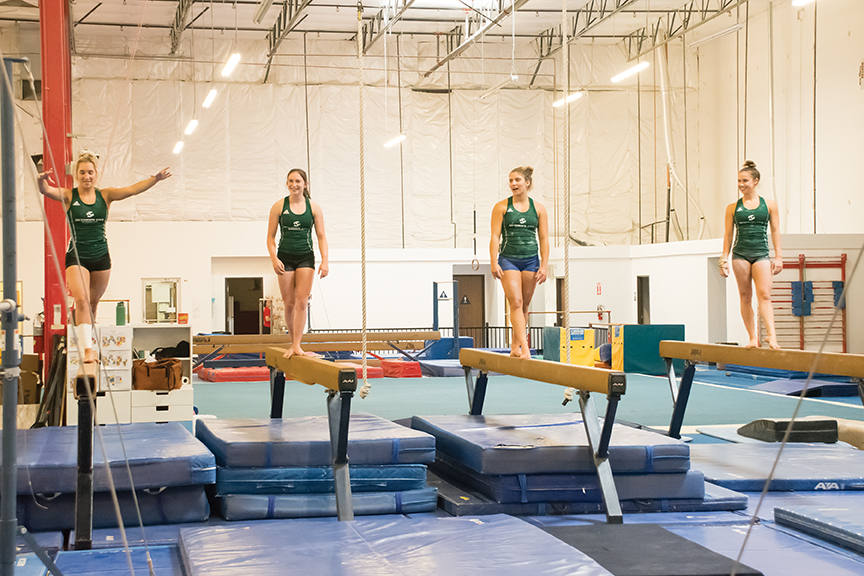 Coaching is not just a job, nor is it about the money — it is his life. He enjoys what he does and going into the gym every day "makes me smile," Solorio said.
After competing for years as a child, Solorio started coaching gymnastics at 14. It was here that he found his calling, and has had a passion for investing in upcoming athletes and supporting their dreams ever since.
Solorio uses his love of theater, entertaining and dancing to bring a different aspect to his coaching, which is one of the qualities that makes him such an influential and unique coach, according to his gymnasts.
"Randy has helped me become better on floor because he is a performer," Konner said. "He knows we need to sell it out there — it's the little things like facial expressions and dance that make the biggest difference. He asks us 'how are you making this fun?', and he encourages us to push each other. Floor was the team's best event last year because he makes us good."
Solorio's most recent success, though, is that of being promoted from interim coach to the official head coach of the women's team on Sept. 1 after three decades of assistant coaching under longtime head coach Kim Hughes, who retired in 2015.
"I'm not reinventing the wheel, just changing seats and adding my own personality," Solorio said.
The quality of his coaching was seen last season in not only the competition scores and the quality of the gymnasts, but also in the form of his working relationships with assistant coaches Tanya Ho and Melissa Genovese.
"We have similar coaching philosophies, he is motivated and loves the sport. Working with him is very easy, he is open to suggestions and is always enthusiastic," Genovese said. "If one of us is having a bad day, we motivate each other and try to pick up the slack."
Last year, under Solorio's leadership as interim coach, the gymnastics team recorded the top two scores in Sac State history, won the Mountain Pacific Sports Federation conference title and had four gymnasts advance to the NCAA West Regionals.
Looking to the future, Solorio said that this year the team has "set the bar in their minds higher than last year because they know what to expect," and know how to work to get where they want to be. By working harder, they may "break a team (or) school record and some event records too."
For Solorio, winning isn't the most important thing — it's loving what you do that makes you great.
"I'm the luckiest head coach in the world, I love what I do and the team makes me smile," Solorio said.