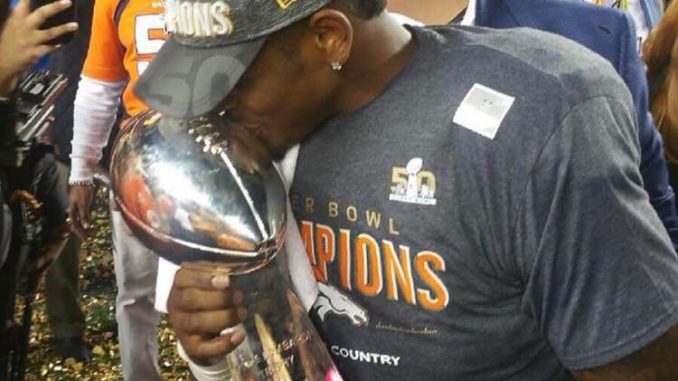 From undrafted rookie linebacker out of Sacramento State to jokingly complaining about his overall rating in the newest Madden football video game, it's safe to say Todd Davis has enjoyed his football journey.
Davis, 24, is now the starting linebacker for the NFL Super Bowl 50 champion Denver Broncos and has come a long way from Inglewood, California.
"People always ask me if I expect it or if I thought I could make it in the NFL, if I was going to be a starter or things like that," Davis said in regards to being a professional athlete. "It doesn't seem out of the norm or that I made it by a long shot, it just feels like that's the path I have to take to get here, but it definitely feels like I was meant to be here the whole time."
Surprisingly, Davis might not have been starting next to one of the best outside linebackers in the game, Von Miller, if it had not been for exchanging a basketball for a football later in his childhood.
"I actually started playing basketball, my dad was a big basketball fan and he played basketball when he was younger so he kind of took me on that path first," Davis said regarding to his father Todd Davis, Sr. "I didn't fall in love with football until like 5th grade; that's when I started playing so I kind of made the switch over to football and just never left."
Davis continued football as a defensive lineman at Paraclete High School in Lancaster, California. It was there were he met his defensive line coach, who is responsible for his goal-oriented attitude, Davis said.
"[Chapman] was the one; he instilled the work ethic in me. He really trusted and believed in me and let me know that my goals are achievable and to strive for them," Davis said. "I think he was really critical in me making it as far as I have."
Choosing to attend Sacramento State was an easy decision for Davis due to it being in California. However, his desire to play for former Sac State football head coach Jon Osterhout convinced him that this is where he belonged.
"Based on his high school film, we knew we had a special player who played the game with relentless pursuit of the ball carrier and truly had a love and passion for the game of football," Osterhout said after initially recruiting Davis as a defensive lineman. "This certainly held true upon arrival during training camp. He showcased his effort, intensity and passion for the game of football."
Davis eventually earned a spot at middle linebacker and went on to finish his career-setting season in 2013 at Sac State with 131 total tackles en route to all-Big Sky Conference honors at the position.
Coming off a stellar campaign, Davis decided to leave Sac State and enter the 2014 NFL Draft in hopes of hearing his name announced by one of the 32 NFL teams. Although Davis' name was not called, the dream was still in sight for him.
"Since day one, Todd spoke of his desire to accomplish his dream of playing at the highest level and he truly believes in his talent and ability," Osterhout said.  "He worked tirelessly to improve himself in all areas of his life and it certainly paid dividends during his duration at Sac State and has paid off well as he enters his third year in professional football."
Davis' first year in the pros began when the New Orleans Saints signed him as an undrafted free agent. From that moment on, Davis took full advantage of the chance he was given and aimed to prove that his work ethic, combined with his talents, were something other teams wrongly overlooked.
"I thought that's all I needed was my shot," Davis said. "I just needed somebody to let me get into the door because once I feel like I got in the door, I could show them that I was capable of playing at an NFL level and outwork all my competition and end up making a name for myself."

In Davis' first NFL appearance, he won special teams' player of the game. His time with the Saints, however, would be a roller coaster as he went from being cut and signed to the practice roster multiple times. Davis was eventually signed later by the Broncos.
Davis ultimately started two games for the 2015 Broncos at the linebacker position, and his incredible ride was only just beginning, as he won a Super Bowl ring after the Broncos defeated the Carolina Panthers.
"It was amazing for me, almost like a storybook kind of scenario," Davis said.  "It just makes you hungry for another one and you just want to be on top of the world again."
Davis is currently starting every game to begin the 2016 campaign, and is third on the Broncos in total tackles with 30. Although he has already had a tremendous amount of early success, his message to Sac State athletes is simple.
"Just take advantage of the opportunities," Davis said. "One of my coaches told me if you can play, they will find you, so I don't think it matters where you come from any more. If you can play they will find you — just go out there, give it your all, and let the Lord lead you."

The following two tabs change content below.


Latest posts by Ryan Lewis (see all)