November 21, 2015
In a battle of two freshman quarterbacks, it was C.J. Spencer leading UC Davis to a 35-21 victory over Nate Ketteringham and Sacramento State in the 62nd annual Causeway Classic on Saturday at Hornet Stadium. The loss puts the Hornets (2-9 overall, 1-7 in Big Sky Conference) in a tie for last place...
November 18, 2015
As seniors on the Sacramento State football team participated in their last full-padded practice on Wednesday, the Hornets are looking to close out the season with a win against rival UC Davis in this weekend's 62nd annual Causeway Classic. It will also be the final time the seniors will step ...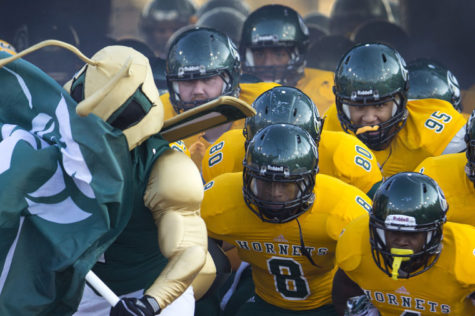 November 23, 2013
The UC Davis offense was efficient running and passing the ball Saturday, as it took down Sacramento State in the 60th edition of the Causeway Classic at Hornet Stadium.The Hornets lost 34-7, its fourth straight loss in the rivalry game.  Davis junior running back Gabe Manzanares ran for 122 yards on 27 carries ...