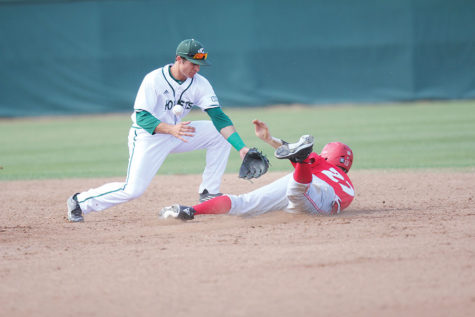 May 6, 2016
The end of the baseball season is rapidly approaching, but the end of the school year is approaching even faster. This means there is a tough route ahead for the Sacramento State baseball team for two different reasons. The first reason falls under the realm of academics. It is well known that...
April 18, 2016
Matt Smith is a true freshman who is making a huge impact on Sacramento State's baseball team, although you wouldn't guess he's a freshman just by looking at him. Smith has always been a bigger kid growing up, but he finally started to see success when he grew into his body during the early ...
February 25, 2016
Sacramento State baseball's Sam Long tallies 105 pitches in his first complete game of the season and surrendered only five hits with no walks to the Cal Poly San Luis Obispo Mustangs on Saturday, March 14, 2015. Throughout his shutout performance, Long would not allow more than one base runner at a time with each of his five hits given up in separate innings.