Baseball faces tough final test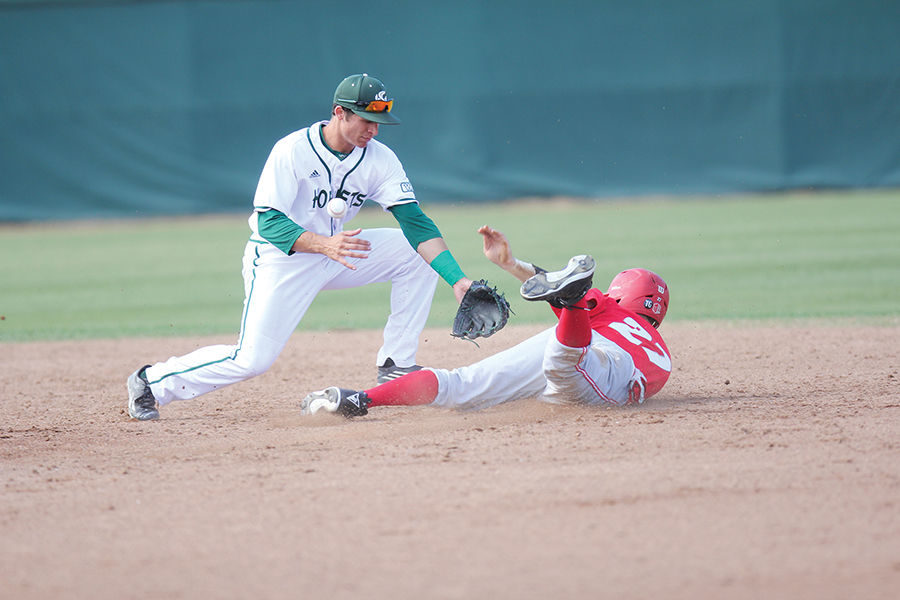 The end of the baseball season is rapidly approaching, but the end of the school year is approaching even faster.
This means there is a tough route ahead for the Sacramento State baseball team for two different reasons.
The first reason falls under the realm of academics. It is well known that some athletes struggle to perform their best in school while concentrating to perform their best on the field as well. This is a constant struggle throughout all school sports, and Sac State is no different.
With finals approaching between Saturday, May 14 and Friday, May 20, the guys on the baseball team will have to juggle the final outcome of their school semester as well as what is arguably one of the most critical points of their baseball season. Finding the balance between the two and being proficient in both is the key, but being able to harmonize the two is a task that can be difficult.
"They're a really smart group of kids," Sac State head coach Reggie Christiansen said. "We've done a good job so far of balancing school and ball with having shorter practices and providing study hall on the road."
The baseball team has proven that they have what it takes to get it done in the classroom. According to Christiansen, during this past fall, the Sac State baseball team's GPA was the highest of any male sport team in the history of the athletic department.
Even though some student-athletes' grades may not reflect the struggle, that does not mean that it is not there.
"It's still tough at times; you've got to worry about getting your homework done, and you've got to worry about pitching, getting ready to pitch as well," said Sam Long, a starting pitcher for the Hornets. "Sometimes it can be a little stressful, but it hasn't been too overwhelming, which is nice."
The second reason why the end of the school year and this season of baseball in particular is going to be a tough road ahead is because of the upcoming matchups.
Ten out of the first 12 in-conference wins for the Hornets have come from opponents who fall in the bottom four of the standings within the Western Athletic Conference.
With nine conference games left in the season, the Hornets will have to take on three different three-game series with teams who have a winning percentage above .500. This means that every team the Hornets have yet to play all have more wins than losses.
"I think it's difficult to read into that. Some of those teams that have poor records played the teams that are at the top, so is it really indicative?" Christiansen said. "I think in this conference, anybody can beat anybody."
The Hornets' final three opponents are Utah Valley, Grand Canyon and Seattle U, in that order. While the Grand Canyon series is away, Utah Valley and Seattle U have to take on the Hornets in Sacramento. These teams combined have a conference record of 36-18, whereas the Hornets first four opponents have a current combined record of 18-47.
"Our pitching and defense is incredibly solid, and when we add our depth on the offensive side, we are an explosive team," said Matt Smith, true freshman designated hitter for the Hornets. "These last few series will be a good test for us and prepare us for the WAC tournament at the end of the season."
Sac State is currently in third place behind Seattle U and New Mexico State. Sac State has the highest strength of schedule left in the WAC for 2016. Seattle U has still yet to play Northern Colorado, which is 12-25 on the year, the fourth worst record in the WAC. New Mexico State has also yet to play Northern Colorado as well as the last place team, North Dakota, which have a combined overall record of 19-52.
However, the coaching staff set up the team's preseason and non-conference schedule for this exact reason. If you look at the Hornet's non-conference schedule compared to the other 297 NCAA Division I baseball programs, they rank in the top 30 for toughest strength of schedule. This is in large part due to their first couple of road series which included games at Auburn, LSU, Arizona and Cal Poly.
"Those four weekends against those teams, that's probably the toughest it's going to get," Christiansen said, "so I think our guys are more than ready to go."
During Sac State's first series against an opponent with a winning record, the Hornets were able to grab two out of three wins against UT Rio Grande Valley. This included a 15-inning nail biting win in Edinsburg, Texas to win the series 2-1.
"You can't really control who you're playing, what their record is or how they're playing," Christiansen said. "We just have to focus on making sure that we show up, give our best effort and play up to our potential, and I think we're really starting to do that."
Sac State's second series against an opponent with a winning record, New Mexico State, was quite a dampener on how they were playing previously. Sac State was outscored by New Mexico State 33-12 within the three-game series. Sac State also gave up 42 hits within the series, including 10 home runs. The three losses to New Mexico State shifted the Hornets from second to third place.
The three remaining series are going to mean a lot in determining which two teams place at the top of the WAC. The reason the top two spots are highly sought-after is due to the fact that it shortens the week during playoffs, giving these teams a first-round bye. This means these teams only need to win three games instead of four to be crowned the Western Athletic Conference Champions and earn a trip to the NCAA Regionals.
"The overall goal for us is to definitely be one of those two top seeds, for sure," Christiansen said.