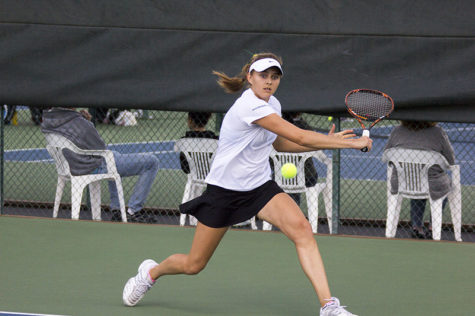 February 27, 2015
The Hornets were able to reach a 5-5 record as redshirt freshman Anna-Maria Nau clinched the match point for Sacramento State women's tennis in their 4-3 win over No. 46 Long Beach State. The 49ers were undefeated heading into the match with a 6-0 record.Nau played No. 2 singles for the Hornets and bea...
State Hornet Staff

February 6, 2015
Sacramento State softball (1-1) split its doubleheader Friday in the So Cal Collegiate Classic in Long Beach, California, after losing a quick shutout to Long Beach State at 8-0, but the women turned around their performance on defense and offense in their second game against Northwestern State Univer...
State Hornet Staff

November 12, 2012
Sacramento State's women's basketball team could not stop the three-point scoring attack from a pair of Big West schools this past weekend.The Hornets started their season on the road in Southern California losing to Long Beach State 77-74 this past Friday and then Cal State Fullerton 94-75 on today.In...